Despite a lot of new competitors in the entry-level luxury-SUV segment, the Acura RDX remains a solid player, despite having only received a few modest changes for 2010. It's fun to drive and remarkably well-equipped and well-priced.

Acura had great timing when it introduced the RDX a few years ago. It was one of the first compact luxury SUVs on the market in 2006, following the introduction of the BMW X3 a few years earlier. Today, nearly every luxury nameplate has a small entry-level crossover, and Acura has responded by giving the 2010 RDX a modest design update and a less expensive front-wheel-drive model — but not much else.
Exterior
The most noticeable change to the RDX for 2010 is its new beak of a grille. For some reason, car companies want their entire lineups to share the same face, so to speak, and the relatively handsome, unassuming look of the past RDX has been replaced with this bold, pointy shield.

When Acura's popular midsize TL sedan was recently redesigned with a radical look and this same grille, its sales plummeted. The RDX's sales have already seen a decline, and it's no sure bet this update will lead to a resurgence.

There are also minor changes to the fog lights and rear of the RDX, but overall it remains a good-looking — if understated — crossover, even with the grille. Nearly every competitor has a bolder design, from the swoopy Volvo XC60 to the sporty Audi Q5 to the rugged Land Rover LR2.
Interior
Acura says it has upgraded the RDX's interior materials, but you'd need a craftsman's touch to notice the differences. For the price, though, the cabin remains upscale. It looks good in black, as my test car was dressed, and there's also a taupe color scheme. The center control panel is a mass of buttons for the audio system, air conditioning and optional navigation system. The steering wheel has about a dozen buttons. This seems to bother a lot of other reviewers, but I became accustomed to easily finding what I needed during my week of testing.

The front seats are well-padded and supportive, and from the driver's seat the RDX feels like a sedan, not an SUV, which I like. Legroom is tight in back, but the RDX has a respectable amount of room for this class. I've easily installed various child-safety seats back there.
Cargo
The cargo area is well-designed, but the rear seats bottom cushions need to be flipped forward before the backrests can fold completely flat to extend the cargo area. That's always a negative in my mind. At least the seat bottoms are attached to an articulating hinge that makes the one-step movement much easier than it is in other SUVs with the same setup.

At 27.8 cubic feet with the rear seats up, the RDX has plenty of room for most daily uses, but it's slightly behind the Q5 and XC60, which have 29.1 and 30.8 cubic feet, respectively. In practical terms, that's not a big enough difference to be a factor when weighing a purchase. However, the RDX's cargo area is quite a bit larger than the Infiniti EX35's 18.6-cubic-foot space, and quite a bit smaller than the Lexus RX's 40 cubic feet.
Performance
I've driven the RDX many, many times. I tested it when it debuted, and my mother-in-law bought one to replace her X3 a few years ago. The one thing I look forward to most when getting behind the wheel is its quirky, turbocharged four-cylinder engine (at least when it's working with Acura's Super Handling All-Wheel Drive).

While turbochargers become more refined with each passing day, the RDX's power plant remains a more rambunctious little devil, offering plenty of turbo lag and boost, with less-than-smooth transitions between the two. While this may not offer the most refined driving experience, it's definitely the reason many car buyers fell in love with turbo engines. I also like to say it's "fun," which shouldn't be overlooked. Even with their larger engines, I don't think the XC60, X3, RX, LR2, Q5 or Mercedes-Benz GLK350 are any more fun when hammering the gas pedal. The EX35 might be more fun to drive fast, but it isn't as utilitarian as others in this class.

All-wheel drive is now optional, which means you can put all 240 horsepower from the turbo engine to just the front wheels by choosing the base model. I wasn't able to test the front-wheel-drive version, unfortunately, and can't say whether it's as performance-oriented; there could be issues with torque steer that would detract from the overall driving experience.

With all-wheel drive, though, spirited cornering is possible, and the RDX feels planted at all times. The ride isn't uncomfortably firm, like in the X3 and XC60, but don't expect the RDX to feel cushy, either; you will feel bumps. The Lexus and Land Rover might be more comfortable companions.

Conventional wisdom suggests that crossover shoppers will prefer the all-wheel-drive model, given buyers considering this body style — as opposed to luxury sedans of the same price — are probably expecting it, along with added cargo room.

Mileage is decent for the front-wheel-drive model, with EPA-estimated gas mileage of 19/24 mpg city/highway. It drops to 17/22 mpg in all-wheel-drive versions, which is also on par with the rest of the class. I managed to put about 200 miles on my all-wheel-drive test car, and I averaged around 18 mpg in mostly heavy traffic. Most other test cars I put through the same commute register averages very near their city gas mileage estimates.
Features & Pricing
Acura continues to offer few options for its vehicles, instead loading them up with standard features. The only option besides all-wheel drive is a $3,100 Technology Package that adds navigation with real-time traffic, a backup camera and an upgraded 10-speaker sound system with iPod integration. While I like the sound system, the navigation unit hasn't been upgraded to the company's most recent version, used in the TL. The screen and interface already look dated in an era when technology advances can be measured in months, not years.

Standard features remain plentiful, with leather seats (heated up front), a sunroof, a seven-speaker stereo with a six-CD changer, and 18-inch wheels included.

The front-wheel-drive model starts at $32,520, which is about the same as the XC60's $32,395 starting price, which gets you front-wheel drive and a less powerful inline-six-cylinder engine. The all-wheel-drive RDX starts at $34,520.
Safety
Before the Insurance Institute for Highway Safety instituted its new roof-crush ratings, the RDX was a Top Safety Pick, earning top overall scores of Good in front, side and rear crash tests. It's no longer listed as a Top Safety Pick because it hasn't yet been tested for roof strength, but its strong scores in the other tests are a testament to its protective abilities.
RDX in the Market
If you're shopping in this segment, good luck. Almost every one of the RDX's competitors is strong and would be a good pick — just like the RDX. In the end, I think the RDX's styling might push some shoppers away, while the relatively low price of a well-equipped RDX might blur their vision enough to choose this monthly payment over a higher one.
---
People Who Viewed this Car Also Viewed
Select up to three models to compare with the 2010 Acura RDX.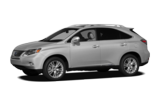 2012 Lexus RX 450h
Asking Price Range
$21,201–$35,749
Compare
2014 Lexus RX 350
Asking Price Range
$28,937–$40,669
Compare
2016 Mazda CX-5
Starting MSRP
$21,795–$29,870
Compare
Featured Services for this Acura RDX