I put forth the modest proposal that Audi's new A6 offers more value for the money than any other mid-sized imported sports sedan. If you can live without a $900 automatic transmission and a $490 all-weather package that includes heated seats and door locks as well as a few other items, you can park this extremely competent mid-size sports sedan in your garage for about $31,000 and change. That places the A6 at roughly $5,000 to $8,000 less than competitive cars from German manufacturers Mercedes-Benz and BMW, and Japan's Lexus and Infiniti. If Audi has fallen from your shopping list in recent years, you may want to reconsider. The A6 is worthy of a serious test drive. Even when it is ordered without options, it is still well-equipped. Audi's Taurus-sized sedan comes standard with a full array of power accessories (door locks, windows, mirrors, seats) and cruise control, an electric sun roof and a set-it-and-forget-it automatic air-conditioning system. If squeezing the most mileage out of your automotive dollar ranks high on your list of priorities, and if you've had your heart set on a bonafide German sports sedan, you might find that the A6 easily meets both requirements. PERFORMANCE The Audi A6 reminds me of several other top-notch automobiles I've tested recently. It is a car that does everything well without setting the standard for any particular category. After a week and more than 400 miles, I found that the A6 isn't the fastest, quietest, roomiest or smoothest sedan you can buy. Yet it's a very balanced and refined automobile. Thecar is powered by an aluminum 172-horsepower, 2.8-liter V-6 engine that has a heart of gold. Actually, it has a heart of forged steel, but if you love cars and the wonderful noises they can make, you'll be enamored of this engine. The V-6 makes a serene humming sound as it winds up. Also, the engine pulls hard when you need extra muscle for passing slower traffic. Response from a stop is excellent. The A6 leaps into motion when you depart from, say, a traffic light. Our dark blue test car came with the ($900) optional four-speed computer-controlled automatic transmission, a gearbox that I can only give mixed reviews. There were times when the transmission changed gears (up and down) roughly for no apparent reason. Sometimes a transmission's shift will be abrupt if you floor the accelerator. But the gearbox in our test car sometimes jerked as it shifted gears. The A6 is one of the few mid-size cars that is available with a five-speed manual transmission. The A6's fuel mileage is decent. In 444 miles of driving, I logged an even 20 mpg in the city and 26 on the highway. However, I did not use the air conditioner. The A6's 21-gallon fuel tank means you'll be driving past many gas stations between fill-ups. I drove about 400 miles before stopping for fuel. HANDLING When it comes to high-speed hand ling, the A6 really shows its German heritage. The car corners as if it is on rails. I tossed the A6 into several sharp curves at high speeds and found that the body does not lean much as you slice through the twisties. As with Lexus and other premium luxury brands, Audi engineers have designed the A6's suspension to also deliver a modicum of luxury. Audi engineers have crafted a superb four-wheel independent suspension system for the A6. The car is very quiet over rough roads, and the suspension system goes about its business almost silently as the car encounters such things as speed bumps and potholes. High marks also are in order for the A6's four-wheel power-assisted anti-lock disc brakes. The pedal doesn't have to travel much before the brakes bite hard, and the car slows quickly. The A-6 does not dive when you slam on the brakes. There is, however, one aspect of the A6's road manners that left me cold. And that was the dull, vague, lifeless power-assist d rack-and-pinion steering. It's awful when compared with other cars in its class. At low speeds, the steering requires too much effort, and it doesn't return to the center position by itself when you make a slow turn. On the positive side, the A6 can turn a complete circle in 34.8 feet. That's fairly tight for a mid-size car. FIT AND FINISH I found the A6's exterior styling to be conservative, maybe even just a bit uninspiring. But the interior was a warm and comfortable place in which to spend time. Our test A6, which came with an attractive pleated gray cloth interior, proved you can have a classy interior without sacrificing any living creatures for their hides. (Leather, however, is optional for $1,460). The dash, console and door panels are trimmed in burled walnut. The seats are nothing shy of excellent. They provide ample lower back support, and numerous electrical adjustments make them easy to configure. Several times I spent two hours behind the wheel without feeling the slightest discomfort. The air conditioner is about as easy to operate as they come. All you do is punch up the automatic setting and select the temperature. Our test car came with a tilt and telescopic steering wheel that also could be pushed in and out. The white-on-black analog gauges were cleanly designed and nicely laid out. Rear visibility is the only fault I detected in the design of the A6. The pillars behind the back doors are thick and obscure the rear view. Also, the rear seat headrests block vision, making backing up a sometimes tedious chore. The trunk is of average size, but it is easy to load because its lip extends to the rear bumper. Longer items, such as snow skis, can be stored inside the car, by folding down the rear seat armrest and opening a small passage between the trunk and the interior. Rearseat room is generous. Three large adults can fit on the rear bench and ride in comfort. Our test car's quality can be summed in one word: terrific. In one week's driving the car worked perfectly and proved that it could take a pretty good pounding. But the A6 is not perfect. It needs an automatic transmission that shifts consistently smoothly and a more responsive power steering system. Still, for the money, those two minor faults can easily be overlooked. Truett's tip: The Audi A6 sedan is a solid, quick, comfortable, well-built and fairly priced German sedan.
---
People Who Viewed this Car Also Viewed
Select up to three models to compare with the 1995 Audi A6.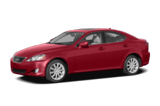 2006 Lexus IS 250
Asking Price Range
$7,141–$15,625
Compare
2013 Ford Taurus
Asking Price Range
$9,487–$24,371
Compare
2012 Rolls-Royce Ghost
Asking Price Range
$114,937–$205,589
Compare
Featured Services for this Audi A6