Average Ratings
---
17 out of 20 people recommended this car.
---
EASY SMOOTH JUST WHAT I EXPECTED
by Bruce77 from bethpage | February 11, 2013
Let me start by saying i had a great experience .. i came down for a jeep for my daughter they put me in a jeep even though i had a budget to spend the guy jimmy showed me a few jeeps and went thru all the details on the car , even showed me how to use the 4x4 radio controls etc he took all the time to go thru every detail on the cars he showed me , even tho he didn't even kno if i was a buyer at the time .i must say i got a good deal and i would buy another car from him when im ready ..thank you for being patient and all the help !!!! by the way lizzie loves it , thanks again bruce77
Purchased a new car
Uses car for Just getting around
Does recommend this car
---
Best Car I have Owned
by Spirited Driver from DC Metro Area | April 8, 2012
I ordered this car new in 2000 and after 11 1/2 years of ownership I still love this car. I have finally ordered a new 2012 A6 and struggling with the thought of selling this 2001 A6 2.7T. I have never had to add a single quart of oil and the performance and handling still put a smile on my face. Mine has never had any fluid leaks over the 11 years. Regular maintenance is all I have had to do with this car and after you get past the timing belt and major tune ups at the 100k area you are ready to go for another 100k. If you are interested in owning one of these great cars it is imperitive that you find a very good indepenent Audi/VW shop to work on it. The cost will still be elevated but reasonable for the smiles it will put on you face when cruising on a nice day with great tunes-a-blaring.
Purchased a new car
Uses car for Commuting
Does recommend this car
---
Fantastic car, but...
by ...bill from Olympia, WA | January 27, 2012
I own a 2001 A6 2.7T. Bought it new, so I've seen it all. I still love this car, but I do all work myself. These are beautiful comfortable cars, plus 4WD, with great engine performance (dual turbos). If this car were still under warrantee then there are no hesitations recommending buying one. However at 11 years old, you'll probably be on your own for maintenance. This is a very complicated machine. If you pay someone else for your car repairs: -Make sure the timing belt has been replaced sometime during the past 50K miles. Otherwise you'll have to get that done at about $1000 from an independent shop (way more at Audi). -Ask if the torque converter (in the auto transmission) has been replaced. All of these cars had trouble with torque converters up to 2004. If not replaced, expect that to fail. ~$1500-$3000 depending on how badly it affects the transmission. -Have someone look into the air turbo outlets and assess their condition (no metal filings, not much oil). Turbo replacement can cost over $3000 as the engine must be removed to fix. Turbos can be OK if cared for. -Check for engine computer codes. Lots of sensors on this car. Many are expensive. -Expect "normal" older car stuff needing repair: CV boots, brakes, tie rods ends, suspension bushings, OX sensors, etc. The more of this someone else already fixed, the better. If you get past all of these issues with confidence, then buy and enjoy. Otherwise, the repair cost of a torque converter and/or turbos can easily exceed the book value of this car. If you are a competent do-it-yourself kinda person, and you pick up one of these at a great price, enjoy. Also, with a few $hundred in engine software modifications you can easily double the torque and HP of this engine. Bottom line: These (pre 2004) cars have transmission issues and are expensive to repair. Run away if you can't prove the items above are replaced or dealt with and you'd have to pay someone to fix them. This can be emotionally difficult as a clean A6 (even an '01) is deceptively gorgeous. If you're above average mechanically and want to take one of these on, do so with your eyes open. I still love mine.
Purchased a new car
Uses car for Transporting family
Does recommend this car
---
The Best Car
by Audi Lover from Chicago, IL | May 27, 2011
This is by far the best car I've ever owned. It handles exceptionally well for an all-wheel drive and has seen me to my destination through several blizzards that tow trucks haven't made it through. The interior is very roomy and comfortable. It has accomodated my husband, myself, our luggage, and two large dogs without feeling cramped. As I said in my title, it is the best car ever.
Purchased a new car
Uses car for Transporting family
Does recommend this car
---
Amazing, Luxury, Reliable, Pure driving pleasure
by Luxury/Performance Car Enthusiast from New York, NY | January 30, 2011
This car is amazing, by far the best I've owned, quattro awd is unstoppable in rain/snow. Bought it used and still havent had any problems what so ever. Beats any Mercedes or BMW in it's class, great power and handling, worth every penny, GREAT CAR, GREAT BRAND, highly recommended.
Purchased a new car
Uses car for Commuting
Does recommend this car
---
Pure Driving Joy
by Audi A6 2.7T from | November 27, 2010
When I get in the driver's seat of the 2.7T I am transformed into a luxurious race car driver. I just love to drive this car, and I drive it to it's potential. The 2.7T engine is a twin turbocharged 250 HP engine that has awsome response to ecceleration, the steering and suspension is as good as it gets. The 2.7T features and the way it drives and feels has nothing to do with the 2.8. The 2.7T is the top of the line luxury and sports car and it comes with all of the luxury bells and whistles. One thing to note though, while this car is very reliable, it is very costly to repair when something goes wrong, beside, after 100K miles get ready to spend money; this is the time to replace the timing belt/water pump/serpuntine belt/spark plugs ($1,600), front struts ($900), all 8 front end control arms and both tie rod ends ($1,500), and fix the leaking drive shaft seal ($400), now it's ready to go for another 100K miles. Sorry about your wallet! and this is not at the dealership, if you take it to the dealership you'd have to multiply the costs by 1.5. Anyhow, I still love this car and I really enjoy driving it.
Purchased a new car
Uses car for Work
Does recommend this car
---
Luxury, sporty car, but big gas sipper
by MarioFire from Troy, MI | November 10, 2010
Great engineering, a lot of fun to drive, expensive to maintain, lealy engine seals/gaskets (will mess up your driveway, unless you pay a lot for fixes), 15mpg city/22 hwy, 250HP, more then 300HP chipped
Purchased a new car
Uses car for Just getting around
Does recommend this car
---
wagon A6
by avant wagon from spring valley wi | March 30, 2010
I have a feeling that the avant wagons are just the same as the Allroad.They drive well and fuel economy is good,The room is perfect .Good for long distance travel ,Good among crowds ( meaning a good looking car) The only down point is the cup holders .They are not that well placed otherwise the car is a 10 Drive it and I know u will like it. family friendly and safe .
Purchased a new car
Uses car for Outdoor sports (hiking, cycling, etc.)
Does recommend this car
---
A6 Avant 2.8Q
by Gardezi from va | January 12, 2010
Excellent car, I had Mercedes before, power wise no comparison between the 2, Mercedes will out run this A6 in a heartbeat. Comfort, style, standard accessories, features & etc… Audi' surely beats Mercedes. They could have done better then 2.8 with 200hp. Way under power for size and weight, & very soft suspension.
Purchased a new car
Uses car for Commuting
Does recommend this car
---
It just keeps going...
by Jameson from Cleveland, OH | December 16, 2009
As a traveling sales person, I put a lot of miles on my vehicle, nearly 40k per year. I picked up the A6 used in 2004 with about 20,000 miles on it, it now has over 200,000 and is still going strong. The car is certainly expensive to maintain, but even with that, it's still much cheaper than buying a new car every 100,000 miles. If you want a car that is built to last, then the A6 is a superb choice!
Purchased a new car
Uses car for Work
Does recommend this car
---
People Who Viewed this Car Also Viewed
Select up to three models to compare with the 2001 Audi A6.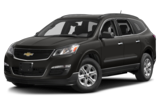 2017 Chevrolet Traverse
Starting MSRP
$28,700–$44,045
Compare
2013 Chevrolet Equinox
Asking Price Range
$12,432–$22,508
Compare
Featured Services for this Audi A6