Average Ratings
---
25 out of 28 people recommended this car.
---
Drives like a Sports car
by Shopping on behalf of wife from San Jose, CA | April 13, 2015
We bought a 2011 Q5 3.2 with S-line sport suspension. It is one of the best handling cars I have ever driven. Great power and torque.
Purchased a new car
Uses car for Commuting
Does recommend this car
---
A True Luxury SUV
by Committed Audi Owner from Memphis, TN | January 9, 2015
Our family has owned 5 Audis over the past 10-years. Without a doubt they have a driving feel above their competition (Lexus, Infinity, Merc and BMW). The Q5 continues with the Audi driving experience. We just purchased a Certified Pre-Owned 2011 Q5 with 48,000 miles. It drives like new. I suggest to any one considering any Audi to simply drive it and compare it to the competition. Audis are built for the driver not the soccer mom. Happy shopping!!!
Purchased a new car
Uses car for Just getting around
Does recommend this car
---
New Q5 owner
by Vdor from Boston, MA | August 14, 2014
If you like the Audi Q5, but not sure if you want to own one, do yourself a favor, don't drive it. If you do, you will be hooked! I love this truck. It's lived up to every review I've seen on youtube and adds a touch of class while doing it. The navigation screen is a bit small, but It wasn't enough to deter me from buying one. If you like power, I know this sounds crazy, but you might want to go with the 2.0t over the 3.2 if your buying used. They perform about the same, but 2.0t gets much better gas mileage.
Purchased a new car
Uses car for Just getting around
Does recommend this car
---
Best SUV on the market
by Dennis from St Louis Mo | May 1, 2014
Go out and drive an AudiQ5 and the drive all others. This is the best SUV I have ever driven, including Benz. Opt for the 2.0 PP and you will be happy foe a long time. Very Impressed
Purchased a new car
Uses car for Work
Does recommend this car
---
update for my previous review from 2012
by BaBa from Hartsdale, NY | November 26, 2013
I had driven 2011 Q 5 PP only 16000 miles in three years this October. The noice came when I turn the steering wheel when the car is stationary. Took the car to dealer and they change the spring. Had tried couple of days and the noice return and finally the column had to be replaced. Surprise that happened to a $ 45 K car at 16000 miles. And the display went blank the same time. The dealer ordered parts and was replaced without needing to pay because its still under warranrty. Should not have happened . Period. Thank God it happened while its still underwarranty! The dealer said its not common and only happened in one or 2 cars. Want to know if any one out there has a similar problem with central display and steering coulumn?
Purchased a new car
Uses car for Commuting
Does not recommend this car
---
Awesome but can't seat 4 comfortably
by Morecars4me from Atlanta | October 26, 2012
This car is awesome for the owner and driver, but lacks rear seat space - even for young adults. The rear seats only permit two people not three as there is huge center hump in the middle of the floor - no where to put your legs! The rear cargo provides limited storage. As great as it is, it doesnt turn heads, but has all the best a driver could want in driving, comfort, and audio technology. One draw back is that all the controlls require to go thru several steps to get to the controll you need.
Purchased a new car
Uses car for Having fun
Does not recommend this car
---
Most fun car I've ever owned....
by Jensyl from Austin, TX | September 10, 2012
I have previously owned and/or driven Honda Civic, Toyota Camry, Toyota Avalon, Mazda Protege and Nissan Maxima and all sorts of Chevy's. This is the most fun (smooth, exhilarating, comfortable, refined and relatively quiet interior) among them all. Even when i am driving it at 80 mph, it feels like i am driving at 50 mph, thanks to the 8-speed transmission and ample power from the 4 cylinder turbo engine. NAV and SIRIUS work great and so is the rear view camera and front, rear parking sensors. Panoramic roof gives a sense of roominess and the interior materials are soft and well done. Hard plastics are reserved for hard to see and hard to reach places. I have had 1 problem so hfar and it was related to a water leak under the glove compartment after car wash in a automatic car wash facility but it was repaired as per a TSB to replace a warped hose, seals. Otherwise i love this car and plan to keep it for a long time assuming it is trouble free. It currently has about 19,900 miles on it and i bought it when it had 17,800 miles about 2 months back.
Purchased a new car
Uses car for Commuting
Does not recommend this car
---
Love the way it handles the road!
by Sporty suv from Las Vegas nv | September 5, 2012
It truly is an amazing car! Best of both worlds , sports car and suv! It handles the road perfect! I would recommend an Audi to all my friends .. If looking for a new car test drive an audi you will fall in love!
Purchased a new car
Uses car for Just getting around
Does recommend this car
---
Must Have
by Car Expert from Connecticut | July 18, 2012
Having owned many cars, I decided to head to the German car market. I say to my self "WHy didnt I get this earlier." I got a 2010 Audi Q5 Prestige with all the options. It was certified pre-owned. Even with the fact that it will cost $50,000+ new, it is well worth it. The Bang & Olufsen Sound System could not be any better. The MMI Navigation Plus is good, but takes a little getting used to. I reccomend going through the Manual to learn it. The panoramic moonroof is a huge plus. It gives the car a more roomy and open feel. Space is not an issue either. More than enough room for four, and maybe a small child in the middle, or an adult for short drives. Trunk space is unlimited. Alot with the back seats up, and twice as much with them down. Take the tonnaeu cover out and its tall, but there is nowhere in the car to put it. My Prestige has alot of extra bells and whistles. It has these cool thermo cup holders. THe heat function will warm all the way to 136 degrees farenheit, while the cooling function goes to 36 degrees Farenheit. It also has Audi Advances Key. Have the Key within five feet of the door you wish to open, then just pull the handle. Then tap the indentation to lock it up and fold the side mirrors. The power tailgate is great. Open it by pressing the buutton on the key fod, pull the handle behind the logo in the back, or simply pull the swith in the drivers door. It also has heated and auto dimming outside mirrors and rearview mirror. Two person memory seating and mirror position makes getting settings for two drivers per key a breeze. There is a deflated space saver spare, but a compresser is provided. Saftey is awesome. More than enough airbags to keep everyone safe, in the occurance of an accident. Mine has the optional side assist, aka Blind Spot Warning. Nice bright LED lets me know when there are vehicles in my blind spot. The front and rear acoustic parking sensors are a big help, along with the rear backup camera with guidance lines. Styling is great. The standard on Prestige and optional on Premium Plus 19 inch alloy wheels are nice and sporty, but dont take away the amazing luxury look the car has. THe distinctive LED Daytime Rinning Lights, and Accent Lights will assure the presence of the Q5. There are stylish LED Taillights in the back, and front and rear fog lamps to finish the nice look. It very good on gas. Ive been averaging more then the EPA estimated, but then again, it depends on your driving habits and mantinence habits. Not bd for a 3.2 Liter DOHC 24 Valve V6 Quattro. Cons: For the price, a rear entertainment system should be optional for Premium Plus, and Premium Plus, and standard on Prestige. Also they should add Power tilt and teloscoping steering wheel and memory. Other than that, the Q5 is great. Audi has engineered this car very well. I cant wait to be at the dealer getting another Audi to add to my collection.
Purchased a new car
Uses car for Just getting around
Does recommend this car
---
Q 5 is excellent but road side service sucks
by Baba from Westchester County, NY | December 1, 2011
I had owned Q 5 since 2010 September. Its a very nice car, had read the reivews and decide to go for it. I had owned different luxury vehicles and never own or driven Audi before. Mine is 3.2 PP with Nav. I bought the car in NJ and when I went for 5000 mile service in NY dealer I was told I will not get a loaner car because I did not purchased the car from them. I had flat tire last Janusry. Call road side assisatnce and after waiting 45 minutes the nice guy came. It looks like he had a contract with Audi. He had difficulty looking how to change the tire. It was done, not propperly so after driving back home I had a flat on the spar tire. Had to wait 45 minutes to get the service from Audi Road side assitance to sent one again. It was fixed and I had to buy the new tire from the local tire dealer. Similar event happened with my friend yesaterday. She bought the 2012 Q 5 because I recommend. She had a flat, she call, Audi and in 35 minutes a guy came with a regular car. He had no clue where to look for th tools. Then cannot locate the key lock. After they found it he claimed he did not know how to use the spare tire, its different but you all know its not thet difficult. He called the tow car, it was towed to near by tire shop where they finally change the spare one and my friend got home at 6:30 pm. She got the flat at 2 pm. Thankfully it happened in the compound whwere she worked and not on the high way at night. I will recommend the car but it will be nice to use AAA or your insurance company road side assistance rather then calling Audi and getting a person who cannot change your tire for a flat. Its ridiculous. Had send e mail to Audi but did not receve any response.
Purchased a new car
Uses car for Commuting
Does recommend this car
---
People Who Viewed this Car Also Viewed
Select up to three models to compare with the 2011 Audi Q5.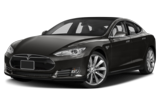 2015 Tesla Model S
Starting MSRP
$70,000–$105,000
Compare
2015 Infiniti Q60 IPL
Starting MSRP
$62,100–$62,100
Compare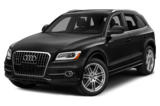 2014 Audi Q5 hybrid
Asking Price Range
$34,231–$45,367
Compare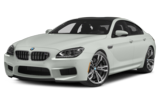 2014 BMW M6 Gran Coupe
Asking Price Range
$67,286–$87,942
Compare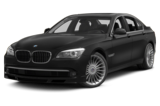 2011 BMW Alpina B7
Asking Price Range
$24,696–$57,272
Compare
2009 Cadillac Escalade EXT
Asking Price Range
$18,026–$36,054
Compare
2015 Lexus RX 450h
Starting MSRP
$47,620–$49,020
Compare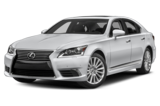 2014 Lexus LS 460
Asking Price Range
$40,558–$64,846
Compare
Featured Services for this Audi Q5