Average Ratings
---
35 out of 42 people recommended this car.
---
Great car, great dea!
by Simple Car Buyer from Phoenix, AZ | July 13, 2016
Love the performance! This car has fast reaction. After replacing the spark plugs, it's even better. WOW! With 18 inch wheel, it looks great and drives great! The AC in the AZ heat keeps me cool.. I love this car!
Purchased a new car
Uses car for Commuting
Does recommend this car
---
Fun, Stylish, and Practical
by CarGuy from Tucson, AZ | October 19, 2015
Just bought a 2006 325i with a silver exterior and a black interior. The design is so stylish inside and out. Love the push-button start, the HID headlamps, and the soft leather surfaces. The car has had no issues and I've been averaging right around the projected gas mileage figures. This car turns heads and you won't regret this purchase!
Purchased a new car
Uses car for Commuting
Does recommend this car
---
Just a great car to own
by Just a great reliable car that we are proud to own from Grand Rapids Michigan | March 15, 2015
We have owned this vehicle since it was a year old with 10,000 miles. This car has never been trouble and has always gotten us through all types of weather. Only two repairs were needed- a leaking rear engine seal and fuel filter leak. Other than that, it has never been an ounce of trouble.
Purchased a new car
Uses car for Commuting
Does recommend this car
---
Living the Life
by Happy Senior from Hampton Ga | March 6, 2015
What a wonderful experience! This was car shopping made easy without the pressure of a salesperson pushing you into submission. When I drove my BMW it made me feel like a kid again. I love it! This is the most fun I've had in a while. Great dealership, great vehicle and even better experience. What usually takes all day to finalize only took about 3 hours after deciding what I wanted. I couldn't believe it. Now, I can't wait for warmer weather to really show off.
Purchased a new car
Uses car for Having fun
Does recommend this car
---
Great car, 2nd I have owned
by Engineer/Shade Tree Mechanic from Jacksonville, FL | February 23, 2015
This is our second 2006 325. The first a sedan manual transmission purchased with 110,000 miles and the second a Sportwagon with 100,000 miles. Neither car had been particularly well maintained. After replacing all the fluids, brakes, and fixing the little things in the interior they turned into great cars. The first one had two collisions with my high school daughters in it, neither their fault, and neither got a scratch. The second collision totaled the first one. So I found another similar one. Cleaned it up and made it "almost like new" For very little investment I have another very safe and quite decent car the girls love. And it is great fun to work on as everything is done so well from and engineering standpoint. Tons of information online for Do It Yourself fixes and parts. I love these early 3 series.
Purchased a new car
Uses car for Transporting family
Does recommend this car
---
Nope
by Huh from Birmingham, AL | August 1, 2014
This car has upsides and downsides, as all cars do. Let's start with the positives: This is a great car for driving fast on the highway. And you can fit a lot of stuff in the trunk, especially with the seats down. The leather seats are nice, not cheap like some, but not not all that comfortable either. Also the seat warmers are amazing and the navigation/entertainment console is fun to use and feels luxurious. Make sure to not hit any bumps while driving though because that can make your CD skip/music cut out...That's about it for the pros. My family has owned this BMW 325xi sport wagon for about six years now. It officially got turned over to me about a year ago with 90k miles on it. Since then I have had to spend probably at least a thousand on repairs. A bolt broke which held a gear which held the drive belt, $420. The car would randomly start forcing itself to change gears while driving(at a consistent speed, might I add) resulting in a warning message popping up letting you know that acceleration has been reduced. The BMW dealership said a turning sensor(?) was out, paid probably $700 to replace it, did nothing to solve the problem. Along with getting 18-19 mpg all the time while driving 70/30 city/highway and having to put premium gas in the car I have had to pay much more than would have liked to take car of this car. Also, the paint has started to chip off. All around the rear exhaust pipes the paint is peeling off, like someone just did a really bad paint job. The two headlight washers have fallen out, as well, leaving two gaping holes on the front of my car. Overall I would recommend this car for someone who doesn't care about the gas mileage or maintenance costs/cost of buying a new one. It's really fun to drive, the AWD and other traction control options work really well in snow/rain, and it's sporty while also being practical with the extra cargo space. If you're not feeling the cost of maintaining a sports car/luxury car, go for a prius for your next car like me :)
Purchased a new car
Uses car for Just getting around
Does not recommend this car
---
Happy little girl!
by Briggzi from Litchfield, Maine | November 4, 2013
i just purchased an 06 BMW 325xi, and couldn't be happier! this car is just beautiful all around. She handles like a dream! this car is just pure class with its leather seats and wood grain inlay. My sales guy Nick Danforth was amazing and very helpful/informative, couldn't have asked for better service! super happy with the car and would recommend Lake City Exports to anyone looking for a car. Thank you so much!
Purchased a new car
Uses car for Having fun
Does recommend this car
---
Duran Motorsports BMW
by Paris from Orlando, FL | October 30, 2013
I purchased my used 2007 BMW 525i from Duran Motorsports located in Hollywood, FL. I am very satisfied with my new vehicle and I'm happy to have a reliable and affordable luxury vehicle. I highly recommend this model vehicle and this dealership to all! You will not regret your choice!
Purchased a new car
Uses car for Commuting
Does recommend this car
---
A Crooklyn Scam
by Consumer Advocate from New Jersey | June 7, 2013
I could go on and on about this stealership, but I'll save you some time by just giving you the critical info: The price listed is NOT the price you'll get once you arrive. They want to make their money on finance charges; if you are cash-in-hand don't even bother. These people should be fined huge sums by the FTC and/or jailed for misleading. Their "fine print" is not clear and many will fall for their antics. Don't. Just don't. This company is not worth your time or money and will likely go out of business right after you finance a car from them.
Purchased a new car
Uses car for N/A
Does not recommend this car
---
Great looking car.
by KIKO from VIRGINIA | April 11, 2013
Excellent car, only one advice. Buy with a warranty,very expensive parts and labor. I got it for my son, a 325 i with 80 k. Got a 3 months bumper to bumper warranty (off market) In the second day the car overheat and shut down, we didn't know if it was the water pump or the thermostat. And in order to get to the thermostat you need to take the water pump. Warranty covers the water pump but not the thermostat. Also an emission problem but since the factory warranty covers until 80 k or 8 years, not covered. The rest so far impeccable,but be aware that is a very very fast car (3.0 engine)
Purchased a new car
Uses car for Commuting
Does recommend this car
---
People Who Viewed this Car Also Viewed
Select up to three models to compare with the 2006 BMW 325.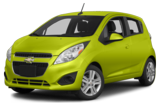 2015 Chevrolet Spark
Starting MSRP
$12,270–$16,535
Compare
2010 Lexus IS 350
Asking Price Range
$15,468–$23,804
Compare
Featured Services for this BMW 325