Average Ratings
---
16 out of 18 people recommended this car.
---
Best car buying experience I have ever had!!!
by Red BMW from La Mesa CA | April 17, 2014
Rick is the most awesome guy he was determined to help me get in the car i wanted, i don't have perfect credit, i was so happy with his service. He was friendly, he's a man of his word he called me the next day and said i was approved, i was practically jumping up for joy when he told me. I have a beautiful red BMW i'm in love with my car. And all thanks to Rick and hes team for giving me a chance. Great service, everyone at Bmw El Cajon you are the best.
Purchased a new car
Uses car for Having fun
Does recommend this car
---
A Fine, Fun Car!
by Rediron from | January 28, 2014
Great to drive! I Like it. Try one yourself. Very predictable handling, and excellent in all road trials.
Purchased a new car
Uses car for Just getting around
Does recommend this car
---
this car saved my life
by bmwlover from johnson,vermont | January 23, 2014
this car (2008 328xi sport wagon) saved my life! on monday i was forced off the road my a person coming at me in my lane…i drove off a 15 foot embankment…the car flew,rolled over twice and landed on its roof…i walked away without a scratch….thank you BMW…you have a living, healthy, life long customer….i will drive your cars proudly until i have to surrender my drivers license.
Purchased a new car
Uses car for Just getting around
Does recommend this car
---
Solid Machine
by Terrylovestocruise from Portsmouth, NH | September 6, 2013
This is my second BMW. The first was a 325i and couldn't believe the difference between it and the Ford I traded in to purchase the BMW. I didn't realize how "tinny" the doors were but when I first opened the BMW the doors were solid, I felt like I was driving a tank, a very comfortable luxury tank, you feel like your sitting in a solid car from the weight of the doors, to the leather seats that feel like a very thick quality leather, to the mirrors that assist when backing up and parking the car. I didn't know what "the ultimate driving machine" meant until I actually bought one and experienced it. Seven years later I now own an Alpine White 2010 BMW 328i xdrive, had to move up a notch. The only con about this car is the gas mileage, I might get 18 around town and 25 on highway. A big difference from the 325i which was a lot more economical. Other than that, it has a smooth ride and I feel like a million bucks driving it. It's sleek sophisticated design is certainly a head turner and I made sure I didn't buy it new, but 2 years old this time so I don't feel the pinch of paying for a new one all over again. I would highly recommend this car. They are simply a quality built car unlike any other type of car I have driven.
Purchased a new car
Uses car for Just getting around
Does recommend this car
---
SUV alternative?
by outside the box from Tacoma, WA | September 6, 2013
Others more auto-astute than me have thrown every superlative in the book at the 328i. Who am I to argue? What I can do is make an out-of-the-box suggestion: Consider the 328i sedan -- with X-Drive -- as a brilliant alternative to a small SUV... but only if fitted with the hard-to-find fold-down rear seat... which lets 1 or 2 occupants haul tons of bulky gear on virtually any road in virtually any weather conditions, while enjoying consumate performance, luxury and safety. Then easily raise the rear seats whenever you want plenty plush seating for four. Another tip? Consider buying after-market long-term bumper-to-bumper warranty extension coverage. Otherwise, brace yourself for the sky-high cost of BMW repairs.
Purchased a new car
Uses car for Just getting around
Does recommend this car
---
328i Cabriolet is a Great Car
by Doc from Boise, ID | April 11, 2013
My wife and I were looking for a car that would replace our Mercedes-Benz SLK 350. We loved the hard top convertible but needed a little more room. The BMW 328i convertible does that. Here are my observations: Plus: Powerful but not stunning acceleration. Excellent handling, even better than the SLK. Comfortable but firm seats. Excellent stereo and Nav system. Decent highway mpg... about 31. More fun than should be legal with the top down. Much better body integrity than the SLK. The BMW barely gives away the fact that it's a convertible. Free maintenance for the first four years. (We have one year left as we bought a 2010 just one month ago.) Minus: Expensive to fix IF you use the dealer. Don't. I have been using the same independent here in Boise for 20 years and I swear he does a better job for half the cost of the dealer. By the way, he says a 328i is one of the best cars ever made. Seriously. Nav screen. BMW really dropped the ball on this. The screen has an anti-glare coating that comes off or scratches if you try to clean it. If you buy this car it takes courage to remove the anti-glare coating and replace it with a film available at several outlets. It works and it can be cleaned. Stiff ride with run flat tires. I will probably replace them with conventional tires and a mobility kit (fix-a-flat and a portable electric air pump). After a month of driving this car I love it and can't imagine selling it unless it simply falls apart. It's that good. But I would never buy it new. Let someone else take the $20,000 depreciation loss.
Purchased a new car
Uses car for Just getting around
Does recommend this car
---
Definitely the ultimate couple
by boxstermike from Wilton, CT | April 1, 2013
I have had three BMW 3 series over the years and continue to love their handling and overall performance. Is the interior as comfy as a Lexus? No, but it drives like a BMW, not a Lexus. I have also own an Audi and the BMW is a better driver. The 2010 coupe is especially nice, particularly with the sport package and 18" wheels. Yup, it rides a bit rough, but so does any sport coupe with 18" wheels. But the handling is amazing for the price range.
Purchased a new car
Uses car for Commuting
Does recommend this car
---
BMVEEEEE
by Power Professional from Las Gatos | February 19, 2013
In Germany the call them B M VEEE. VEEE should be weeeeeee. This car is fun but; get used to the driver side being as close as it looks on that side when changing lanes or turning. If you do not know what I mean, you will if you buy one of these machines. I am still looking to get the great gas mileage. Nice acceleration and nice handling and stopping. My sound system needs to be calibrated but; overall, the vehicle is a good car and worth almost its price.
Purchased a new car
Uses car for Just getting around
Does recommend this car
---
The coupe I've always wanted
by Coupe Hunter from Boca Raton, FL | January 21, 2013
I searched for over a year to find the perfect combination of color, performance, style, options, etc, and found it in the BMW Coupe I purchased. Ideal car for me and my daily commute. And weekend fun.
Purchased a new car
Uses car for Commuting
Does recommend this car
---
328xi, awd heaven....
by VaStig from Virginia | August 23, 2012
You pay for what you get, and every cent spent was worth it. Car handles great, and provides the drive with almost to secure a feel from it's bewildering traction. Gas mileage is 19 city, which hurts a bit, but 26 highway, which no complaint can be made. Went with the 328 instead of the 335 because after test driving them both, the 335 almost was overkill, though if a diesel AWD 335 was available I would have swapped it up in a second. Car feels like a BMW, well built, solid, and has the gadgets you can personalize to your liking. If you've never owned one, you'll never understand why they call them the ultimate driving machine. Not only a solidly built car, but safe, comfortable, and most of all, makes the driver want to drive. Power is adequate, and as with most German built cars, torque is the key. Could use another 20-30 horses, but the balance between reliability, economics, and peformance seems to be perfect.
Purchased a new car
Uses car for Just getting around
Does recommend this car
---
People Who Viewed this Car Also Viewed
Select up to three models to compare with the 2010 BMW 328.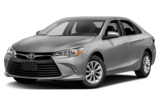 2016 Toyota Camry
Starting MSRP
$23,070–$31,370
Compare
2013 BMW 320
Asking Price Range
$17,999–$28,511
Compare
Featured Services for this BMW 328