Average Ratings
---
27 out of 29 people recommended this car.
---
Amazing
by Ryan Bmw 330i from | January 21, 2015
i have been wanting a bmw ever since my dad got his first one. I'm 16 and i love the brand of the car from up to down. my dad had a 2000 323i which has run for ever it currently has 260k miles on it and still runs fine. We now have an m6 and very happy with that. we recently got this 330i for me because we know the engine so well. i wasn't expecting much from a 3 series but I'm extremely happy with the performance of this car and how it handles just in general.
Purchased a new car
Uses car for Having fun
Does recommend this car
---
e46 330ci; closest e46 3 series to e46 M3.
by Don from | August 12, 2013
I was in the market for an M3 but came across a 330ci. I was hesitant at first in getting the car because I really wanted an M3 but good deals on M3's are hard to come by. So I came across a 330ci (coupe) and I do not regret buying it! So far, so great! Better than I expected. I wish it were manual but that's okay. The drive drives like it's new. Handles great. The interior and body are in great shape. I am very fortunate to have find a great 330ci. If you're in the market for an M3 or in the market for a 3 series, don't hesitate in getting a 2001 to 2003-4 330. Also to note, the 2001-2003 330 engine was on Ward's Best Engine list for those years! (3 years in a row).
Purchased a new car
Uses car for N/A
Does recommend this car
---
Fantastic Value!
by 3rd BMW from Northern NJ | February 22, 2013
We are a young family of 5 with a Prius and a 7-passenger SUV. Both very capable vehicles but neither are much fun to drive. I was in the market for a fun, stick-shift under 10-g's. The 2001 330 ci Convertible is the perfect car for me. I found one not too far away with 98,000 miles in the colors I wanted (Blue / Gray leather). The car looks great, almost new, and according to the BMW pre-purchase inspection everything is OK, other than some normal wear and tear consumables. They recommended front brake pads ($700) spark plugs ($400) and a fuel filter ($230) so for about $200 in parts they only want about $1,100 additional in labor. I am handy and plan to do almost all maintenance and repairs myself. I would suggest that if you are in the market for an E46 (1999-2005) find a good local mechanic if you are unable to do things yourself. The dealership prices are sky high and take the fun out of owning a fun car like this. The car is steady as a rock on the highway - I was cruising at 95mph. These cars are strong and important stuff like engine and transmission are fine but I found two things that the BMW dealer missed. First the control arm bushings are done. I will replace with the urethane variety and second I see the oil pan is wet. Could just be a bad plug or maybe a gasket. I hope. If you find one that you like, go for it. It's a blast to drive
Purchased a new car
Uses car for Having fun
Does recommend this car
---
Great car!
by First time BMW owner from | October 1, 2012
I recently purchased my 330xi and over the first couple weeks I have not had any major issues. I had to replace an oxygen sensor shortly after buying it, but other than that I cannot complain one bit about the car. The car handles superbly, feels tight to the road and provides extreme comfort and sound all in a beautiful BMW exterior. The engine roars to life and makes you feel like you are controlling a wild animal, but has the type of controls that just about anyone could handle.
Purchased a new car
Uses car for N/A
Does recommend this car
---
Great car for the home mechanic
by jhb from Shenandoah Valley VA | September 28, 2012
Bought a 2001 330i manual transmission car with 110,000 miles. Replaced the shocks and struts with Bilsteins (including mounts and reinforcements), replaced spark plugs and valve cover gasket; rebuilt cooling system, replaced front control arm bushings. ALL of these things WILL need to be done before you get to 125K, but if you can do them yourself they cost no more than similar maintenance in a Honda, Toyota or American car. And the BMW is infinitely easier to work on. It is a pleasure to drive; can easily yield 31 mpg with a little bit of restraint by the right foot. Handling is superb. I bought my car for $8400 (exceptionally clean) and have invested another $1500, but I smile every time I start it up. Used E46 manual transmission BMW's in good condition represent one of the greatest used sporty car values on the market. Aftermarket parts abound. Youtube is full of videos to help you with repairs. But you probably will not enjoy it as much if you have to pay someone else to work on it. Look for an independent shop in your area...even if you have to drive two hours it will be better than going to the dealer! And don't ask anybody to sit in the back seat for more than an hour if they are taller than 5'8".
Purchased a new car
Uses car for Commuting
Does recommend this car
---
luv it
by summer gal from ct | June 21, 2012
one of the best cars I have ever owned, comfortable, smooth and over all just a really cool car, would recomend but do not buy the first one, look around.
Purchased a new car
Uses car for Having fun
Does recommend this car
---
If you can't find an M3 get this.
by Tizzy from Merritt Island, FL | February 26, 2012
We purchased this car used in 2007 with 48k miles and currently has 80k. The car is fast -we also installed a performance chip. Gas mileage is tolerable, about 26mpg hwy and 15mpg city. Only issues with the vehicle is the air compressor for the a/c leaks, so it must be charged every couple of months (but who cares, we put the top down). The back flaps of the convertible top constantly come undone -a nuisance, but not a deterrent (common issue). The engine top drains into the trunk causing the trunk to fill with water (poor drain design), because we leave the car parked outside now. Small trunk space -so prepare to pack light on trips (plus for males, major complaint for females). The greatness: it starts every time. It accelerates really quickly -just as fun as our '86 MKIII Supra and '06 Cayenne Turbo S. The seats are comfortable and the interior has held-up really well all things considered; we pile dogs in (mastiffs and pitbulls) and messy neighborhood kids. The audio is ok- if i wanted a better sound quality i would not have purchased a convertible. In all -great car to get you from point A to point B.
Purchased a new car
Uses car for Commuting
Does recommend this car
---
Great fun, cheap!
by Andys120 from Mesa AZ | February 1, 2012
After 5 winters in Arizona I finally realized it was time for another convertible. Since I've had pretty good luck with the 2000 BMW Five Series I drive during summers in NH it was natural to gravitate to an older 3 series Cabriolet and I was lucky enough to find a very nice, lightly used 330iC with good equipment and nice colors (black over red). I vetted the car carefully, ran a Carfax, a pre-purchase inspection and obtained service records. What a blast! This little car is just outstanding to drive with great power, handling and ride. Don't be afraid of older BMWs, if they are well kept, they're great buys and they're built to last (my 528iA has almost 140,000 miles) . I bought a really fun convertible for the price of a loaded Ford Fiesta!
Purchased a new car
Uses car for Having fun
Does recommend this car
---
Great fun to drive
by Grammi for 5 from Middle America | January 2, 2012
Needed to upgrade my Mercedes SLK for a convertible with a back seat for grandkids. This car is perfect for me I got the sport package with a 5 speed. Acceleration and suspension is such fun Seats are super comfortable with lots of support Don't think i will drive cross country with people in the backseat but out to dinner it is ok for space. Love the trunk space for a convertible. Everything i was looking for BMW doesn't disappoint!
Purchased a new car
Uses car for Having fun
Does recommend this car
---
Great car!
by Owner of BMW SUV abd sedan from Princeton, NJ | November 17, 2011
I currently own a 2007 X5, when my job changed, and had to commute over 50 miles (one way). I wanted to keep the X5, so I asked my salesperson at the dealership to let me know when an older model 3series gets traded in. He called as soon as this 330i came in. Once the car was checked out and found to be mechanically sound, I purchased the vehicle. What a great car. Handles awesome (even in the pouring rain). A joy to drive; the steering is on point; car manuevers perfectly, and extremely responsive.
Purchased a new car
Uses car for Work
Does recommend this car
---
People Who Viewed this Car Also Viewed
Select up to three models to compare with the 2001 BMW 330.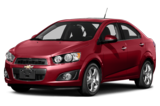 2014 Chevrolet Sonic
Asking Price Range
$7,963–$15,255
Compare
2003 Toyota Corolla
Asking Price Range
$2,357–$7,729
Compare
2001 Chrysler 300M
Asking Price Range
$890–$5,174
Compare
Featured Services for this BMW 330