Average Ratings
---
37 out of 42 people recommended this car.
---
I love the BMW Diesel
by mbp1912 from NJ | February 28, 2015
When I first started doing my research I was very reluctant so I decided to invest into a used low mileage 2011 335D. I bought the car in August of 2012 today in February of 2015 I feel that my decision was sound. I absolutely love the MPG's since I drive an average of 25K HWY miles per year. Even though Diesel is more expensive lets not forget that a gas BMW requires premium gas but even if I pay more I am also getting an additional 150 miles per tank. If you want me to talk about the torque and the turbo's well I don't feel that I have enough room. What you need to know is that you'll never think that you are driving a diesel unless you have to go to the gas pump. As far as complaints I have a few the cup holders are terrible and as with any rear wheel drive BMW the snow is not your friend. So if you are planing to drive during winter storms you better have snow tires. The reliability so far is very good but I tend to be a bit OCD so I change my oil every 5K as compared to the recommended 10K.That is my preference since I plan to drive the car well pass 200K. Make sure you find a good mechanic that knows about BMW's but more importantly one that keeps up with all of the changes and understands Diesel. I got lucky I put an add on Craigs list and a BMW dealership Technician looking for extra work responded and I am lucky to have him maintaining the car.
Purchased a new car
Uses car for Commuting
Does recommend this car
---
335i M Sport
by Own Goal from DFW | July 7, 2014
4 dr, automatic, nav, M sport package. Bought from Dealer as a CPO. 39k miles. Came out of Porsche Cayman S, needed seats and doors. In comparison is a very good handler for a sedan. Considering trade for utility gained don't miss the Porsche as much as I thought I would. Good balance of handling and comfortable ride. Glad got the M Sport package.
Purchased a new car
Uses car for Commuting
Does recommend this car
---
it has everything
by diesel torquester from los angeles | June 16, 2014
it is so very quiet..yes its a diesel..and when you accelerate, it is not much louder than a hum of a whisper. It is luxurious..very comfortable...fantastic sound system..the loudest sound is the road noise generated by the tires. The traction control is always modulating the control over the 400 plus foot-pounds of torque trying to brake loose the rear wheels. Fuel economy..consistent 35 mpg composite..on long road trips was able to average 40...pretty good for a four door sports sedan, that does 0-60 in 6 and a half seconds.
Purchased a new car
Uses car for Having fun
Does not recommend this car
---
GREAT CAR
by Diesel Don from Phoenix, AZ | January 2, 2014
Great car. Gas mileage is very good, very comfortable, fun to drive. This BMW handles great, 40 mpg on the hwy.
Purchased a new car
Uses car for Commuting
Does recommend this car
---
Love it!!
by research freak from Nashville, TN | November 18, 2013
I looked long and hard for a car that would give me better gas mileage and not sacrifice the luxury feel and power I was used to (previously owned a Lexus GS400). This car is it! I bought the 335 diesel so I get the fuel efficiency but amazing torque and power at the same time. Am absolutely loving driving it. Have taken it on 3 road trips already for business. Very comfortable ride and the design is superb. Everything is where it should be.
Purchased a new car
Uses car for Just getting around
Does recommend this car
---
excellent sports car
by 335 from New York, NY | November 17, 2013
This car is a head turner. Striking exterior and interior design. Comfortable everyday driver. Performs good but isn't anything to brag about. Car has fast acceleration and sounds fantastic. Handles excellent. Overall a wonderful car with much to love.
Purchased a new car
Uses car for Just getting around
Does recommend this car
---
Great "Fun" Car
by Tenn Dukie from Nashville, TN | November 13, 2013
Been wanting a fun car for awhile and this is the perfect one - hardtop convertible 4 seater sports car. Great handling and plenty of power, low miles and lot's of warranty left. Model is a 335i.
Purchased a new car
Uses car for Having fun
Does recommend this car
---
Satisfied
by Shopper from Portland, Oregon | October 21, 2013
Found the 2011 335i, fully optioned on CARS.com. Had high miles but is in good condition. Would do it again.
Purchased a new car
Uses car for Having fun
Does recommend this car
---
2011 335i conv
by Mick from South Central PA | October 8, 2013
I have only had this car 3 weeks but I love it. I got mine CPO with less thasn 14K miles on it. The only down fall is the zero trunk space with the top down but, what can you do. I did purchase a sling for the back seats that hooks to the head rests of both the back and front seats to put the golf clubs in so as not to have the clubs damage the seats. The pop out cup holders from the dash are a joke and the only reason I gave the car 4 stars for interior design. The car is as fast as my old CLK500 V8 but definitely handles much better. With the 335i convertible I think I found what they mean by the Ultimate Driving Machine
Purchased a new car
Uses car for Having fun
Does recommend this car
---
The "3-Series is Slipping"
by Miami Ern from Chicago, IL | September 6, 2013
This is the fourth BMW I've owned. Though performance of the car is very good, I find it not to be as smooth or refined as prior BMW's I've owned. I usually buy cars equipped with the Sports Package, which I did this time. However, the steering is very heavy and rather "dead" to the feel. My last car was a 2008 M3 which is a high performance car; yet it exhibited infinitely lighter and sensitive steering than this 335. The 335 transmission shifted out too early and two of the six shifts have flare to them. I squawked this to the dealer and was told that they all shift that way. Ditto on my concern for the heavy steering. Lastly, the brakes are very good......but, difficult to modulate smoothly. So, you often end up stopping the car in a jerking fashion. All accessories are very good and are as good or better than my prior cars. Reliability has also been excellent for the 30k miles I've put on the car. Lastly, the car lacks a "feeling" of luxury. Seat coverings look somewhat cheap and the sealing of the doors and windows seems less than I have been used to in prior BMW's. There is road noise that intrudes on the cabin. On the plus side, the 335 turbo engine provides very good performance and excellent gas mileage. There is imperceptible turbo lag which would have been a big negative for me. But, there is none. The car is almost as fast as my 545 which had a V-8 in it. Of course, there is a big difference between the engines of the 335 versus the M3 I recently sold. Though I would consider buying another BMW, my expectations were higher given the steep price of these cars. Which is why I believe that BMW is slipping on value for the dollar. It may be time to look at an Audi or Mercedes.
Purchased a new car
Uses car for Just getting around
Does recommend this car
---
People Who Viewed this Car Also Viewed
Select up to three models to compare with the 2011 BMW 335d.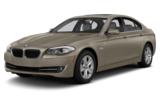 2013 BMW 535
Starting MSRP
$53,400–$55,700
Compare
2015 BMW X6
Starting MSRP
$59,600–$72,900
Compare
Featured Services for this BMW 335d