Average Ratings
---
18 out of 18 people recommended this car.
---
Great reliable vehicle
by Car enthusiast from North Carolina | December 18, 2014
This is a great car! I have a 528xi in black sapphire with black leather. It's equipped with sport and premium packages and has heated seats, xenon lights and the multi-contour seats. No real complaints whatsoever. Only wish I had parking sensors or a backup camera. I have driven and studied dozens of high end cars. I never thought I would like a BMW this much. It's not quite as fast as the 535 because it doesn't have the turbo but it will still get you somewhere quick! Many people complain about the iDrive being complicated and what not but I don't view it as complicated at all. And I appreciate it because you can customize your settings such as daytime running lights and if you want the car to make a noise when you lock/unlock, just to name a couple. Features like that make you really feel like you're driving the luxury car that you are. The MPG are great, I have a heavy foot and I get 21.8 mpg in the city and on road trips or steady highway driving I get over 30. Excellent! The seats are soo comfortable. Even the back seats are comfortable and have ample leg room. I find reasons just to get in my car, I like it that much. The sound system is pretty decent considering it's the standard factory one. I appreciate that I have an Aux hookup and a USB port in the console. The center console space isn't what you would consider spacious but that's ok. I hate clutter and you can stick anything that doesn't fit in the glove compartment anyway. The xenon lights are great and even turn in the direction in which you're steering. Trunk space is very generous. I also like that even though you are in a sedan you don't feel low to the ground at all. It feels very safe, I have not had a serious accident in it but if I do, I have confidence that I have a great chance of being ok. Not all drivers can say that. I have not had any maintenance issues thus far. Mechanics tell me that the 2008 528 has one of the best engines ever made by BMW so I anticipate my vehicle to surpass 200,000 miles without an issue. I only have 85,000 miles right now so I have a ways to go. Overall very happy with my car. Looking at other reviews, many other people are as well. Like I said, I never though I would like a BMW this much. Hope my review helps!
Purchased a new car
Uses car for Just getting around
Does recommend this car
---
One of the Happiest Days of My Life.
by T Money from Lawnside,New Jersey | September 16, 2012
I purchased my car on 7/23/12 and it was a worth wild purchase. The car is beautiful inside and out. It drives like a dream and I am currently learning all digital gagets that come wih the car. 4 door 528xi steel gray. This car is just awesome !!!!
Purchased a new car
Uses car for Having fun
Does recommend this car
---
Best Car I've Owned
by CarGuy from Allen, TX | February 27, 2012
I bought a used 528i about two months ago an couldn't be happier with it. It is still under factory warranty until November 2012 and that was a big thing for me when shopping for a BMW. About two weeks after the purchase I noticed a ticking sound coming from the engine which sounded like a sticky lifter. I took it to BMW and it turns out there was a service bulletin about this very problem and they fixed it without any charge to me. Good thing because the fix was to replace the head, a very expensive solution! I really love the styling inside and out and the materials used are noticibly better than the domestic cars I've owned. Steering and handling are great and make the car that much more fun to drive. Fuel economy is ok, about 21 mpg with my mostly surface street driving but when I get on the highway I can consistently get 31 or better. I am now a bimmer fan for life.
Purchased a new car
Uses car for Just getting around
Does recommend this car
---
SOLID CAR
by BMW ROOKIE from Minnesota | January 10, 2012
Purchased a 2008 528 xi Certified from dealer with 38k miles. This is great luxury / sport auto that I did not know existed untl I drove this car. The mpg suprised me when on a highway trip I averaged 30 and 21 around town. Cold weather package with heated steering wheel is a must for cold weather climates. The I drive system takes some getting used to, but is useful. Connect I Phone into av connection and get I heart radio and Pandora piped through sound system and bluetooth lets me use Suri on I PHone 4s to voice text message while driving. Great design inside and out with a huge trunk.
Purchased a new car
Uses car for Work
Does recommend this car
---
Great Ride
by Bemer 1 from Houston, Tx. | July 21, 2011
She is a great ride. I get around 34mpg. in her. I drive over 110 miles a day. The 528i is a smother ride than the Mercedes. I am thinking about purchasing another one, may be the 700 series.
Purchased a new car
Uses car for Commuting
Does recommend this car
---
Incredible Car
by Sold on BMW's from Virginia | December 14, 2010
Never, never thought I would own a BMW. Just thought everything I had heard was hype. After test driving three different models (528, 535 and Z4) I was hooked. I've never driven a car so "tight" and responsive. The inline V-6 is so smooth. Everything on the car is rock solid. You almost feel invincible when driving the car and the faster you go, the better it responds. The interior is well thought out and comfortable. I'm 6'-3" and there is plenty of head and leg room. My only complaint is the lack of center console storage space. One noteworthy feature is the ability to personalize/program just about every function and feature on the car. For example, you can set not only how hot the heated seats should be, but also which part of your body should receive the most heat. The 6-speed Steptronic transmission is great. It's fun to drive in the "manual" mode and gives the car a sporty feel. Mileage is great considering how much emphasis is placed on performance. On a recent 500+ mile trip I was averaging between 29 and 31 mpg on the highway at about 70 mph. One bit of advice. If you're considering a BMW take you time if buying used. Many 2 and 3 old BMW's have been driven very hard. I looked for 2 months and contacted or visited eleven dealerships. If buying from a dealer, ensure the car is BMW Certified, which will extend the warranty, bumper to bumper, for two years.
Purchased a new car
Uses car for Work
Does recommend this car
---
2008 BMW 528i -- The most reliable car I've owned
by The Ultimate Driving Machine from Naples, FL | December 2, 2010
My 2008 BMW 528i, now has 31,000 miles and still performs flawlessly. I have not had any problems whatsoever. The tires still have approximately 65% life on them and they are the originals. BMW quality is unmatched, I have been inside of many, many high end cars. The BMW service is outstanding, 6 year 100,000 mile warranty and 4 year 50,000 miles of free maintenance. The handling and ride are second to none. The steering is so precise, you'd swear it was laser guided. My car gets 27 MPG, there is literally nothing NOT to like about this car. I highly recommend this car even if you purchase certified pre-owned as I did. After all, they don't call any car "The Ultimate Driving Machine".
Purchased a new car
Uses car for Commuting
Does recommend this car
---
Best of all cars out there. No comparison.
by BMW 528 XI Owner from Chicago, IL | December 2, 2010
Great Vehicle. Perfectly an 'Ultimate Driving Machine'. The color is Silver titanium. I drove acura and lexus earlier, those were good too but when it comes to BMW, nothing beats it. There may be tactics for safety to make other car win safety crash test. But look at the history of number of crash and number of death in a BMW vehicle. You will be surprised to see that BMW is one of the most reliable car in the world.
Purchased a new car
Uses car for Just getting around
Does recommend this car
---
Great Ride - short on extras
by Rudy1253 from Boynton Beach, Florida | November 10, 2010
This BMW rides quite well and it's indeed comfortable, but compared to Infiniti cars, which I have owned a couple, leaves a lot to be desired. There are more extras in an InfinitiFl. Besides there are some items I consider not very driver-friendly in this BMW: not much storage space on center console, no space to put your sunglasses, cruise control is in an odd position behind the steering wheel.
Purchased a new car
Uses car for Just getting around
Does recommend this car
---
BMW 2008 528 xi
by BMW fan from Shrewsbury, MA | September 25, 2010
I purchased my BMW 528 xi used with 35,000 miles. The car is fantastic to drive. It feels solid and the quality of the materials is fantastic. Leather and wood with German design on the inside scream sport and luxury. Exterior styling is sleek and while the 528 engine is the smallest offered by BMW, it has plenty of power and sport mode is like adding a turbo boost. I drive close to 100 miles round trip per day and I love every minute of it the 528xi.
Purchased a new car
Uses car for Commuting
Does recommend this car
---
People Who Viewed this Car Also Viewed
Select up to three models to compare with the 2008 BMW 528.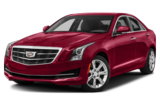 2016 Cadillac ATS
Starting MSRP
$33,215–$51,945
Compare
2016 Cadillac CTS
Starting MSRP
$45,560–$69,955
Compare
2017 Mercedes-Benz CLS-Class
Starting MSRP
$74,850–$77,350
Compare
2015 BMW 535
Starting MSRP
$55,600–$57,900
Compare
2016 Cadillac CTS-V
Starting MSRP
$83,995–$83,995
Compare
Featured Services for this BMW 528