Average Ratings
---
6 out of 6 people recommended this car.
---
Best Car For You Name It
by Searching for Best from Chicago Burbs | December 6, 2012
I hated BMWs and their drivers. Now I am one. Why? Drive this car and find out. It is a blast to drive. Fun, fun, fun. It simply oozes down the road, is comfy and smooth as all get out. It out accelerates most everything you'll come across. You'll be amazed at how the power keeps coming on and on. Gets close to 30 mpg cruising at 80 mph (it's a v-8 mind you). Holds a ton a stuff in the trunk and has a real adult sized rear seat. This car will put a smile on your face every day. You'll look for reasons to drive it. If you have more than one car, you will always find a way to pick this one. . We use it for everything except off roading. Downside: flimsy cup holders. I bought mine when it was 4 years old. I haven't found another car that I would rather own and that includes Audi's and Benzes.
Purchased a new car
Uses car for Having fun
Does recommend this car
---
120 & u feel totaly safe. Like ur going 70. WoW
by Ultrascan9999 from Dallas, TX | November 1, 2011
To really feel what a BmW is all about buy the 6 speed Sport Edition. If u dont drive a manual tranny learn how. On a Bmw it wont be easy but if u acheeve victory you'll be able to not only find out what a true BMW is all about but also drive any other car with a manual transmission after that. Trust me its totaly worth your effort.
Purchased a new car
Uses car for Commuting
Does recommend this car
---
State of the art performance and handling
by Armonk25 from Palm Beach, FL | January 30, 2010
The BMW 540 is one of the most exciting cars to drive -- it features head snapping accelleration and superior handling. I own the 540iT wagon and this hauler hauls! I have even taken it on the track and turned in respectible times. It is also a great grand touring car -- we have put in 13 hour driving days without feeling overly fatigued. It is quiet when cruising but offers that wonderful V8 growl when pushed. The main area of reliability concern is the cooling system. My car is on its fourth radiator in just under 90K miles. BMW cheaped out in combining plastic with alluminum in the design and they are prone to failure. Replacement radiators is a small price to pay for a car that makes me smile every time I drive it.
Purchased a new car
Uses car for Just getting around
Does recommend this car
---
Best overall sport sedan I have ever owned!
by Young Executive from | November 27, 2008
Nobody blends power, sophistication and handling like BMW. The cars feels like it has 350HP when it is really about 287HP. It pulls strongly all of the way through 100mph (I don't usually go much more than that and rarely go that fast). I have had over 25 cars in my life (RX-7s, Mustang GTs, older musclecars, Mercedes, Audis, etc.) and this has to be my all time favorite. Not great in the snow, but what do you expect from a rear-wheel drive car. I would highly recommend this car to a friend.
Purchased a new car
Uses car for Commuting
Does recommend this car
---
What you'd expect
by yeey from N | January 22, 2007
This car is what you'd expect from BMW - the exterior shape is a bit disappointing as I was hoping for a new sleek design, but no such luck. Performance is good - there is some power to push around. Handling is very good, no concerns there. Overall a good car, but I was hoping for more from this one
Purchased a new car
Uses car for N/A
Does recommend this car
---
Last car you'll ever want/need.
by Beemer540i from Potomac, MD | July 19, 2006
As I love the streamlined version over the newer body styling I set my sights on a 2003 but with only nominal differences and substantial savings I opted for an '02 that the seller had kept in mint condition. Bottom line, were I to hit the lottery I wouldn't have to worry about buying a car b/c this is it. For a family sized sports sedan, you will be hard pressed to find a better car with equal power, performance and safety all rolled into one. The car growls from the start and seems to get annoyed if you don't frequently push it above 100mph. This car will go but you'll feel just as safe and confident driving this at 120 as you would at 75. I've pushed it to 132 and the needle was still climbing. The 540i Sport grabs the road and 80 feels like you're doing 55 in anything else. The interior is comfortable and the cooling and heating systems are simply the best on the hottest or coldest days. The engineers thought of everything except the cupholders (you'll find this a common refrain amongst plenty of bimmer owners). If you prefer the sleeker lines of the 99-03 mode and can afford the 2003 get it. If you can't, a used 2002 will make you every bit as happy.
Purchased a new car
Uses car for N/A
Does recommend this car
---
People Who Viewed this Car Also Viewed
Select up to three models to compare with the 2002 BMW 540.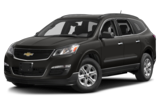 2017 Chevrolet Traverse
Starting MSRP
$28,700–$44,045
Compare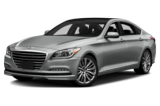 2016 Hyundai Genesis
Starting MSRP
$38,750–$53,850
Compare
2009 Toyota Avalon
Asking Price Range
$7,569–$16,793
Compare
2012 Dodge Avenger
Asking Price Range
$6,571–$14,059
Compare
Featured Services for this BMW 540