Average Ratings
---
17 out of 19 people recommended this car.
---
2004 BMW 545i w/Sport & Cold Weather packages
by LD from Saginaw, MI | July 10, 2015
I purchased this car from a private owner a couple weeks ago. So far I am very satisfied. It drives and runs great!
Purchased a new car
Uses car for Just getting around
Does recommend this car
---
2004 BMW 545i w/ sports package
by Antiprodigy from Western Maryland | October 30, 2014
Very nice car. I purchased used with 30k on it, and have put nearly 100k on the car over the past 5 years. I have only had to replace a battery & brakes. Expensive repairs, but wear items that you have to replace on any car. Very important point with these cars. If you change oil at the manufacturer's 15k interval, you will develop oil leaks prematurely in seals. I have replaced oil at 7-8k interval throughout, and had no seal issues so far. Seals go, eventually on all cars, and some can be expensive on this car, so make sure you know the cars history first! Understand what you are purchasing. If you are looking for a car that is cheap to repair, you shouldn't be looking at any German manufacturer. Having said that, at speed, there are very few cars you will ever drive with the capabilities of this car. And if you must have good handling, and feel, you will not be disappointed. 130k and cruising. Hoping for at least 200k.
Purchased a new car
Uses car for Commuting
Does recommend this car
---
Expensive junk
by Your FRIEND from USA | September 12, 2013
Do yourself a favor and don't buy 545i version (745,645.. are also affected) You want to learn about "Valve stern seals" and cost of replacing them, pulling out engine heads, Secondary Air Injection, etc ? Beemers with 4.5 engines are junk. It is hard to imagine that car with low millage can be garbage, but its true. Search online forums, before you buy any used car.
Purchased a new car
Uses car for Commuting
Does not recommend this car
---
Most Reliable Car I've Owned
by Harrystickshift from Washington, DC | January 22, 2013
Very reliable, great suspension, very comfortable. You have to keep your eyes on the odometer it is so smooth you forget how fast you are travelling. Great bang for the buck, I love it so.
Purchased a new car
Uses car for Having fun
Does recommend this car
---
best BMW ever had
by Roman from Boston,Ma | August 14, 2012
545 is my 4rth and by far most favorite bimmer i've had.I got it after driving an E39 M5 for a few years,so in in a way it was a step down(it's not as fast and feels less sporty overall). BUT, ride comfort,gas mileage,ext/int design makes it an amazing vehicle to drive and to have! not to mention the maintenance costs; had the car for a couple of years and put 20k miles on it and it needs nothing. and contrary to popular believe the IDRIVE is very easy to use-love it.I would prob keep it for as long as i can.
Purchased a new car
Uses car for Just getting around
Does recommend this car
---
I will never view driving the same way
by Driving more since I bought this car ... from Cincinnati, Ohio | July 29, 2012
I purchased a 2004 545i 6 speed manual about 3 months ago. My only regret is driving something else for so many years. This car is a BEAST. It has a refined look but make no mistake ... it's made to be driven. The acceleration and handling are a true thrill. I love the simplicity of the interior and doesn't look like a Japanese or some American luxury cars with a thousand buttons. The six speed manual is a must in my opinion. It shifts so nicely and you truly become one with the car. The only reason I gave it a 4 stars for comfort is that my wife said that she thinks the seat is uncofortable on long road trips. Ths was suprising to me seeing that I think the seats are masterpieces ... so I tried to convince her not to feel that way and to never bring that up again. Just kidding .... but I was disappointed. Reliability ... I've only owned the vehicle for 3 months but I need to replace the windshield washer fluid motor because it's leaking. I will do it myself for <$100 .. so not a huge deal, but hope this is not a monthly occurrence that something needs to be fixed. I live in Southern Ohio so we don't get a ton of snow in the winter but I will certainly want to pick up some winter tires. Looks like I will be able to find some for under $500 (to include wheels) on Craigslist so not a huge deal but you need to consider this.
Purchased a new car
Uses car for Just getting around
Does recommend this car
---
Love the Comfort Seats - Great for tall drivers
by BMW Fan from Atlanta, GA | May 14, 2012
I wasn't sure if I should get the big V8 with the current gas prices, but I am sure glad I did. I have a lot of fun using the power, and I am still getting 21.5 MPG in Atlanta trafic with my 545i. Don't buy a BMW without trying the comfort seat option, because they are awesome. The comfort seats have the wings that wrap around your neck, and the side support. Awesome power, handling, and comfort! Nothing beats a BMW!
Purchased a new car
Uses car for Commuting
Does recommend this car
---
The Ultimate Driving Machine... the E60 5 series
by BMW fanatic from Irvine, CA | January 23, 2012
As one of the most powerful 5 series ever made, this BMW E60 comes with a 4.4 liter V8 engine that produces 325hp/330tq, seats 5 full sized adults, and can haul 4 ppl and overtake any fixed up wannabe's. Comfort, styling, and interior room are high points of this car; of course, since it is a V8 the gas mileage suffers unless you go lightly on the gas pedal (but every BMW begs to be driving hard, and this one is no exception). Overall it is a great tourer and a family sedan that has the character!
Purchased a new car
Uses car for Commuting
Does recommend this car
---
Absolutely Stunning Sport Sedan
by EdZorX from Atlanta, GA | January 20, 2012
My 540i got totalled after 5 years of ownership and I just couldnt see myself straying far away from the 5 series. So I decided to buy the e60 2004 BMW 545i and man have I been loving it. Its much bigger than my old car yet its lighter and has more power. It is a joy to drive! The seats are very comfortable and the features list compared to other cars is quite extensive. Just like my 540, it has been quite reliable as long as you take care of it. Its only been little sensors here and there but nothing major and all but 1 I've been able to do change myself. If you're looking for the ultimate when it comes to a 4 door car that can play its part in sport, there is nothing that beats the 5 series!
Purchased a new car
Uses car for Just getting around
Does recommend this car
---
Performance + Comfort + Style = ULTIMATE!
by Mr.Groove from Shawnee Valley, PA | July 7, 2011
My wife an I have also a 2007 335i Twin Turbo, which is an amazing car, so upgrading our 99 528 was a challenge. I was going to get an M5 e39 (2003), but had a change of heart and I don't regret for a single moment! The 545i V8 has tons of power and performance that almost equals the e39 M5, but with the new body, and gadgets . . . plenty of them! As for all BMWs, I believe that the sport suspension is a must; With that said, the 545i manages to deliver an excellent performance suspension without loss of comfort. The comfort seats are absolutely unbelievable! The engine purrs (if you make an effort to hear it from inside the super quiet cabin). I have the Head Up Display, to which I became addicted. Mine is a manual 6-speed transmission and shifts like butter! I did have the CDV altered, so no jerky shifts from 1st to 2nd gear. The sound system (Logic 7) rivals my recording studio! I always go check the mixes in the car! The active suspension is truly remarkable. You can put that big comfy car on a pin curve and it doesn't even tilt! It is a dream car. Better than that, just an e60 M5 ... or the new M5, for that matter! As for the reliability, this is our 11th BMW. From a 1984 320 to now, there is no other way to go, but BMW. Cost of repairs? Which repairs?
Purchased a new car
Uses car for Commuting
Does recommend this car
---
People Who Viewed this Car Also Viewed
Select up to three models to compare with the 2004 BMW 545.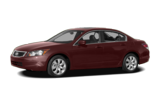 2008 Honda Accord
Asking Price Range
$6,144–$13,924
Compare
2009 Buick LaCrosse
Asking Price Range
$5,511–$13,631
Compare
2000 Audi A6
Asking Price Range
$1,057–$6,545
Compare
1998 Chevrolet Camaro
Asking Price Range
Price Coming Soon
Compare
Featured Services for this BMW 545