The BMW 740iL is not only a super luxury sedan, it's probably as close as you'll get in this lifetime to having your own personal version of R2D2, the cute little robot in Star Wars. There are all kinds of unexpected gadgets on the 7-series that beep, boop and chirp when you're about to get into trouble or when you're arming the security system. For a base price of $62,490, you not only get one of the most sophisticated and technology-laden cars in the world, you also get neat extras like rear footrests, a flashlight in the glove compartment, a first-aid kit in the rear storage console and a tool kit in the trunk. Come to think of it, that's even more than Luke Skywalker and C3PO got with their little companion. She: I've always admired garbage trucks that beep when the driver backs up. It's a primitive warning system, but a good idea, especially if you're behind one. Leave it to BMW to take that idea about 10 steps further, with its optional $900 parking distance control on the 740iL. Ultrasonic sensors in both bumpers warn you of the distance between your car and other objects, and makes parking in tight spaces easier. The sensors trigger a beeping sounding that becomes constant if you're less than 12 inches from that fire hydrant or kid on a bike. What a sensible feature! He: BMW offers an assortment of interesting options on the 740iL, but the basic model with all its standard equipment is pretty impressive, too. For an extra $1,000, you can get a cold-weather package that includes heated front seats, a headlamp-cleaning system and a ski sack. Self-leveling rear suspension - a good idea if you're frequently carrying heavy loads in the trunk - costs another $1,100, and a fancy power sunshade for the rear window is $740. The one kind of chintzy touch is that you have to pay extra for a CD player, which should be standard on a $60,000 automobile. She: I'm surprised you didn't put me down for liking the parking distance control feature. He: I'm more amused by the way you always seem to back into these test drives. She: OK, so I'm supposed to be impressed by the big V-8 engine and the 282 horsepower. But I'm more impressed by things that get me out of my blue-collar background. No need for tacky paper sunshades in this vehicle. You can leave the car in a sunny parking lot and preset the automatic ventilation system to cool down the interior 30 minutes before you return. No more thighs sticking to the gathered-leather upholstery on the extra-wide orthopedic seats when you're wearing shorts. What a relief. He: Hey, I'm relieved to drive a car that HAS extra-wide seats. I took our 15-year-old down to a vintage guitar show in Columbus, Ohio, one weekend - about a 400-mile roundtrip from Detroit - and the seats were superb. I would have really suffered without the adjustable power lumbar controls, which allow you to position some extra cushioning for your lower back with pinpoint precision. Whi ch is not to demean the BMW's suspension system, which is one of the best in the class in terms of ride comfort and handling. She: You forget the acid test I gave the suspension on the 740iL. We were late for Gary and Tina's wedding, and I was forced to do my nails in the car on the way to the reception. And, no, I wasn't driving at the time. But I was using Revlon's Rum Raisin shade - very dark, which leaves no room for errors. It also helped that you can slide the center armrest back and forth. The BMW soaked up potholes and craters, and I wound up with perfect nails. What a testimonial! Do you think they'll put me and my manicure kit in a commercial? He: Only if the Germans are really desperate. You can thank the twin-tube gas-pressurized shocks, stabilizer bars and multi-link rear layout for smoothing out the local freeways and side streets. But it's only when you get out on some twisty country roads that you can really appreciate the speed-sensitive variable-assist r steering, which is surprisingly quick and responsive in such a large car. BMW doesn't offer the short-wheelbase 7-series sedan any more in the U.S., so the V-8 model now rides on the longer 120.9-inch wheelbase, which improves the ride quality, at the cost of some agility. She: Is that why I kept riding up over curbs when I was making turns? That's my biggest complaint about the BMW - it's too Hindenberg-like. The 740iL is more than two feet longer than the 3-series, which is more my speed. But I suppose if you're shopping in this stratosphere, you'll feel like you're getting a lot of car for the money. He: One of the fringe benefits on the '96 model is the new engine. BMW has hiked the displacement on the V-8 to 4.4 liters. Horsepower stays the same, but peak torque has been increased to 310 pounds-feet, and it kicks in at lower RPM. The V-8 is mated with an exceptionally smooth five-speed automatic, and despite the car's 4288-pound curb weight, the 740iL fairly leaps from zero to 60 in just over 7 seconds. Believe me, this is just about all the power you'll ever need for passing or merging into brisk freeway traffic. Compared with the eight, the 12-cylinder engine in the $90,000 750iL is almost overkill. She: There does seem to be a lot of overkill even in the 740iL. We don't have enough room to detail all the incredible features, from the security system with the interior motion detector to the adaptive transmission control that takes your personal driving style into account and automatically adjusts itself to sport, economy or winter mode. The only area where you don't get overkill is styling. There's nothing on the exterior that shouts: "This is a $60,000-plus vehicle." He: Let's just say the 740iL maintains the BMW family heritage, from its trademark twin-kidney grilles to its slightly rounded greenhouse and taut flanks. I think it looks like a million bucks. 1996 BMW 740iL Type: Front-engine, rear-wheel drive, five-passenger luxury sedan. Price: Base, $62,490; as tested, $65,160 (inc. $570 destination charge). What's new for '96: Long-wheelbase models only, new 4.4-liter V-8, all-season traction control now standard, revised security system. Standard equipment: Variable-assist power steering, four-wheel power disc brakes, all-season radial tires on cast-alloy wheels, intermittent wipers, dual heated power mirrors, auto-dimming rear-view mirror, power tilt/telescope steering wheel, 14-way power front seats with 4-way power adjustable lumbar support, memory system for driver's seat and seat-belt height, steering wheel and outside mirrors, multi-information display and onboard computer, leather seats and door inserts, walnut trim and shift knob, one-touch up/down power windows, automatic climate system with separate left/right controls, activated charcoal microfilter, automatic ventilation system, power moonroof with sliding interior shade, AM-FM stereo cassette with 200- watt amplifier and 10 speakers, steering-wheel controls for cruise, audio, telephone and air recirculation, dual front and rear cupholders, rear center armrest with storage compartment, rear defroster, toolkit in trunk. Safety features: Dual front air bags, antilock brakes, all-season traction control, remote keyless entry/security system with panic feature, automatic height adjustment for front seat belts, automatic locking seat-belt retractors, impact sensor (unlocks doors, switches on interior lights and hazard flashers after serious accident). Options on test vehicle: Parking distance control ($900), comfort seats ($1,200). EPA fuel economy: 17 mpg city/24 mpg highway. Engine: 4.4-liter V-8; 282-hp at 5700 rpm; 310 lb-ft torque at 3900 rpm. Transmission: Five-speed automatic. Competitors: Mercedes-Benz S420, Jaguar XJ6, Infiniti Q45, Lexus LS400. Specifications: Wheelbase, 120.9 inches; overall length, 201.7 inches; curb weight, 28p unds; legroom, 41.9 inches front/41.9 inches rear; headroom, 37.7 inches front/37.9 inches rear; shoulder room, 58.4 inches front/58.4 inches rear. 12-month insurance cost, according to AAA Michigan*: $2,040. Rates based on an average family of four from the Livonia area whose primary driver is aged 40 with no tickets who drives 3-10 miles each way to work. Rates reflect multicar discount and, where appropriate, discounts for air bags and seat belts. Where built: Dingolfing, Germany.
---
People Who Viewed this Car Also Viewed
Select up to three models to compare with the 1996 BMW 740.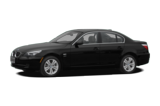 2008 BMW 535
Asking Price Range
$7,736–$17,424
Compare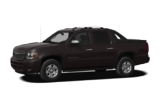 2010 Chevrolet Avalanche
Asking Price Range
$16,104–$30,128
Compare
2009 Mitsubishi Lancer
Asking Price Range
$4,113–$11,833
Compare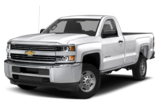 2017 Chevrolet Silverado 2500
Starting MSRP
$33,310–$57,910
Compare
2013 Chevrolet Tahoe
Asking Price Range
$24,516–$44,280
Compare
Featured Services for this BMW 740