Average Ratings
---
6 out of 8 people recommended this car.
---
dissapointed
by german car owner from annapolis maryland | July 29, 2011
Seats were way to stiff, and no where near as plush as the Mercedes c class. The ride was also too stiff and just bumpy for lack of a better word. Also in corners didn't exactly give you the sensation that you were on rails as many other top of the line German engineered cars do. Other things to complain about would be the bland design inside, the average sound system, the cheap and easy to break cup holders, and most of all the fact that i had it in the shop for some considerable repairs 3 times within the first 2 years of purchasing it.The worst of which was the cam sensor failing, and the timing belt breaking. While the outside of the car looks great with the body styling, performance rims, and dual exhaust its a shame to say i regret buying this car. I feel i should have gone with my gut instinct and bought Mercedes, or even Audi.
Purchased a new car
Uses car for Having fun
Does not recommend this car
---
future classic
by helilog from Portland, Oregon | February 6, 2011
The E39 M5 is used as a yardstick for modern sedans yet the car has been out of production for 11 years. Good reasons: It has a high quality roomy interior (although rather plain) combined with a smallish exterior size, very powerful but economical engine (mine does 24 highway @ 65 mph, 21.5 mpg overall for the last 18,000 miles), solid body, famous handling. The negatives: Regular mechanical upkeep is required and can be expensive. Clutch wears quickly if abused (mine has 50,000 miles and is still okay). Gearshift is notchy. Audio/Nav units are crude by current standards. In summary, an extremely fast, solid, comfortable, fun to drive family sedan that will be fondly remembered 20 years from now.
Purchased a new car
Uses car for Just getting around
Does recommend this car
---
M5 is the BEST CAR I HAVE EVER OWNED!
by DJREMIXED from Cornelius, NC | May 19, 2010
This car is the beat well rounded car ever. The fastest production car when it came to the market. You can seat 4 people with lots of room. And the car really moves for being 4k pounds. Push in the sport button and it's like it picks up 60 more HP and grips the road great. They only brought 10,000 cars from this third GEN M5 (with the s62 motor, which is a modified 4.4L from the 540 bored out to make 4.94L engine) I get so many looks and people love seeing my car. There will not be too many of these original left after another 3-5 years and with 394HP and 367lbs torque for the price. FYI though, find a mechanic who can work on your car because the cost of bring this thing into BMW shop is expensive so have someone lined up before you go out and just trust everything those scammers say. Lots of things to look for when buging one of these so be careful.
Purchased a new car
Uses car for Work
Does recommend this car
---
great but pricy
by velvet from MA | May 11, 2010
great car for performance car enthusiast or a couple times a week ride.I bought mine used,and performance,handling were amazing! acceleration mind blowing. but withing a year and a half needed so much maintanace i could barely keep up,and depreciation is crazy.Great car but comes with a steep price.Would i buy another one-probably not.
Purchased a new car
Uses car for Just getting around
Does not recommend this car
---
Dream car realized
by mbhpgapro from Baltimore, Maryland | April 24, 2009
I love this car. I have had a 525,540,M3 and now the king the E39 M5. It is a wolf in a sheeps clothing. Daily driver for sure but a sportscar when you push the pedal. Its great on long or short trips and the sport button is s blast. The styling is my favorite or any BMW ever made clean lines and no wasted steel. This car is the best sedan that I have ever seen, there are no comparisons.
Purchased a new car
Uses car for Just getting around
Does recommend this car
---
My wife cried when it left for its new home.
by bob from Ar | September 10, 2008
From the day I first drove the e39 M5 I wanted one however I didn't want a used one and as they stopped production in MY2003 I decided to wait for the e60 M5. When it came out with only SMG I found a low mileage e39 LeMans Blue still in warranty and didn't regret it. This car will be a great addition to anyonye's garage and at times I still miss it but after bringing home her replacement, a MY2008 e60 M5, I don't see my wife thinking about her old girl any more.
Purchased a new car
Uses car for N/A
Does recommend this car
---
Best all around sports sedan you can own...
by Karsky from Salt Lake City | December 2, 2007
I can't say enough good about the E36 M5. I bought a used low mile 2003 M5 a year ago and it lives up to all the praise it gets. The acceleration and handling are increadible, but is capable of being a daily driver. I think it's the best performance sedan for the money! Comfort and a rare level of performance for a car of this size and flexability. You have to drive it to know what all the hype is about.
Purchased a new car
Uses car for N/A
Does recommend this car
---
Should have never sold it.
by Martin Kasche from Los Angeles, CA | May 17, 2006
Over the years I have owned more than a dozen BMW's. From a few 3 series including an M3, almost all 5 series models, a 740il, couple of X5s (including the 4.8is), and the Z8 my wife still has. Of all these cars, and the 911 I have now, the M5 was the best, most rounded car. The only car I can think of where you can seat 4 people in comfort, with an incredible list of features including the best sound system I have ever seen, and still handle, and drive like a competent race car.
Purchased a new car
Uses car for N/A
Does recommend this car
---
People Who Viewed this Car Also Viewed
Select up to three models to compare with the 2003 BMW M5.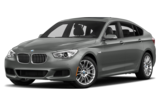 2014 BMW 550 Gran Turismo
Asking Price Range
$40,085–$50,445
Compare
1999 Mercedes-Benz E-Class
Asking Price Range
Price Coming Soon
Compare
Featured Services for this BMW M5