Average Ratings
---
9 out of 10 people recommended this car.
---
The best car ever
by peter from Los Angeles,CA | November 25, 2012
If you wanna buy a used M5 check the engine if it's mixing oil and water. if you wanna see it yourself. remove the engine oil cap. you'll see some mayonnaise. If you find some mayonnaise that means the engine will need to be replaced.
Purchased a new car
Uses car for N/A
Does recommend this car
---
my put to this car .
by car expert from califorina | April 14, 2012
I work for the german bmw hQ and I loved seeing it in produntion.I have a blue one and I loved it ..
Purchased a new car
Uses car for Commuting
Does recommend this car
---
Thriller
by Mogas from TX | October 10, 2011
I have a V10 M5 for more than a year. Its high millage but has been looked after. Problems: Alternator went $1200, Shift paddle switch broke $535, suspension bushes were cracked $1100. Niggles appart this is a tremendous car, fantastic to drive. The engine is a gem, the interior is excellent the seats superb, the handling is sublime. Can be heavy on fuel if used, and can wear out rear tires pretty quick. SMG3 gearbox a bit clunky at lower speeds, nowhere near as smoth as traditional auto. But worth it.
Purchased a new car
Uses car for Commuting
Does recommend this car
---
FASTEST BMR IVE OWNED
by BMW LOVER from ROCKFORD, IL | August 29, 2010
LOVE THE CAR. IT WILL DO ANYTHING YOU ASK IT TO DO EXCEPT DRIVE BY A FUELING STATION IF DRIVEN EVEN MODERATELY. BUT, YOU DON'T BUY A CAR LIKE THIS FOR ITS FUEL CONSUMPTION. YOU BUY IT BECAUSE ITS ONE OF THE BEST CARS IN THE WORLD. YOU CAN DRIVE IT TO THE OPERA ON FRIDAY AND RACE ANYTHING OUT THERE ON SATURDAY. ITS A BLAST TO DRIVE.
Purchased a new car
Uses car for Just getting around
Does recommend this car
---
great used car value
by 88 from South Florida | March 25, 2010
I was looking for a used, comfortable 4 door sports car, manual transmission. Considered M-3, M-5, 535i, Audi, AMG C class - there really aren't too many out there; very hard to find many models that were loaded with manual transmissions. Did not consider new cars, eliminating CTSV, Panamera, Jag XFR - too expensive. M-5 was the one for me given the cost, size and performance. Only thing I don't like is that it is a real gas hog with a smallish gas tank, limiting my range and causing too many trips to the gas station. Love the active and ventilated seats, like the speedo in the windshield, the car size is perfect, great sound, still has 18 months full maintenance and warranty. Huge trunk - I was surprised. I am learning to exist with I-drive, might even tell you I like it one day. I do like the Bluetooth, Nav and 20 way seats. Nice tranny and clutch feel. When you kick in the 500HP (runs normally at "only" 400HP) it is a real beast. I previously owned an E-39 M5 which was, until now, the best sports sedan I ever drove. We have had 19 BMW's - about half M's (I traded in an M-Coupe on this car). This car leans more to the luxury side than the other M's, but that works for me at this stage of my life.
Purchased a new car
Uses car for Commuting
Does recommend this car
---
Never missed a car after vacation.
by Speed from Fort Lauderdale, FL | March 11, 2008
I get home from a vacation, and after being away from my car, I get in it every time, and say, "i missed my car." The seats are very comfortable, the power is addictive, and I have cured my need to buy a Porsche. The navigation with traffic info is invaluable. The heads up display has been a surprisingly great feature (no polarized sunglasses, but I got over that). Run out and buy one, and you will be impressed.
Purchased a new car
Uses car for N/A
Does recommend this car
---
NOTHING LIKE THE ///M5
by Speed Demon from New Jersey | January 1, 2008
i just got my M5 2 months ago and i love it. I hit the pedal and real world stops and demons unleash... this it my 2nd M5 and like the first one its a stick-shift with a few german goodies under the hood witch makes it even more fun to drive. trust me, this car is for somebody who wants to feel like a kid and a man at the same time. So stop thinking and buy this monster.
Purchased a new car
Uses car for N/A
Does recommend this car
---
Look somewhere else
by jtull from Philadelphia PA | May 18, 2007
BMW should be embarrassed by this car. Some marketing genius told BMW they should emulate AMG for the "mature" sports sedan driver and that's exactly what they did; the car has mediocre handling and braking and outright poor road feel. You can't feel weight transitions and the steering feels loaded at speeds that shouldn't bother a Corolla. Its good for nothing other than moving very fast in straight line, and not from a standing start either (if you think you will embarrass Porsches or anything else with this, you will be surprised). It is loaded with electronic junk inside and out; and all this manages to do is insulate the driver from the road and create endless annoyance in daily use. The materials and build quality are not particularly good either; the drivers seat is showing wear and wrinkling after only 6 months, trunk lid opens when it feels like it, etc, etc. This car will be traded ASAP. I have had too many real M cars to be impressed by this kind of electronic gadgetry.
Purchased a new car
Uses car for N/A
Does not recommend this car
---
I LOVE this car!
by BMW Owner from Des Moines, IA | March 29, 2007
The 2007 Bmw M5 is one of the most dependable, reliable, comfortable luxury car on the planet. The new Mercedes-Benz and Audi cars can NOT compare!
Purchased a new car
Uses car for N/A
Does recommend this car
---
Best Sports Sedan. Period.
by TruthTeller from Los Angeles | March 14, 2007
Fantastic overall vehicle. Get the 6-Speed manual transmission and skip the SMG. All the hoohah about the I-drive is nonsense. You set the navigation for a new location when you are parked, previous locations take one button push. Plus the navigation tells you when there is traffic ahead and offers a detour! Because you are busy driving the car, you just use the excellent voice recognition system. Say "cd", it turns the cd on, Say "dial Bob" it dials Bob's number and puts it through the speaker (bluetooth cell phone). All the necessary buttons for A/C, volume, etc. are at your fingertips. This car is the best of both worlds, comfortable to drive around town, seating for 5, beautiful to look at, but hit the M button and you are embarrassing Porsches at every stop light.
Purchased a new car
Uses car for N/A
Does recommend this car
---
People Who Viewed this Car Also Viewed
Select up to three models to compare with the 2007 BMW M5.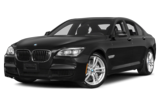 2014 BMW 750
Asking Price Range
$39,807–$69,719
Compare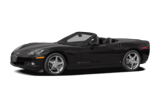 2011 Chevrolet Corvette
Asking Price Range
$22,625–$58,413
Compare
2008 BMW 650
Asking Price Range
$13,791–$30,587
Compare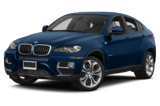 2014 BMW X6
Asking Price Range
$36,094–$55,338
Compare
2009 BMW M6
Asking Price Range
$19,674–$51,074
Compare
2009 Porsche Cayenne
Asking Price Range
$12,334–$36,422
Compare
2010 Mercedes-Benz CL-Class
Asking Price Range
$20,043–$56,563
Compare
Featured Services for this BMW M5