NHTSA Vehicle Safety Recalls
M5
ENGINE AND ENGINE COOLING:ENGINE
Recall number: 12V475000
Recall date: 09/28/2012
Problem Summary:
BMW IS RECALLING CERTAIN MODEL YEAR 2013 M5, M6 COUPE, AND M6 CONVERTIBLE VEHICLES, MANUFACTURED FROM JULY 19, 2012, THROUGH SEPTEMBER 11, 2012. DUE TO A MANUFACTURING PROCESS ERROR, THE TOLERANCE BETWEEN THE ENGINE OIL PUMP'S DRIVE SHAFT AND THE PUMP'S ROTOR WAS NOT WITHIN SPECIFICATION. AS A RESULT, THE PUMP'S DRIVESHAFT COULD SEPARATE FROM THE ROTOR.
Consequence:
SEPARATION OF THE PUMP'S DRIVESHAFT FROM THE ROTOR COULD LEAD TO A SUDDEN LOSS OF OIL PRESSURE CAUSING THE POSSIBILITY OF COMPLETE ENGINE FAILURE, RESULTING IN AN ENGINE STALL-LIKE CONDITION, INCREASING THE RISK OF A VEHICLE CRASH.
Corrective Action:
BMW WILL NOTIFY OWNERS, AND DEALERS WILL REPLACE THE OIL PUMP, FREE OF CHARGE. THE SAFETY RECALL IS EXPECTED TO BEGIN DURING OCTOBER 2012. OWNERS MAY CONTACT BMW AT 1-800-525-7417.
This recall affects vehicles manufactured between 07/19/2012 and 09/11/2012.
---
The information provided on vehicle recalls is for information purposes only. While Cars.com has taken care in the preparation of recall information, and the information presented is believed to be reliable, Cars.com does not represent that such information is accurate, comprehensive, verified or complete, and shall not assume or accept any liability (whether in negligence or otherwise) for the accuracy or completeness of such information or for any reliance placed by any person on the information. Nor shall Cars.com be under any obligation to advise any person of any error in information provided. Cars.com shall not be liable for any damages (including, without limitation, damages for loss of profits, business or other consequential loss) which may arise from any use of, or reliance upon, or inability to access, the information.
People Who Viewed this Car Also Viewed
Select up to three models to compare with the 2013 BMW M5.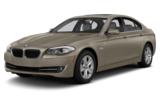 2013 BMW 535
Starting MSRP
$53,400–$55,700
Compare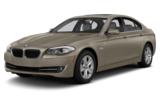 2013 BMW 550
Starting MSRP
$62,700–$65,000
Compare
2013 BMW 550 Gran Turismo
Starting MSRP
$67,800–$70,100
Compare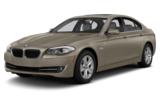 2013 BMW 528
Starting MSRP
$47,800–$50,100
Compare
2013 BMW 535 Gran Turismo
Starting MSRP
$58,300–$60,600
Compare
Featured Services for this BMW M5