Average Ratings
---
11 out of 14 people recommended this car.
---
Small place,huge quality in customer service!
by Priscila Pinto from Boston,Ma | May 23, 2013
I was searching for a Mercedes-Bens C300 4matic for a few weeks until i saw the countryside auto sale on cars.com, i contact them it was very nice over the phone,when i got to the dealership and i look at the vehicle was nice and clean,they told men could take the test drive for a hour if i have to,they told me if i have to bring to my mechanic for so i can fell more comfortable was ok as well. Ronnie provided me with carfax report and helped me with excellent interest rate,i am so gladly that i purchased my Mercedes from countryside auto sale and i will for sure comeback for another one
Purchased a new car
Uses car for Transporting family
Does recommend this car
---
Do not buy
by Unhappy owner from Phoenix, az | August 11, 2012
Agree with previous reviews, Loved the car, but hated the unreliability. Had to ged rid of run flat tires, engine light always on, fuel gage stopped working, needed radiator, water pump, thermostat, poor air conditioner. Poor rear camera. Poor voice connectivity. Owned car for 3 years, would never buy BMW again. Do your research, make sure you can afford expensive repairs, all my repairs were after warranty expired. I was out of luck. Do not rely on carfax Reports.
Purchased a new car
Uses car for Work
Does not recommend this car
---
Love my x5
by Wetzie from Monkton, MD | August 6, 2012
I loved the exterior of the x5, that is would made my attention go to this car. Upon the first test drive of years admiring the exterior, it did not disappoint. This heavy beast of a car glides down the road. The interior is very roomy for both the front and back seat passengers. The average x5 comes with the options that most cars are an upgrade. To take the x5 over the top, there are even more options that can be added. Buying an x5 can be slightly difficult because BMW has changed the option packages over the years. Be careful. Something that could be standard in a 2011 may have been an option in 2009. Be sure to check what the packages offer for the year that you are looking. A cold weather package does change over the years, for example. Overall, I love my x5! It is enjoyable to drive and I find myself searching for reasons to go out so that I can be in it!!
Purchased a new car
Uses car for Commuting
Does recommend this car
---
Rewarding Myself
by Remedy Edge from Phoenix, AZ | December 4, 2011
I absolutely love my X5, I still smile when I walk up to it. But I knew going in that this was not the best "bang for my buck." Having test driven a number of other cars, I found nearly all the luxury items in the X5 in other cars at better prices. So, why did I buy the X5? Style, not value. I almost went with something else, but felt I was settling, just wasn't excited about it even though it had everything on my checklist. With the X5, I'm rewarding myself for a lifetime of hard work. Here are some things I found to be a problem: Transmission. When I'm stopped at a red light, and I take my foot off the break, the car jolts noticeably. The digital console is not intuitive. Simple repairs are costly. Things I like: I get better gas mileage than advertised...about 20.5 mpg. Panoramic sun roof. Auto-lift gate. Plenty of cargo room. Auto retracting side view mirrors, which I use everyday. There are so many luxury options. One thing BMW is known for is exceptional handling and the X5 is no exception. In short, if you buy the X5, you're buying style and if you're like me, it's worth it.
Purchased a new car
Uses car for Commuting
Does not recommend this car
---
Great Vehicle
by Bearmeister from Alberta Canada | March 9, 2011
2009 X5 35D Very Comfortable and the diesel is fantastic. Our winter in Alberta has been brutal...this is probably the warmest vehicle I have ever owned. Even with the factory all-seasons, traction has been great and we have a lot of ice. Owned a few Bimmers and this one is the best so far...would not hesitate to purchase another one.
Purchased a new car
Uses car for Commuting
Does recommend this car
---
The big bad Bavarian
by haitwun from Los Angeles, CA | February 8, 2011
My X5 has some annoying quirks about it. The iDrive takes a long time to power up, which means you cannot use the back up camera when you need it. Not that BMW's back up camera is that great. The image is blurry in the daytime and completely useless at night. iDrive also has makes simple things like tuning the radio incredibly difficult. The air conditioning on the X5 pretty weak, which is disappointing because this is supposed to be a luxury car. Now that the negatives are out of the way, step on the accelerator and try overtaking on the freeway. As soon as you drive it at high speeds, you will know why this car is worth it's exorbitant price. It also helps that the car has a beautiful exterior and a sumptuous interior wrapped inch by inch in leather. If you are going to buy an X5, get the inline 6. That is the engine BMW is famous for. I have had the car for 2 years now. No reliability issues thus far.
Purchased a new car
Uses car for Commuting
Does recommend this car
---
X5 BMW
by Renene from Texas | January 17, 2011
We had a great experience with this purchase! Love the car and trusted the seller! It was in excellent condition!
Purchased a new car
Uses car for Transporting family
Does recommend this car
---
All of the above
by A&WBMW from Ithaca, NY | May 23, 2010
I've read all the reviews and after owning my 2009 X-5 for 14 months and 35,000 miles I can appreciate all of the reviews (the good and the bad). It is a terrific car and is full of great technology. The diesel is quiet, clean and powerful. Some of the materials used in the interior is of inferior quality. The running boards should NOT be purchased. The reliability is acceptable but not what you would expect from BMW. Compared to the competition, the BMW is still the one!!!!
Purchased a new car
Uses car for Transporting family
Does recommend this car
---
Awesome AWD
by 19742002tii from Taylors, sc | March 23, 2010
May truly be the Ultimate drivin machine. Fits every purpose, makes every drive a joy. Just enough of the features you need.
Purchased a new car
Uses car for Transporting family
Does recommend this car
---
worst car I have ever owned.
by Hate my X5 from Phoenix, AZ | October 28, 2009
Do your research before you buy this. The are MANY faults with this vehicle that the dealer won't tell you about. If you get running boards you will never have clean pants again. The backup camera does not work when it should. If the "I-drive" is not fully booted up the backup camera will not come on. In my case it comes on after I'm out of reverse, and proceeding down the street. The dealership tells me to unlock the car as soon as I'm "within range" to give the "I-drive" a chance to boot up. The radio in "sat" mode does not tell you the "number" of the station you are on, nor does the radio tell you if the station you are listening to is a preset in the memory. The fan on my A/C is terrible. The most air comes through the 2 center vents, the outside vents get very little, if any at all. The only way to combat this, is to partially close the center vents. The climate control always comes on when you start the vehicle. If I shut it off, when I start the vehicle again it turns on by itself. I find the interior of the vehicle cheap and the seats are extremely uncomfortable. The computer screen has been set in the dashboard, tipped up toward the windshield and sunroof and when sunny there is glare on the screen and you can't see it. The "I-drive" system is very complicated, and not user friendly. The wind deflector on the sunroof is fabric, it catches bugs and is difficult to clean. I've owned my X5 for 4 months and it's been into service for peeling wood veneer, a glove box door that fell off, and body molding that's peeling off. The only thing I like about the vehicle is the diesel engine, it's a good performer and is very quick. I could not recommend this vehicle to anyone.
Purchased a new car
Uses car for Just getting around
Does not recommend this car
---
People Who Viewed this Car Also Viewed
Select up to three models to compare with the 2009 BMW X5.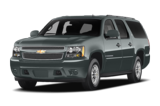 2008 Chevrolet Suburban
Asking Price Range
$10,979–$25,615
Compare
2017 Volkswagen Touareg
Starting MSRP
$49,495–$60,195
Compare
2009 Lexus GS 460
Asking Price Range
$15,900–$15,900
Compare
2014 Mercedes-Benz Sprinter
Asking Price Range
$190–$95,214
Compare
Featured Services for this BMW X5