The Century is history, and the Regal has been retired ... So, if you want a new Buick midsize sedan, LaCrosse is your game. Buick's all-new 2005 LaCrosse is nothing like the rough-and-tumble game played by racket-wielding, helmet-wearing players on an open field. From bumper to bumper, Buick's LaCrosse is softer, kinder and gentler.

And after a week of driving the CXS, which is the top-of-the-heap LaCrosse of three trim levels offered, I'd say it's better than the old Buick Century and Regal it replaced.



Let's start with styling. The Centuryoften was criticized as too vanilla-looking, and the Regal's edgy looks came off as too over-the-top for some. By comparison, the LaCrosse looks like a happy compromise between the two extremes. A bold, oval-shaped grille is decidedly Buick, but the shape starts rounding off at the LaCrosse headlamps. Fit and finish on the tester were superb, and a practical-size trunklid opened up on a surprisingly roomy trunk - 16 cubic feet. OK, that's not the 21.2-cubic-foot cavern in the back of the 2005 Ford Five Hundred, but the LaCrosse can comfortably handle the baggage of typical midsize passenger car buyers.

Because the car wears a Buick badge, you expect a certain level of class and sophistication when you step inside, and you get that with the LaCrosse. The tester had standard leather seating surfaces, a tilt/telescoping steering wheel, dual-zone climate control and a six-speaker audio system that more than filled the cabin with quality sound.

Those shiny, 17-inch wheels with the Buick logo in the center looked pretty sharp, too.

The CXS also had attractive wood trim appointments and a center stack of controls that could be mastered in minutes. The tester was a five-seater, but Buick is touting the availability of six-seat occupancy in its LaCrosse.

Maybe it works for some, but I had real trouble picturing six adults compressed in the LaCrosse cabin. Better make sure everyone really likes each other if you go the six-passenger route.

The CXS was dressed up with a somewhat gaudy package of options that included steering wheel-mounted audio/climate controls, power mirrors (with heat and folding capability), a power sunroof and XM Satellite Radio. All this added nearly $5,000 to the window sticker's bottom line.

As much as I love XM satellite radio, I asked myself if I could still like this car without all the extra goodies. Yes, I could ... especially given its surprising performance characteristics.

The LaCrosse CXS gets the smaller but more powerful 3.6-liter V-6 engine with 240 horsepower. (The less-costly CX and CXL come with a standard 3.8-liter V-6 with 200 horses).

The 3.6-liter, all-aluminum power plant gets its extra bite from variable valve timing and a dual-overhead-cam arrangement. It has good pop, but the surprise comes with big-time torque at low revs - an advertised 225 foot-pounds coming in at 2,000 revolutions per minute.

I did not expect this kind of low-end muscle from a Buick midsize sedan, but I quickly got used to slipping into traffic holes on the freeway and easily clearing surface-street traffic when stoplights beamed green.

So, who lied about the gas mileage? And I mean that in a good way.

The fuel economy numbers on the LaCrosse sticker read 19 miles per gallon in city driving and 27 mpg on the highway. For reasons that remain a mystery, I was getting 3 mpg better than both of those numbers.

The federal government has been taking a lot of heat on several fronts for conducting outdated fuel economy testing and releasing allegedly inflated gas-mileage numbers. But, at least in the LaCrosse I drove, the numbers went the other way. Go figure.

Oh, Buick goes on and on about construction technology and building materials that bounce noise away from the passenger cabin. Acoustic insulation was not one of my strong classes in college, but the LaCrosse did roll along quite quietly.

Here's a gripe that won't go away: If I had been the king of Buick, I would have equipped LaCrosse with a five-speed automatic gearbox instead of the four-speed, the better to enjoy the advantages of that robust, 240-horsepower V-6 engine.

So, it boils down to whether to drop $25,000 to $30,000 on a General Motors Corp. midsize sedan when there are so many tempting, full-size passenger cars out there for only a few dollars more.

That's a tough call ... and a personal one. But the LaCrosse definitely deserves at least a test drive in any passenger car shopping expedition. You might be pleasantly surprised that less adds up to more.

That's the appeal of the new LaCrosse - understated in so many of the right places, but aggressive in performance and handling.

Buick LaCrosse at a glance Make/model: 2005 Buick LaCrosse CXS. Vehicle type: Front-wheel-drive, four-door midsize sedan, seating up to six.

Base price: $28,335 (as tested, $33,650).

Engine: 3.6-liter V-6 with 240 horsepower at 6,000 revolutions per minute and 225 foot-pounds of torque at 2,000 rpm.

EPA fuel economy: 19 miles per gallon city; 27 mpg highway.

Transmission: Four-speed automatic with overdrive.

Steering: Power-assisted rack and pinion with special features.

Brakes: Power four-wheel discs with anti-lock.

Suspension: Independent, MacPherson strut, coil-over-spring on front; independent, multi-link, coil-over-strut on rear (stabilizer bars front and rear).

Cargo volume: 16 cubic feet.

Passenger volume: 99.4 cubic feet.

Fuel tank: 17.5 gallons.

Curb weight: 3,568 pounds.

Track: 61.7 inches on front; 61.5 inches on rear.

Height: 57.4 inches.

Length: 198.1 inches.

Wheelbase: 110.5 inches.

Width: 73 inches.

Tires: P225/55R17 all-season radials.

Assembly site: Oshawa, Ontario, Canada.

About the writer: The Bee's Mark Glover can be reached at (916) 321-1184 or mglover@sacbee.com.


---
People Who Viewed this Car Also Viewed
Select up to three models to compare with the 2005 Buick LaCrosse.
2012 BMW 760
Asking Price Range
$40,280–$70,208
Compare
2010 Mercedes-Benz C-Class
Asking Price Range
$8,242–$23,810
Compare
2010 Lexus IS 250
Asking Price Range
$11,995–$22,079
Compare
2013 Ford Taurus
Asking Price Range
$9,487–$24,371
Compare
2010 Hyundai Azera
Asking Price Range
$8,189–$14,269
Compare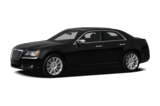 2012 Chrysler 300
Asking Price Range
$8,187–$28,315
Compare
2007 Lexus ES 350
Asking Price Range
$7,107–$16,855
Compare
Featured Services for this Buick LaCrosse