Find Your 2011 Chevrolet Cruze in Three Easy Steps
Enter your ZIP code below.
Browse vehicles in your area.
Email the seller. It's that Easy!
We have thousands of 2011 Chevrolet Cruze vehicles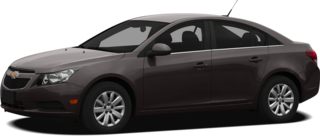 2011 Chevrolet Cruze shown
2011 Chevrolet Cruze Summary
MPG City: 22 - 28 ; Highway: 35 - 42
Average Consumer Rating
4.1
out of
5
The Cruze is an all-new compact sedan for the U.S., replacing the Chevrolet Cobalt. It boasts a larger interior than both its predecessor and most competitors in its price class. The Cruze marks the first compact car to reflect the higher-quality approach GM has taken with many other models' interiors. The Cruze has been sold in Europe and Asia since 2008; the North American model is assembled at the Cobalt's former factory in Lordstown, Ohio.
Expert Review
By Sara Lacey
Mother Proof
Aug 30, 2011
I'm used to label-reading as a part of motherhood and that now extends to cars. The all-new 2011 Chevrolet Cruze Eco is an excellent example of this. What makes it an "Eco"? I thought it would be some sort of hybrid, but it's not. It's a trim level with a turbocharged four-cylinder engine that can get more than 40 mpg highway depending on the transmission.
The 2011 Chevy Cruze Eco offers great gas mileage without sacrificing drivability, comfort or its good looks.
While the exterior design isn't all that modern, this compact sedan looks new enough to not be outdated when driven off the lot. It's not intimidating with any newfangled angles.
I liked the Cruze Eco so much that I didn't need the Eco label to draw me in. This compact sedan is comfortable and easy to drive. It'd be a good commuting car, and you can push it a little without it feeling roly-poly.
The base 2011 Cruze LS starts at $16,525. The Eco trim is the next step up and starts at $18,425 when equipped with the standard six-speed manual transmission. My test car, which had the optional six-speed automatic transmission and other optional features, cost $21,130.
EXTERIOR
The 2011 Chevy Cruze Eco looks like its larger sibling, the Malibu, thanks to its split grille with Chevy's bowtie placed squarely between the two parts. What I like about the Cruze is it's small but gender-neutral. Because it's compact, it could verge on looking feminine, but its sporty looks keep it from going too girly. Its nifty spoiler and the lower grille air shutter that closes at higher speeds help to keep it sporty.
Because the Cruze Eco is a sedan, getting into it is a piece of cake for older kids. Younger kids may need a little help with the door handles, but the doors are light enough for them to get the hang of before long. The rear doors slope down toward the rear. This gives the Cruze a streamlined look, but may cause you to bonk your head when helping kids into their child-safety seats.
There's plenty of room in the Cruze's trunk for a grocery run, but you'll struggle to get a double stroller in there with anything else. Small pool floaties? Yes. Large inner-tube? No, but you weren't banking on that anyway.
The Cruze Eco has a 138-horsepower, turbocharged 1.4-liter four-cylinder engine. When paired with the standard six-speed manual transmission, it gets an EPA-estimated 28/42 mpg city/highway. When paired with the optional six-speed automatic, it gets 26/37 mpg. It uses regular gas.
SENSE AND STYLE
Family Friendly (Not Really, Fair, Great, Excellent): Not Really
Fun-Factor (None, Some, Good Times, Groove-On): Some
INTERIOR
The Cruze Eco surprised me the most in the interior. I was impressed with the quality of materials and how well everything was put together. No, the Cruze isn't cheap. It's somewhat inexpensive, but there's a lot of interior quality. There are some elements that look dated, like the center stack display that seemed dot-matrix-y, but overall, the Cruze has a modern look and feel.
The center console curves in a downward direction. It verges on kitschy, but the materials used keep it from flying off the edge. The one exception might be the cloth-trimmed dash. It adds some flavor to what could otherwise be a plain-looking interior, but the hiccup would be whether the cloth stands up over time.
Storage is minimal in this five-seater, but there's enough for most normal, everyday needs. There are two cupholders in the front row, but one of them may be used for stashing a gadget, lip balm or whatever. If you don't want to keep these things in plain view, there is a center console to stash them in.
Just like the front seat, the backseat doesn't have a lot of frills, but it is comfortable. My two school-age children had enough legroom in the Cruze Eco and easy access to cupholders in the fold-down armrest.
IT'S THE LITTLE THINGS THAT COUNT
Storage Compartments (Puny, Fair, Ample, Galore): Fair
Cargo/Trunk Space (Puny, Fair, Ample, Galore): Fair
SAFETY
The 2011 Chevrolet Cruze, including the Eco trim, has been named a Top Safety Pick by the Insurance Institute for Highway Safety. To earn this safety nod, a car must receive the top score of Good in frontal-offset, side-impact, rear and roof-strength crash tests and have an electronic stability system. It also earned five out of five stars overall in National Highway Traffic Safety Administration crash tests.
The Cruze Eco has standard front-wheel drive, antilock brakes, traction control, anti-roll control and 10 airbags, including side-impact airbags for all four outboard seats, knee airbags for the front row and side curtains for both rows.
Forward-facing child-safety seats fit well in the Cruze Eco, but those rear-facing car seats present problems. To get the rear car seats to fit, I had to move the front passenger seat forward a lot. Make sure to double- and triple-check that they not only fit, but also fit with the front seats positioned where they are comfortable for you. My kids, who are in booster seats, found that the seat belt buckles were buried in the seat bench. This is frustrating even for a 7- and 9-year-old. Find out how the Cruze performed in MotherProof.com's Car Seat Check.
Get more safety information about the 2011 Chevy Cruze Eco here.
Why Cars.com?
Visited by more than 10 million car shoppers each month, Cars.com is the leading destination for online car shoppers.
Search confidently for a 2011 Chevrolet Cruze near you and discover how easy it is to find the perfect car at the perfect price.
At Cars.com, confidence comes standard.