Find Your Honda Ridgeline in Three Easy Steps
Enter your ZIP code below.
Browse vehicles in your area.
Email the seller. It's that Easy!
We have thousands of Used Honda Ridgeline vehicles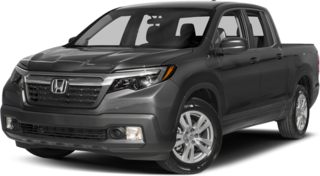 2017 Honda Ridgeline shown
2017 Honda Ridgeline Summary
MSRP $29,475 - $42,970
MPG City: 18 - 19 ; Highway: 25 - 26
Average Consumer Rating
4.4
out of
5
After a two-year hiatus, the Honda Ridgeline is back with a new look, more technology and a better midsize pickup truck package. The 2017 model is making its debut at the 2016 North American International Auto Show in Detroit.
Expert Review
By Bruce Smith
PickupTrucks.com
Jun 10, 2016
The verdict: It's taken a decade but for those who desire carlike comfort with the functionality and utility of a pickup truck bed, Honda has finally hit the mark with the 2017 Ridgeline.

Versus the competition: It's still not as off-road capable as its body-on-frame competitors and its towing capacity is comparatively low, but you don't get beat up in a Ridgeline when you hit potholes or take roads less traveled. Its bed is large and its many new refinements combine with existing innovations and a more conventional look to make this efficient, capable midsize pickup much more attractive than it's ever been.

Last sold for the 2014 model year, the Ridgeline has gotten its first real redesign since its 2006 debut. As before, it has one engine, a V-6, but now offers front- along with all-wheel drive. The new Ridgeline still retains the interior and underpinnings of the Pilot SUV, but it now looks like a conventional pickup with a lot of features no other competitor in the midsize truck market offers.



Manufacturer image

Competitors include sage veterans like the Toyota Tacoma, Chevrolet Colorado and Nissan Frontier. Ridgeline sales during the past 10 years have been lackluster in comparison with both these competitors and other Honda models, with a little more than 250,000 sold in its history. Our experience with the 2017 model suggests that could change.
Exterior & Styling
The original Ridgeline's odd styling was polarizing, but it served to keep Honda fans in the driver's seat of a Honda pickup. The biggest change in the new Ridgeline is the body. It's taken on the look of a conventional crew-cab four-door pickup. The new look is much more appealing to pickup lovers than the original design, and should draw from a wider market, or at least entice some non-brand-biased pickup cross-shoppers to take it for a test drive.



Manufacturer image

Current Honda owners will find the 2017 Ridgeline blends in nicely with other cars, SUVs or minivans parked in their garage because it shares many parts with the SUV and minivan stablemates from which it evolved. It's a Pilot from the back of the rear doors forward. The headlights and grille are thinner and more aerodynamic than the previous truck's, and it's a complete departure from the more traditional styling of its Toyota, GM and Nissan competitors. The lower front bumper and narrow rectangular grillwork flanked by the fog/driving lights from the Civic and the outgoing truck are unique to the 2017 Ridgeline.

The 2017 Ridgeline isn't going to wow the young at heart or those with a real bent toward true off-roading – or looking the part. There are no winches, aftermarket bumpers, wheels or tire combos to really personalize it the way many millennial midsize pickup buyers prefer. It's also an inch or so short on ground clearance compared with the Tacoma, and Honda doesn't offer any type of sport or off-road trim like either GM or Toyota.
How It Drives
I was skeptical of how the Ridgeline would drive and handle with a 280-horsepower, normally aspirated 3.5-liter V-6, but my skepticism was short-lived. Honda still retains the six-speed, which is antiquated technology in this age of eight- and 10-speeds. However, the engineers parlayed old technology with a satisfying change in gear ratios to complement the extra 30 hp and 15 pounds-feet of torque (262 pounds-feet). First, 2nd and 3rd gears are shorter (numerically higher) than the previous model's, with slightly taller 4th, 5th and 6th gears. The result is quick response from a dead stop and snappy shifts around 6,400 rpm as long as the pedal is matted.



Cars.com photo by Bruce Smith

On the open road, the Ridgeline excels on all counts. It glides through corners like a sports car, brakes ridiculously smoothly and strongly, and is by far the quietest inside of any pickup I've driven, of any size. The truck's suspension is 50 percent brand new, and the other half is re-engineered from the Pilot with stronger bearings and lower A-arms, and struts designed to handle pickup-like loads. Honda engineers have also loaded it up with sound-insulating materials and made major improvements to battle annoying road-induced noise.

Off-road performance is even more enhanced with the smarter torque-vectoring all-wheel-drive system, which allows drivers to choose what type of driving conditions they are facing (normal, snow, mud and sand) and let onboard computers change throttle response and traction controls accordingly.

Torque-vectoring allocates up to 70 percent of the engine's torque to the rear wheels and adjusts that output between the left and right sides depending on what the traction system senses. For example, in Snow mode, the throttle is slower to respond, more power goes to the rear wheels and the transmission starts in 2nd. Sand mode makes the throttle respond faster than in Normal mode and delivers even more power to the rear via the rear limited-slip differential, which allows more wheelspin to keep control.

After driving the new Ridgeline in a number of different off-pavement settings, I can attest that its traction algorithms are well done. Honda's all-wheel drive makes a good driver look great in sand and loose conditions, and it performs in ways that make the four-wheel-drive systems in the Colorado and Tacoma look clunky and sluggish.



Manufacturer image

You never touch a dial or have to shift in or out of four-wheel drive in the Ridgeline all-wheel-drive model. You just select what type of conditions you are driving in and its computers do the rest. The Ridgeline is sans the types of low range found in competitors' 4x4s. The "L" on the shifter just locks the transmission in the first three gears. A conventional four-wheel-drive system, such as those found in the Tacoma or Colorado 4x4s, allows the driver to select a dedicated lower range of gears, which comes in handy when the terrain or driving conditions warrant higher engine rpm for more pulling power, but at a much slower and controlled vehicle speed. Sometimes, low range is good in difficult mud or sand and can also be useful on slippery boat ramps, giving more low-end torque to get the boat and trailer moving, or when a section of a backcountry off-road trail gets steep and you want to comfortably idle up or down the slope. Having an available low-range gear expands the "just-in-case" abilities of a vehicle.

Now up to modern standards, the Ridgeline's V-6 outpowers the Colorado and Tacoma gas V-6 engines and equals or bests them in fuel economy. The front-wheel-drive version of the Ridgeline pulls an EPA-estimated 19/26/22 mpg (city/highway/combined), which beats the V-6 rear-drive Colorado (18/26/21 mpg) and Tacoma (19/24/21 mpg). The all-wheel-drive version is almost as fuel-friendly, with an estimated 18/25/21 mpg, which is the same EPA-estimated highway and combined mpg as the four-cylinder 4x4 versions from GM and better than the Tacoma four-banger 4x4's estimated 19/22/20 mpg.
Interior
The Ridgeline's interior is shared with the new Pilot SUV. The seats are supportive and comfortable on long drives. Slip into the driver's seat and you immediately think you are in a full-size pickup. Headroom is plentiful, even for Texans who never take off their cowboy hats. Neither the driver nor the front passenger is squeezed between the door panels and the center console. There's enough legroom up front for Kobe Bryant to get comfortable.



Manufacturer image

Best of all for those seated on the 60/40-split rear bench, they aren't eating their kneecaps when someone measuring 6 feet or taller slides the front seats back. That's the benefit of having a unibody platform.

Honda has also replaced the old, clunky ratchet-release handles from the folding rear seats. The new ones feel firm and release with a satisfying smoothness and sturdiness. The one-touch operation makes it easy to flip up either side with one hand, leaving the other hand free to hold bags of groceries or a toolbox. The floor underneath is flat, so storage space is maximized, and there's a hidden storage compartment in the floor beneath the rear seat big enough to hold a golf bag.



Manufacturer image
Ergonomics & Electronics
Honda replaced the older Ridgeline's knobs and buttons with soft-touch controls, all ergonomically designed and smartly located for ease of use. The console shifter is meaty and shifts velvety smooth. The center console's sliding cover seems a bit flimsy, but it does the job, sliding back to reveal a fairly deep and spacious storage area. The upper trim levels have dual USB and 12-volt charging ports, while the lower trim levels have only a single USB port. Honda apparently doesn't know pickup owners need more power and USB outlets.



Cars.com photo by Bruce Smith

Honda did do a good job bringing the old model into this century when it comes to keeping our electronic umbilical cords connected. The trim levels I drove, the top-of-the-line Black Edition and RTL-E, had the newest in Honda electronics, including a tablet-sized 8-inch touch-screen, a truck bed audio system, Apple CarPlay, Android Auto, a 3-D Garmin navigation system and HD radio. Need to connect your iPhone or Android? It's wirelessly handled in seconds. The RTL-T audio system pumps 225 watts through seven speakers, while the RTL-E and Black Edition get 540 watts and eight speakers.

The other cool feature in upper trim levels (RTL-E and Black Edition) is a theaterlike 540-watt sound system that uses the bedsides and front bed wall as speakers. Honda engineers bonded waterproof audio exciters, the magnets that drive speaker cones, to the bedsides so the entire bed box becomes a giant speaker. Couple that with a 115-volt power outlet in the bed that provides 400 watts when the engine is idling, and you can stand a 60-inch flat-screen against the back cab wall and crank up the volume to rattle the campsite. When the bed speakers are on, the cabin speakers shut off.
Cargo & Towing
Honda was the first manufacturer to put a "trunk" in the bed of a pickup and remains the only one to do so with the 2017 Ridgeline. It's one of the coolest features of any pickup, regardless of size. The rear half of the 5-foot-4 fiberglass molded composite bed can be lifted to reveal a cargo storage area that's big enough to easily hold an 82-quart cooler, the largest golf bag, backpacks, fishing equipment, tools or all the riding gear you and your passengers need for a day of fun. The original dual-action tailgate remains as well, providing the choice of swing-away or drop-down to fit the need.



Cars.com photo by Bruce Smith

The Ridgeline's bed is made of a special fiberglass composite material that's impervious to denting. Even dropping a bucket load of rocks in the bed has no effect on its looks or structural integrity. Bed material is also UV-resistant so it will not fade.



Cars.com photo by Bruce Smith

If you're into camping, bike-riding or all-terrain vehicles, the bed is 5.5 inches wider and 3.9 inches longer than the 2016's, making it the biggest in the midsize class. The eight tie-downs in the bed each hold 350 pounds, so no load is going to move around. There're no massive wheel arches to deal with, either, so it's easy to roll in a quad.



Cars.com photo by Bruce Smith

You could also flop a foam pad on the floor to enjoy the spaciousness when camping. In fact, one of Honda's new Ridgeline accessories is a bed tent system that sleeps two.



Cars.com photo by Bruce Smith

The Ridgeline also showed its surefootedness towing a trailer loaded with 3,600 pounds of Honda ATVs. The shorter gear ratios really help it get the load moving quickly, and the 28 percent stiffer unibody design and revised struts tuning keep it level and stable through dips and turns. While competitors such as the Colorado tout a full ton more towing capacity, the 5,000-pound tow rating on the all-wheel-drive Ridgeline seems underrated to me. But Honda always has leaned toward the conservative side in almost everything it does, so the manufacturer is happy to remain J2807-compliant with a capacity limit matching the previous model's. It has a gross combined weight rating of 8,201 pounds on the two-wheel-drive models and 9,986 pounds on all-wheel-drive versions. No weight-distributing hitch is required. The payload capacity is given as 1,584 pounds – comparable to competing midsize pickups.



Cars.com photo by Bruce Smith
Safety
As of publication, the 2017 Ridgeline hadn't been crash-tested. Once reported, results will appear here.

There's not another pickup on the market with as complete a set of active-safety options as the new Ridgeline – though availability depends on the trim level selected. The Honda Sensing suite of safety technologies includes adaptive cruise control, lane departure prevention, forward collision warning with automatic emergency braking, rear cross-traffic alert, lane departure prevention and other automated systems that keep the driver well-informed of where the vehicle is in relation to anything and everyone around it. Optional LaneWatch is a blind spot camera that shows on the dashboard display a video image of the right-hand blind spot when driving forward, not just backward. It activates with the turn signal or via a button.

What the truck doesn't sense, the driver can see directly. Visibility is excellent for a pickup. The new body design with the conventional bed style makes it easy to see everything except what's right behind the bed — and that is taken care of by the backup camera system.
Value in Its Class
The Honda Ridgeline is going to turn a lot more heads than it did in 2006 or even 2014. Having the look of a conventional pickup with the quietness, roominess, ride, handling and safety features of a unibody is attractive to many car and SUV owners in the market for a small pickup. The Ridgeline doesn't ride or handle like its competitors; it's far more refined. Add in the option of two-wheel drive along with an entry-level price for the RT model of $30,375 (all prices include destination) and Honda's redesigned pickup is going to get some serious lookers. Even the loaded RTL-E ($42,270) and Black Edition ($43,770) all-wheel-drive-only models should compete well against the top-tier Toyota and GM midsize pickups because of all the on- and off-pavement capabilities the Ridgeline provides, along with the utility function of the bigger bed. Honda now has a true pickup in the stable that is capable and competitive in many other ways to its rivals.
Why Cars.com?
Visited by more than 10 million car shoppers each month, Cars.com is the leading destination for online car shoppers.
Search confidently for a Honda Ridgeline near you and discover how easy it is to find the perfect car at the perfect price.
At Cars.com, confidence comes standard.