Find Your 2011 Jeep Grand Cherokee in Three Easy Steps
Enter your ZIP code below.
Browse vehicles in your area.
Email the seller. It's that Easy!
We have thousands of 2011 Jeep Grand Cherokee vehicles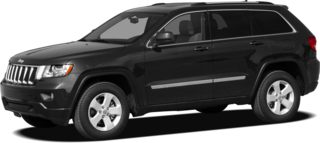 2011 Jeep Grand Cherokee shown
2011 Jeep Grand Cherokee Summary
MPG City: 13 - 16 ; Highway: 19 - 23
Average Consumer Rating
4.4
out of
5
Jeep redesigned the five-seat Grand Cherokee SUV for 2011, moving it further into the crossover realm by giving it a carlike four-wheel-independent suspension. Other new features include an air suspension system that can provide up to 10.7 inches of ground clearance, a driver-selectable terrain system that configures suspension and drivetrain settings to suit various situations, and a 3.6-liter V-6 that's 11 percent more fuel efficient than the V-6 it replaces. Backseat legroom and cargo room have also been increased.
Expert Review
By Courtney Messenbaugh
Mother Proof
Jan 26, 2011
The following is a true story: While trying to access the lower Latch anchors in the 2011 Jeep Grand Cherokee, my favorite sunglasses fell off my head and onto the ground; in the heat of my efforts — hands trying unsuccessfully to clip my daughter's car seat in and feet stomping in frustration — I stepped on my favorite sunglasses and smooshed them. They're ruined. I'm sad.
Moral: Latch anchors need to be easier to access and use. Jeep isn't the only manufacturer guilty of producing almost-impossible Latch anchors, so my apologies for singling Jeep out, but the 2011 Grand Cherokee has the misfortune of being the one that led to the broken sunglasses.
Aside from the Latch issue, the 2011 Grand Cherokee is a stylish, roomy, comfortable and practical SUV. It's also rather luxurious. Given my troubles with the Latch anchors, I might recommend it more for folks who don't need to use the Latch system, lest any other favorite sunglasses get smooshed.
The 2011 Grand Cherokee has been redesigned, and it now has a crossover-like feel due to a new four-wheel-independent suspension. There's also more room for folks in the backseat and for cargo in the rear, both of which are always a good thing. A Selec-Terrain system that helps you and the car adapt to different driving conditions is new this year as well as an optional 5.7-liter V-8 engine.
The Grand Cherokee starts at $30,215. I tested the midlevel Limited trim with all-wheel drive, which starts at $39,215. In addition to the larger 5.7-liter engine, my test car had some other near-necessary options like a blind spot warning system, a power liftgate and cooled front seats, bringing the total price up to $43,885.

EXTERIOR
At first sight, I thought the 2011 Jeep Grand Cherokee was a Porsche Cayenne. With a second glance, I noticed the distinctive front grille and realized that this was indeed a Grand Cherokee. It just looked better than ever. The softened exterior lines, sparkly chrome trim and large wheels housed under conspicuous fenders work together for a "wow" factor that I've never previously gotten from a Jeep. The 2011 redesign makes the Grand Cherokee look more like a crossover than an SUV, and crossover looks good on this Jeep.
Because of this redesign my children had an easier time getting in and out of the Grand Cherokee. It sits lower to the ground than a traditional SUV. Another bonus was the doors weren't unusually heavy, which worked well with the children.
I don't want to get too girly here, but the Blackberry Pearl paint color of my test car is worth mentioning. In a word: gorgeous. It was a deep, dark greenish-blue that resembled the deepest depths of the ocean (as I imagine them).
My test car had the optional 5.7-liter V-8 engine ($1,495), which includes a slick pair of rear exhaust tips with it. This engine produces 360 horsepower and moved the SUV around easily. The standard engine is a 3.6-liter V-6 that delivers 290 hp. The Grand Cherokee Limited I tested had all-wheel drive, but it's also available in rear-wheel drive.
With the addition of the larger 5.7-liter engine and all-wheel drive, fuel economy in my test car was a less-than-impressive EPA-estimated 13/19 mpg city/highway using regular gas. With rear-wheel drive, the V-8 engine gets 14/20 mpg. When equipped with the standard V-6 and all-wheel drive, the Grand Cherokee gets 16/22 mpg. It gets 1 mpg better on the highway with the V-6 and rear-wheel drive.
SENSE AND STYLE
Family Friendly (Not Really, Fair, Great, Excellent): Great
Fun-Factor (None, Some, Good Times, Groove-On): Good Times
INTERIOR
The 2011 Grand Cherokee's cabin is easy on the eyes and soft to the touch. The wood-grain and chrome trim is sexy and the leather-trimmed seats are comfortable. Front and rear seats and the steering wheel are all heated, which makes any Colorado family like mine happy. My test car even had the optional ventilated front seats, which would be a welcome blast of fresh air during the hot summers.
My test SUV had the Rear DVD Entertainment Center package with Sirius Backseat TV that features kids' channels including Disney, Nickelodeon and Cartoon Network. While I may be conflicted about the necessity of in-car television, my children thought it was beyond cool. The entertainment package also includes wireless headphones so you can enjoy the silence and try to forget that you could be creating couch potatoes on wheels. In the realm of other family-friendly entertainment features, the 2011 Grand Cherokee also comes with Jeep's user-friendly Uconnect system that allows you to navigate, call your friends and play your favorite tunes from the comfort of the driver's seat.
There are cupholders for everyone — in the center of both the front and rear seats as well as on the doors — and a generous center storage cubby up front.
There's plenty of room for your gear as rear cargo volume clocks in at more than 35 cubic feet with the second row up and almost 69 cubic feet with the second row down. There's also a built-in flashlight in the rear cargo area that's a welcome addition to any family car — no matter if you end up using it to fix a flat at night or simply entertain the kids with ghost stories during a long road trip.
IT'S THE LITTLE THINGS THAT COUNT
Storage Compartments (Puny, Fair, Ample, Galore): Ample
Cargo/Trunk Space (Puny, Fair, Ample, Galore): Ample
SAFETY
The 2011 Grand Cherokee has been named a Top Safety Pick by the Insurance Institute for Highway Safety. To earn this safety nod, a car must receive the top score of Good in front-, side-impact, rear and roof-strength crash tests as well as have a standard electronic stability system.
In addition to the electronic stability system, the Grand Cherokee also has standard four-wheel-disc antilock brakes with brake assist, anti-roll control, traction control, active head restraints, rear-wheel drive, a backup camera with rear sensors and six airbags, including side-impact airbags for the front seat and side curtains for both rows.
Optional safety features include a backup camera with front and rear sensors, all-wheel drive and an Adaptive Warning/Adaptive Cruise Control package that includes a blind spot monitoring system, adaptive cruise control, collision alert and Cross Path detection, which alerts the driver about oncoming traffic when pulling out of a parking spot.
I'm not a fan of the Grand Cherokee's two sets of lower Latch anchors for obvious reasons. Two words: smooshed sunglasses. They're difficult to use. I wasn't able to fit my three car seats into the SUV, but the car seat testers in MotherProof.com's Car Seat Check were able to fit their three car seats in it, which shows you that you should take your car seats with you if you're planning to take a test drive.
According to Jeep, backseat legroom has been upped by more than 3 inches this year, but I found the legroom to be a bit tight with car seats installed. Thankfully, my children have little legs, so it wasn't a problem.
Get more safety information about the 2011 Jeep Grand Cherokee here.
Why Cars.com?
Visited by more than 10 million car shoppers each month, Cars.com is the leading destination for online car shoppers.
Search confidently for a 2011 Jeep Grand Cherokee near you and discover how easy it is to find the perfect car at the perfect price.
At Cars.com, confidence comes standard.