Find Your Nissan Titan in Three Easy Steps
Enter your ZIP code below.
Browse vehicles in your area.
Email the seller. It's that Easy!
We have thousands of Used Nissan Titan vehicles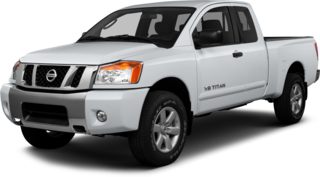 2015 Nissan Titan shown
2015 Nissan Titan Summary
MPG City: 12 - 13 ; Highway: 17 - 18
Vehicle Overview
Nissan's going after customers in need of a stronger half-ton pickup or heavy-duty customers who don't appreciate the unnecessary tradeoffs with its new-for-2016 Titan XD.

This all-new pickup hopes to better compete with the dominating players in the segment: the Ford F-150, Chevrolet Silverado 1500, Ram 1500, GMC Sierra 1500 and Toyota Tundra.

New for 2015The Nissan strategy is to essentially create two half-ton pickups: one heavier-duty hard-working model called the Titan XD that will go on sale first at the end of 2015 and only be offered with the new twin-turbo-diesel 5.0-liter V-8 Cummins and then offer a more personal-use, lighter-duty half-ton pickup later in 2016 that will offer a choice of V-8 and V-6 engines.

This Titan XD has an all-new chassis will offer a maximum towing capacity above 12,000 pounds and offers a payload capacity of 2,000 pounds when properly equipped.

The new Titan has a new exterior and interior look, and it offers many bed conveniences like LED lighting, multiple cargo rails and optional storage boxes.

Exterior HighlightsNissan designers started the new truck's look with a gladiator's helmet and incorporated many of those same cues into the front grille and tailgate. To house the big Cummins engine, Nissan made the grille and hood bulge larger than any of the competitive set.

Along the side of the truck, Nissan removed many of the flat surfaces and added swoops and curves over the front and rear fenders. Much of the front and side design cuts are tailored to smoothly move air over and around the large surfaces for better aerodynamics and fuel economy.

Additionally, Nissan now uses a single front bumper design to mitigate the number air-grabbing surface connections. The front also sports larger headlamps and LED accents, along with a stamped Titan name into the upper grille. Likewise, the name of the truck is stamped on the top of the tailgate.

Interior HighlightsProbably the greatest improvement with this new version Titan XD is how much better looking the updated instrument panel is. Seating materials and soft-touch dash surfaces are improved with much cleaner labels and controls. New Titans now have an information screen between the speedometer and tachometer, as well as a 7-inch navigation screen that can offer a top-view 360-degree camera. Finally, all Nissan Titans will have a column shifter, which opens up quite a bit more room for extra storage space, hidden compartments and larger cupholders. The doors have been carefully redesigned to accommodate larger items.

The Nissan Titan will have five trim packages: S, SV, PRO-4X, , SL and Platinum Reserve. The truck will be offered in three cab configurations — regular, king, and crew — with several wheelbases, and three bed lengths.

Under the HoodThe all-new twin-turbo-diesel 5.0-liter V-8 Cummins will be the first engine available on Titan XDs, with a V-6 and V-8 coming online in 2016.

Power ratings for the 5.0 Cummins are 310 horsepower and 555 pounds-feet of torque, offering 20 percent better fuel economy when towing full loads than a comparably sized gas engine, as well as 45 percent more torque. Power ratings have not been released. The current 4.0-liter V-6 is rated at 261 hp and 281 pounds-feet of torque.

Safety FeaturesAmong some of the new safety features, Nissan will be the first truckmaker to include a trailer light check with blind spot and front and rear sonar warning lights and sounds. Other safety gear will include an integrated brake controller for towing, trailer sway control, LED lighting in the bed, standard tailgate assist and an electronically controlled rear locking differential.
Why Cars.com?
Visited by more than 10 million car shoppers each month, Cars.com is the leading destination for online car shoppers.
Search confidently for a Nissan Titan near you and discover how easy it is to find the perfect car at the perfect price.
At Cars.com, confidence comes standard.