Find Your Toyota Tacoma in Three Easy Steps
Enter your ZIP code below.
Browse vehicles in your area.
Email the seller. It's that Easy!
We have thousands of Used Toyota Tacoma vehicles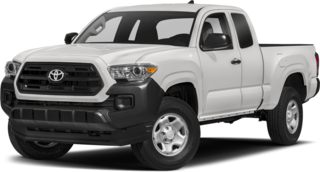 2016 Toyota Tacoma shown
2016 Toyota Tacoma Summary
MSRP $23,660 - $38,180
MPG City: 17 - 19 ; Highway: 20 - 24
Vehicle Overview
The Tacoma is getting a much-needed injection of attention and upgrades.

New for 2015Toyota started this project by beefing up the center section of the frame with ultra-high-strength steel to give the foundation more rigidity.

Toyota has changed the exterior look of the truck to echo some of the look and feel of the full-size Tundra. Inside, the dashboard is more horizontal and a great deal of work has been done to make the interior significantly quieter than it was. New 3.5-liter V-6 engine technology from both the Prius and Lexus hybrid vehicles will replace the 4.0-liter V-6 from the previous model, promising to deliver more power and fuel economy to the V-6-equipped Tacoma.

Toyota is also offering two levels of the popular TRD packages. Depending on configuration, some of the new technology will include an automatic or selectable locking rear differential, hill start assist, clutch start cancel (only on manual transmissions) and crawl control, which gives throttle and braking duties to the vehicle so the driver can focus on steering. Additionally, Toyota's new 4x4 system will allow off-road drivers to select the type of terrain they are navigating with a new multiterrain response system.

Exterior HighlightsMost of the exterior design is relegated to the new front grille, which has incorporated hex cuts in the upper and lower corners to give it a similar look to the Tundra. Side views of the new Tacoma will look similar to the current generation, with the addition of a style-line cut into the lower area of the cab.

There is a new taillight design, and the Tacoma name is stamped into the lower portion of the tailgate. All tailgates will be strutted to make opening and closing easier. The construction and bed-length options of the new Tacoma are unchanged.

Interior HighlightsThe inside of the new Tacoma is improved, with a more horizontal "handlebar" look to the center and passenger-side dash, providing for a larger glove box and more open storage space in front of the console shifter. These is also is a new touch-screen, power moonroof, push-button start and a wireless charging mat for cellphones.

Toyota says interior noise levels will be much better than previous Tacomas due to the thicker ceiling and floor sound-absorbing materials, a multilayer spray on the windshield and improved door seals.

The front seats will offer new materials and styles for each of the five trim levels -- SR, SR5, TRD Sport, TRD Off-Road and Limited.

Under the HoodThe new 3.5-liter V-6 engine uses an Atkinson-cycle strategy that allows the engine to be more efficient with its energy production. Toyota promises it will have more horsepower and torque than the previous 4.0-liter V-6; however, power or fuel economy ratings are not available at this time.

Safety FeaturesAlthough we don't know all the details, we have been told 2016 Tacomas will come standard with Toyota's Star Safety System, which includes vehicle stability control, traction control, antilock braking and electronic brake-force distribution. Also standard will be front-, side- and head airbags, with a passenger-side cutoff switch for Access Cabs (Toyota no longer makes a regular-cab Tacoma).
Why Cars.com?
Visited by more than 10 million car shoppers each month, Cars.com is the leading destination for online car shoppers.
Search confidently for a Toyota Tacoma near you and discover how easy it is to find the perfect car at the perfect price.
At Cars.com, confidence comes standard.