What's more American than a Cadillac? How about a Cadillac CTS-V with a whopping V-8 that can blister the tires and lunge to 60 miles per hour in 4.6 seconds? Tire-scorching horsepower is about as American as you can get.

This high-performance version of the CTS was created to challenge comparable performance models from Audi, BMW and Mercedes-Benz. Cadillac will build only a few thousand, so expect waiting lists and premium prices. The test car's sticker price was $52,495, and that compares favorably with the Audi S4. BMW's new M5 is not out yet, and the Mercedes-Benz E55 is $80,000.

Cadillac, the brand, is in the middle of an extreme makeover, and the CTS-V has received a major heart transplant. For the ultra-performance model, the standard 3.6-liter, 255-horse V-6 has been shelved, and a 400-horsepower, 5.7-liter heart based on a Corvette has been stuffed inside the simple suit of sharply pressed sheet metal. Talk about kickin' things up a notch.

Visually, you can tell the CTS-V by its fat tires, squat stance and deeper front spoiler. Scoops by the fog lights provide ventilation for the front brakes. Honeycomb mesh is used for the grille. The V is currently available in silver or black. Red and stealth gray will be added in 2005, as will a light-gray interior.

The aluminum 5.7-liter engine is mated to a six-speed manual transmission for maximum performance, and it's a great combination, with one exception. Accelerate gently, and the CTS-V forces you to shift from first to fourth gear, just like the Corvette. The skip-shift feature is there to achieve better city fuel economy numbers in the Environmental Protection Agency's test, but it's annoying. I know it can be defeated with an aftermarket switch, but I wish it weren't there to begin with.

Tighter ratios in the six-speed gearbox would make the driving experience more fun because fifth and sixth are both overdrive gears. No automatic transmission is offered.

The rear-drive CTS is a well-balanced platform that handles copious amounts of horsepower reasonably well, thanks to a reworked suspension, 18-inch tires and huge, 14-inch Brembo disc brakes. Hydroformed steel cradles are used front and rear to handle the extra demand from the V-8. Stiffer springs, bigger shocks and fat stabilizer bars keep the CTS-V pretty flat in turns. The suspension was tuned during extensive testing at the famous Nurburgring track in Germany.

In city driving, the CTS-V's ride is just this side of being too firm. The car is secure and well-planted. Probing its performance envelope is not something one can do safely on the street. It would be fun to spend some time with it on a track.

An understated interior matches the subtle exterior. Everything is black except for brushed aluminum accents on the steering wheel and gearshift knob. The deeply contoured leather buckets have suede inserts to hold occupants in place during spirited driving.

The gauge package is subtle with white letters on a black background.

A digital readout at the bottom of the tachometer supplies various bits of information, and includes a gauge that shows peak and momentary lateral acceleration in turns. This g-meter is clever and fun.

The Cadillac's center stack is shaped to resemble a computer tower, and it looks a bit dated. A navigation system and XM satellite radio are standard, as is OnStar.

Side-curtain airbags, antilock brakes, traction control and the Stabilitrak vehicle stability program are also standard.

While the CTS-V is a low-volume model, it is the best evidence yet that Cadillac intends to position itself as a major competitor with the best performance sedans from Europe.

Price

The test car's base price was $49,300. The only additions were $1,300 for the gas-guzzler tax and $1,200 for a sunroof. The sticker price was $52,495.

Warranty

Four years or 50,000 miles.

At A Glance

Engine: 5.7-liter, 400-hp V-8

Transmission: Six-speed

Rear-wheel drive

Wheelbase: 113.4 inches

Curb weight: 3,850 lbs.

Base price: $49,300

As driven: $52,495

Mpg rating: 15 city, 23 hwy.

At A Glance

Point: The CTS-V is mean, muscular and fun. The Corvette-based V-8 is very civilized, yet it is capable of stunning performance. Big tires, Brembo brakes and a buttoned-down suspension make this a sports sedan extraordinaire.

Counterpoint: The center of the instrument panel looks a bit dated, and rear-seat legroom is not as generous as you might expect from a 113.4-inch wheelbase. Availability will be limited to a few thousand units a year.


---
People Who Viewed this Car Also Viewed
Select up to three models to compare with the 2005 Cadillac CTS-V.
2017 Chevrolet Spark
Starting MSRP
$13,000–$17,425
Compare
2000 Dodge Avenger
Asking Price Range
$2,297–$4,421
Compare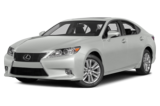 2014 Lexus ES 350
Asking Price Range
$23,624–$34,744
Compare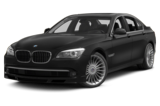 2011 BMW Alpina B7
Asking Price Range
$25,262–$56,930
Compare
Featured Services for this Cadillac CTS-V