A Corvette sedan?

Well, that's probably a bit of a stretch, but the Cadillac CTS-V might be about as close as you can get to that in a General Motors car that has four doors and can carry five people and their luggage. Try that in a 'Vette.

So for those who might lust for a Corvette, but have to face the realities of family life - specifically, that a two-seat sports car just isn't suitable for hauling the kids around town - the CTS-V could be the answer.

Using the body of the popular midsize CTS sedan, Cadillac created the CTS-V performance model almost three years ago. It looks almost the same as the regular V-6 versions of this sedan line, but comes with a secret weapon under the hood.

Regular versions of the CTS come with a choice of two V-6 engines, but the CTS-V has the 6.0-liter LS2 V-8 engine from the Corvette C6 base model, rated at 400 horsepower and 395 foot-pounds of torque. It's connected to the same six-speed manual gearbox used in the current 'Vette.

This gives the consumer a family sedan with the power of a Corvette for about the same price -- $50,675 (plus $720 freight) for the 2006 model, which we tested. There are no changes on the 2007 model, but prices have not yet been announced.

Everything you can get on a CTS is included in that price, so there are no add-ons to raise the sticker above that. That gave our test vehicle a list price of $51,395 (including freight), which is out of range for a lot of consumers, but certainly in line with prices of other cars in this class.

When GM debuted the CTS-V for 2004, it came with the 5.7-liter, LS6 V-8 from the fifth-generation Corvette. But after last year's introduction of the C6, with its new 6.0-liter engine, GM shared that new power plant with the CTS-V and other vehicles in its lineup that had carried the 5.7-liter 'Vette engine.

Now, for those of you who are aghast that I would even suggest that someone buy a gas-guzzling, high-performance V-8 in the light of rising fuel prices and controversy over our dependence on foreign oil, let me say that the 2006 CTS-V has an EPA rating of 25 miles per gallon on the highway. That's similar to the fuel economy of many V-6 powered midsize sedans. City mileage is 16 mpg, and even that beats most of the midsize and larger SUVs on the market; and most of them don't come close to the CTS-V's highway mileage.

There is a racing version of the CTS-V that gets even more power (500 HP), but it's not street-legal. The 400 HP model will have to do if you're going to drive the car to work or for weekend family outings.

This car is like driving a Corvette with a back seat - a full-size, adult-accommodating back seat. Driving a sedan has never been more fun. The CTS-V brings lots of attention, too. Car people already know what it is, but for the rest, you might have to explain about the Corvette engine, 400 horsepower, and six-speed gearbox.

Most people think it costs much more than it does, so in that respect, the CTS-V comes across as a bargain. Many people pay $50,000-plus for a sport utility vehicle with much less curb-appeal.

The CTS-V appeals mostly to those who would love to own a Corvette or the Cadillac XLR two-seater (based on the C6 platform and built on the Corvette assembly line in Bowling Green, Ky.), but must buy a sedan or SUV because of family considerations. The CTS-V has the power and feel of a 'Vette, but with not only the back seat, but a roomy trunk as well - the same 12.8 cubic feet as on the V-6 CTS models.

Some special styling cues help to differentiate the CTV-V from the regular CTS, such as the metal mesh grille and lower air intake below the front bumper, the 18-inch alloy wheels and the CTS-V badging on the front fenders and the rear end.

At the heart of the car is the engine, and it turns the CTS into a beast. Connected to a true dual-exhaust system, the engine sounds like the beast it is.

The six-speed manual transmission is a necessary part of the performance equipment on this car; an automatic just wouldn't be as much fun. No automatic is even offered, although I wouldn't be surprised to see one offered sometime in the future just because so many people these days can't or won't learn how to drive a manual-shift car. Automatic transmissions outsell manuals in the Corvette, although with the current generation of the 'Vette, the automatic is no longer the base transmission as it was in the C5. Base cars get the six-speed manual.

General Motors says top speed of the CTS-V is 163 mph, compared with 142 mph for the 3.6-liter V-6 model.

Don't try that on public highways, though. Besides being irresponsible, it could get you thrown in jail. Find a track that you can use for the high-speed stuff.

What the CTS-V's power will do for you, legally, is allow you to pass other cars or merge onto the freeway wherever and whenever you want to.

My only complaint with the original CTS, which came only with the 3.2-liter engine, was that it lacked the kind of power the car needed to live up to Cadillac's billing of it as a "sport sedan." Even an optional turbocharger or supercharger would have given that engine enough extra zip to make it appeal to performance-oriented drivers - the ones Cadillac said it was going after with the introduction of the CTS with its optional Getrag five-speed manual gearbox.

With the 220-horsepower rating, the car still was pretty quick with the five-speed manual. But for 2004, Cadillac rolled out a 3.6-liter V-6 with variable valve timing and a big boost in power: 255 horsepower and 252 foot-pounds of torque.

And even though Cadillac had been offering a five-speed manual gearbox in the CTS from the start, a new six-speed manual was introduced as a perfect companion to the 255-horsepower engine.

There also is a new base engine, a 2.8-liter V-6 that has 210 horsepower, and is designed for those who want the styling and other amenities of the CTS, but don't care about the extra power. The 2.8 model is about $21,000 less than the CTS-V, as well. No manual is offered with that engine, however.

Most premium sedan buyers want an automatic transmission, but they also want enough power to keep up with the competition. Hence, the volume leader among the CTS offerings is a model with the 3.6-liter engine and automatic gearbox.

The 400 HP model has more power than most of its competitors, including similarly priced Jaguar, Lexus and Infiniti V-8 sport sedans.

As expected, the CTS-V is loaded with standard amenities.

Among them are four-wheel Brembo four-piston disc brakes with 14-inch vented rotors; Stabilitrak all-speed traction control; tower-to-tower cross bracing for extra rigidity; leather seats with suede fabric inserts; power, heated front seats with power lumbar adjustment; split-folding rear seat; power windows/mirrors/door locks with remote, of course; cruise control; AM/FM/compact-disc stereo with eight speakers, integrated with a DVD navigation system; XM Satellite Radio; OnStar; fog lights; automatic headlights; and an alarm system.

For safety's sake, the CTS-V comes with driver and front passenger seat-mounted side-impact air bags, as well as side-curtain air bags for front and rear passengers. Run-flat tires also are standard.

A power sunroof is now included in the base price, where it has been a $1,200 option before.

The tank holds 17.2 gallons of fuel, and premium unleaded is recommended.

G. Chambers Williams III is staff automotive columnist for the San Antonio Express-News and former transportation writer for the Star-Telegram. His automotive columns have appeared regularly in the Star-Telegram since 1995. Contact him at (210) 250-3236; chambers@star-telegram.com.

At a Glance: 2006/2007 Cadillac CTS-V sport-performance sedan

The package: Midsize, four-door, five-passenger, rear-drive, V-8 powered, premium performance sedan.

Highlights: Taking Cadillac's midsize CTS sedan to a much-higher plane, this version comes with a Corvette LS2 engine and six-speed manual transmission, with a top speed of 163 mph.

Negatives: No automatic transmission is offered for those who want the V-8 power, but don't want to have to shift gears or use a clutch.

Engine: 6.0-liter V-8.

Transmission: Tremec six-speed manual.

Power/torque: 400 horsepower/395 foot-pounds.

Length: 191.5 inches.

Curb weight: 3,850 pounds.

Brakes, front/rear: Brembo disc/disc, antilock.

Trunk volume: 12.5 cubic feet.

Fuel capacity/type: 17.5 gallons/premium unleaded recommended but not required.

EPA fuel economy: 16 miles per gallon city/25 highway.

Major competitors: Audi A6 V-8, BMW 5-series, Mercedes-Benz E-class, Lexus GS 450, Jaguar S-type V-8, Infiniti M45.

Base price: $50,675 plus $720 transportation (2006 pricing; 2007 prices not announced yet).

Price as tested: $51,395 (with freight)

On the Road rating: ***** (five stars out of five).

Prices quoted are manufacturer's suggested retail; actual selling prices may vary according to manufacturer and/or dealer rebates, discounts and incentives.


---
People Who Viewed this Car Also Viewed
Select up to three models to compare with the 2006 Cadillac CTS-V.
2016 Mitsubishi Lancer
Starting MSRP
$17,595–$22,495
Compare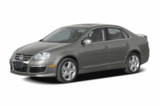 2006 Volkswagen Jetta
Asking Price Range
$2,765–$9,309
Compare
2013 Buick LaCrosse
Asking Price Range
$14,047–$25,059
Compare
Featured Services for this Cadillac CTS-V