Who would ever think that Cadillac, the luxury automaker best known for wallowing barges and overwrought SUVs, could build a midsize sports sedan that beats the performance imports at their own game?

Truth. Caddy's dramatic turnaround from building half-baked midsize cars to introducing the well-done 2008 CTS sport sedan is a story best told in reference to General Motors' general product improvement during the past few years. That includes the fine 2008 Chevy Malibu that took top prize as North American Car of the Year.

CTS, first seen in 2002, was a bold departure for conservative Cadillac. Its knife-edge contours were distinctive and controversial, and the ride was dialed in to firm drivability rather than plush luxury.

This year's CTS is all new, with styling that's refined but still recognizable and drivability that competes head-on with the likes of BMW and Audi. No, that's not hyperbole. CTS actually could lure some Euro drivers back to Detroit.

This is a satisfying car to drive, quick and maneuverable when you want it to be and quiet and poised on the highway. The performance intent is apparent, with a six-speed manual transmission offered as standard and automatic optional. There's also an all-wheel-drive version.

The CTS I drove was the base model, powered by a 263-horsepower V-6, automatic and about $10,000 worth of options. A direct-injection version of the same engine boosts horsepower to 304 for $2,300 more. The hyper-performance CTS-V skips a year before returning in 2009.

With prices starting at just more than $32,000, CTS steeply undercuts the Europeans, at least until you start loading on the options. CTS buyers also can enjoy a decent expectation of reliability, as GM closes the gap with the Japanese automakers.

Vehicle type: Five-passenger, four-door sedan, rear-wheel drive.Engine: 3.6-liter V-6, 263 horsepower at 6,400 rpm, 253 pound-feet of torque at 3,100 rpm.

Transmission: Six-speed automatic.

Wheelbase: 113.4 inches.

Overall length: 191.6 inches.

Curb weight: 3,861 pounds.

EPA rating: 16 city, 25 highway.

HIGHS: Crisp handling, distinctive new styling, moderate pricing.

LOWS: Stiff suspension is sometimes harsh, lazy downshifts, mystery traffic warning.

THE LOWDOWN

PERFORMANCE: The lesser V-6 has plenty of pull, with good torque for crisp off-the-line acceleration, although it runs out of juice as the tachometer climbs. Fuel mileage is not great but acceptable for a midsize sport sedan.

The six-speed automatic works well in most instances, reacting quickly to throttle input. But with the manual-shift option, downshifts are annoyingly slow to engage.

DRIVABILITY: The CTS is an excellent road car, tight and balanced and ready to run. High-speed cruising is quiet and effortless, Cadillac style, while cornering is sharply responsive in the style of the best imported sport sedans.

The firm sport suspension is appreciated, although it sometimes turns harsh over rough surfaces.

CTS is enhanced with stability control, traction control, antilock brakes and a full contingent of safety airbags.

STYLING: The look is softened from the original CTS, but still distinctive and aggressive. The bold grille stretches down below the bumper, similar to Audi and VW.

INTERIOR: Upgraded and restyled for 2008, the cabin is both elegant and businesslike, with solid-looking trim, supportive seats and a navigation screen that descends into the dashboard when you're not using it. Nice. Gauges and controls are simple and sporty-looking.

BOTTOM LINE: An excellent update of Cadillac's best car to date. There was one technical glitch: On Interstate 17, a disembodied voice urgently warned of a serious accident just ahead. Nope, no crash.

PRICING

Base price: $32,245.

Price as tested: $42,330.

OPTIONS

* Performance collection, including sport suspension, limited-slip differential, alloy wheels, $3,300.

* Audio and navigation package, with Bose surround sound, 40 gig MP3 hard drive, satellite radio, navigation system, $3,145.

* Automatic transmission, $1,300.

* Luxury package, with rain-sensing wipers, upgraded audio, alarm, $850.


---
People Who Viewed this Car Also Viewed
Select up to three models to compare with the 2008 Cadillac CTS.
2014 Cadillac ATS
Asking Price Range
$16,329–$31,953
Compare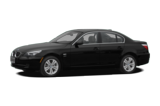 2008 BMW 535
Asking Price Range
$7,736–$17,424
Compare
2016 Mercedes-Benz CLS-Class
Starting MSRP
$66,900–$76,600
Compare
Featured Services for this Cadillac CTS