Average Ratings
---
49 out of 65 people recommended this car.
---
Miserable
by comfort seeker from Memphis, TN | November 5, 2015
Even though the car is smooth driving, I am about to go crazy because every time I drive it, the brake alarm comes on and continues till I stop driving. I had the brakes checked. They are fine. I am so sick of this alarm coming on. The people at Chevrolet claim they fixed it. I got in the car to drive it and it was worse than before they fixed it. I asked to have it disconnected, and they refused. It is horrible driving listening to this "ding, ding, ding" everywhere I go.
Purchased a new car
Uses car for Just getting around
Does not recommend this car
---
Regrets
by Mpinda from SA | October 8, 2015
i regret buying this car... its so disrespectful to manufacture car that do not have good fuel consumption.
Purchased a new car
Uses car for Work
Does not recommend this car
---
2013 Chevy Cruze LT
by crsabrandy from minnesota | March 27, 2015
I have had my 2013 Chevy Cruze LT about two years now. I love it! It gets great gas mileage and is comfortable for the size. I couldn't believe how much trunk space I get. I can fit 5 bowling balls with bags and still have room. My boyfriend is 6'2" so he has issues getting in and out of the car, but when he is seated he says he is comfortable just a little bit of a hassle. Otherwise, I am 5'8" and am completely comfortable! I haven't had to bring it into the shop for anything other then an oil change!
Purchased a new car
Uses car for Commuting
Does recommend this car
---
astonishing little car
by Mr. Glover from | March 25, 2015
One of the best cars I've driven to date and would recommend this car to anyone with kids. It held up to an accident at 65 with minimal damage
Purchased a new car
Uses car for N/A
Does recommend this car
---
NICE CAR EXCEPT FOR...
by Clan Maclaren from Ferndale, MI | January 20, 2015
I've had no major issues with my 2013 Cruze LTZ. However there are a few things I would have changed. 1. The drivers right knee contacts the TEMP knob and the passengers left knee contacts the FAN SPEED knob. I'm an average 6 feet tall guy so they usually design vehicles to people my size. So as you drive your knee is changing the temperature and if you have a passenger, you are adjusting both temp and fan speed as you drive. It really is a pain. 2. The touch screen does not come on in cold temperatures (in the 20's or below). If the screen does not come on, you have no radio, no back up camera view and no way to tell what your climate settings are. 3. Traction control is useless. I do much better driving with it off in snowy or icy conditions. 4. Has heated leather seats only. Which is nice in the winter. However, cooling seats need to be an option especially for black leather seats in the summer. Other than that, it is a good, dependable vehicle.
Purchased a new car
Uses car for Commuting
Does recommend this car
---
Don't Buy Chevy cruze
by Raj from UAE | September 9, 2014
GM Don't care for Cruze owners, They are providing more features in mylink for spark and sonic which are lower end vehicles than cruze. In the cruze they have given mylink in car infotainment which just basic (it is nothing but audio system) Owners are continuously requesting GM to bring update in Cruze Mylink which will have navigation in it but GM is more interested in Spark and Sonic but not in Cruze. so don't buy it
Purchased a new car
Uses car for Work
Does not recommend this car
---
Remarkable reliability
by Ed in Canada from Calgary Canada | August 5, 2014
Over the years I have driven Two foreign built cars. None approached the reliability of my 2012 Cruze. At almost 40000 km I have not once had to take it in to the dealer for any problem whatever. Yes the back seat is shy on leg room but we just move the front seats forward . With the turbo engine it has more pep than I need. We find it quieter than any car we have owned. I like the instrument panel, though my wife can see only too well when I exceed the speed limit, The control for tilting the seat back is a bit hard to access. But we love our Cruze. An excellent buy.
Purchased a new car
Uses car for Just getting around
Does recommend this car
---
Waste of time with this car!
by WannabeaCPA from Beaumont, TX | July 24, 2014
I bought my '13 Cruz with only 33 miles on it. It was my first car out of college. I bought it for my graduation. I put $6,000 down on this car; and now I regret it. The first month or so that I had it the EGR valve went out. A week or two later I had to go back. Dealer's fault. They cracked my manifold putting the car back together. Ran fine for a while then I stopped for lunch and the car wouldn't start when I got back in there. It had like 15,000 miles on it and it wound up with a dead cell in the battery. A month or two later same problem...wouldn't start. This time it was a bad fuel control module. Then a month later it's the fuel pump that went out. I got it back with the fuel pump problem fixed on 7/9/14. Just yesterday the car left me stranded AGAIN!!!! I'm done with this car. It's a great riding car but I can't make another payment with it being in the shop. I just can't trust it past the bumper to bumper.
Purchased a new car
Uses car for Commuting
Does not recommend this car
---
Lots of bang for the buck!
by Petrolhead from Phoenix, AZ | July 11, 2014
I have owned my 2013 Cruze for over one year. Pluses are great styling, when first purchased my boss thought it was a BMW even while riding in it! I had to point out the Bowtie on the wheel. Interior fit and finish are excellent. Discount of 15% on insurance due to high safety rating and special equipment was nice. I like performance cars but really wanted something economical as a daily driver due to my longish commute (60 miles per day). Since original purchase my lifetime average is 32 MPG in 50/50 mixed conditions without even trying. I put my mind to it every once in a while and get 38! That said the car is not at all embarrassing in performance and handling is far better than expected. MyLink synchs perfectly with both my Windows Phone and/or the daughter's iPhone. Having texts read aloud and replying verbally is great. The rear-view camera is the other best reason for the MyLink system. Oddly you get OnStar automatically but its strength in synching to a smartphone make OnStar a bit redundant. Ride is flat, comfortable and smooth and the cabin is very quiet until hitting the 5th through 6th fan speeds although you never keep them at that level for very long. Blind spots are large but setting the mirrors properly (in accordance with Bondurant standards) eliminates the need to turn the head other than to reverse and the camera even makes that less needful. I still find it difficult to believe I got so much car for so little money!
Purchased a new car
Uses car for Commuting
Does recommend this car
---
Big step forward, needs more refining
by Tom F. from Troy Michigan | June 24, 2014
I will say that the Cruze is a major step forward for GM in terms of delivering a quality car. The exterior styling to me looks great, chiseled, clean and slightly athletic. It's the ONLY GM Car that I think looks good from the back and in fact it looks great with those classy taillights and shoulder lines running down the sides of the car. Mine is a 2LT with the RS package so that helps quite a bit in the looks department without seeming too "boy racer". Performance, well I wish it had some more power than it does because it can be little doggy at times with my stick but only if you get caught in the wrong gear. The gas mileage is pretty good, my average 50/50 city highway is 30mpg on premium during summer and 27-28mpg winter. Speaking of that the stability control, ABS and traction control impressed me with how well they assist. Comfort: my leather seats are too hard, make my leg go numb on longer trips and my wife says the side bolsters on the lower portion are too narrow for her hips(average weight). The heated seats are much too hot on the butt and not warm enough on the back. I'd much rather have my back eased than get hemmoriids. The interior looks great but needs more storage areas. A sunglass compartment up top would fit I think and a little cubby under the heater controls would be every welcome for my phone and wallet. The A/C and Heat both work great although on fan speed 1 the bearing is starting to squeak after only 30k miles on the car. The pioneer sound system sounds pretty good for stock although incredibly biased to the front soundstage which is kinda annoying. I REALLY appreciate having physical radio buttons in addition to my touchscreen for the My Link Radio. I use the touchscreen occasionally when more convenient but not having physical button in a car would be a non-selling point for me. The steering wheel buttons are also very nice although I wish the scroll wheel would be for seek instead of scroll through favorites. It does have fairly decent blinds spots as well which I'm ok with since it's for more structural safety. Because of this however, I think the blind spot indicators on the mirrors should come standard. As far as reliability it's been pretty good. I think there is room to improve there as well because I've had it in to the dealer for small things here and there which were fixed under the 36000 mile bumper to bumper. Overall I would say its a handsome car with lots of creature comforts. Drives better than anything that came before it at GM and is still enjoyable to own 2 years after I bought it. The great gas mileage is also very pleasing.
Purchased a new car
Uses car for Commuting
Does recommend this car
---
People Who Viewed this Car Also Viewed
Select up to three models to compare with the 2013 Chevrolet Cruze.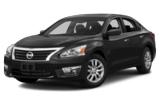 2015 Nissan Altima
Starting MSRP
$22,300–$32,350
Compare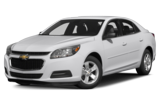 2014 Chevrolet Malibu
Starting MSRP
$22,340–$29,950
Compare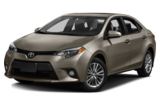 2016 Toyota Corolla
Starting MSRP
$17,230–$23,055
Compare
2013 Cadillac SRX
Asking Price Range
$21,374–$39,550
Compare
2014 Chevrolet Spark
Starting MSRP
$12,170–$16,385
Compare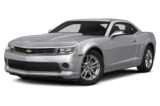 2015 Chevrolet Camaro
Starting MSRP
$23,705–$72,305
Compare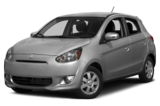 2015 Mitsubishi Mirage
Starting MSRP
$12,995–$14,945
Compare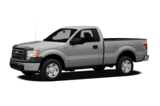 2011 Ford F150
Asking Price Range
$14,685–$37,985
Compare
Featured Services for this Chevrolet Cruze