Average Ratings
---
12 out of 16 people recommended this car.
---
Best Car I've Owned
by Prfesser from St. Louis, MO | July 20, 2015
I bought this car new in September, 1999, and have been driving it for nearly 16 years. Outside of a few warranty-covered repairs early on (cooling system, battery & ignition switch) it has been a first-rate performer. I did have to have the hub bearings on one of the front wheels replaced recently. I am now retired (since 2010), so the amount of driving I do has decreased, but it still has over 100,000 miles on it. This car is the most reliable vehicle I've ever owned - only once has it failed to start (dead battery, caused by a very hot summer). It no longer gets much over 20 MPG, but that's mainly because most of my driving is urban. It is great for trips - very comfortable. Handling is very sure - I always feel confident that the car will respond quickly to brakes and steering. The air conditioning has not been touched since purchase, and it still keeps the car cold on the warmest days of summer. What can I say? I love this car!
Purchased a new car
Uses car for Transporting family
Does recommend this car
---
What you see is not what you get!
by bcnelmsd5 from | March 18, 2014
What may look like a decent car, is everything but. My grandfather bought this car from a friend, and I bought it from him. The man assured it was a great car, and from the looks it was. Well little did we know we would later on have to replace every motor mount and just about everything else under the hood, but the motor and transmission. The hair and heat only blows on defrost, and it makes a loud whistle when you mash the gas! Wow, yeah I hate this car!
Purchased a new car
Uses car for Transporting family
Does not recommend this car
---
Nice Car
by SKJET from Mexico | December 30, 2013
The Car is great no problems no bad reability good price epic styling! My version car is the first in mexico and give 270HP
Purchased a new car
Uses car for Having fun
Does recommend this car
---
Makes Me Proud
by First car from South Shore Massachusetts | November 11, 2013
My first car, I bought my 2000 Chevy Impala LS at a local dealer at almost first sight. I got it with 142k miles to start and have put about 5k miles on it now. It's needed some repairs I needed to pay for such as a wheel bearing and sway bar. I can tell that the previous owner wasn't very enthusiastic but I've shown this car nothing but love. The 200 horsepower 3.8L V6 sounds amazing, and the torque really gives you a rush. The car reaches 0-60 in about 9 seconds. She handles especially well even being a full sized sedan. It is extremely spacious inside with more than enough room for me (Standing 6'0 tall). The backseats as well have enough room for my chair to be pushed back and a full sized adult behind me. The car has controls on the steering wheel for the radio, as well as a cruise control button. It also boasts a compass at the top, which can change into an instant MPG calculator or average MPG meter, as well as telling you how many gallons of gas you've used. The car has a helpful rear defogger as well as dual climate control. The trunk room is also massive, I did a test and fit 2 of my friends (both over 150lbs) into the back and they still had room to spare. The interior is a dull grey color and is simple but decent for being a middle of the line car. This car gets good mileage for its heavy weight. I average about 22 MPG with bigger 3.8L engine. With a good wash this car looks like the sharpest thing in the parking lot at my school, and all my friends really love it as well. For her size she's earned the nickname "The Chevy Landyacht" I really love this car and am glad I purchased it. She's my first car and I'm glad I made a good choice.
Purchased a new car
Uses car for Just getting around
Does recommend this car
---
this car is a workhorse
by happy customer from | August 29, 2013
i bought my 2000 impala in 2003 with 50000 miles on it. for the first few years it was only short trips. the last 4 years i have been commuting 84 miles to work 5 days a week with no problems. now with 160000 and counting it runs like the day i bought it. Only work done to it is rear wheel bearings. I also have experienced the issue with the directionals working sporadically. Overall a solid car, will likely buy another when this one dies
Purchased a new car
Uses car for N/A
Does recommend this car
---
Great Car
by TAP from Georgia | July 16, 2011
This car was purchased over six years ago used for my wife and it is nearly bulletproof. I scared us by locking up the security system one time. Other than that it is fantastic. Good gas mileage and roomy!
Purchased a new car
Uses car for Transporting family
Does recommend this car
---
Good looking but average family car
by Chevyguy from New York | January 9, 2011
As an owner of a 2000 Impala LS, the legendary 3.8 liter is a good engine. Too bad they quit making them. Its one of a few reasons to own an Impala. Typical lower/upper intake problems, but fixed at home over the weekend to save some money. The car looks sporty, but the ride is sort of hard for a large sedan and makes trips a bit tiring. The 4 speed auto trans. is probally the weak point here, considering the jerky shift into fourth gear and OD almost regularly. Rear visibility is not that good and makes tight parking lot maneuvers challenging. It has high miles on it now and it sounds like it. There is alot of creaking within the aluminum engine cradle that is easily heard inside the car, and noticeable squeaks are in the dash and overhead console. It gets good highway MPG, but its the little things that add up that make a certain car a one time purchase. This car will be just that. Chevy's car line seems to look all the same now, but just different sizes. If the new Impala is just a newer, bigger and more expensive Malibu clone, good luck selling them. Overall, its not a bad car by any means, but its not a great car either.
Purchased a new car
Uses car for Commuting
Does recommend this car
---
Very nice
by Bob from Cincinnati | December 7, 2010
very excellent car. looks like its brand new and feels like its brand new. Great starter car for someone who needs a car to start off their life.
Purchased a new car
Uses car for N/A
Does recommend this car
---
Never Again...
by Jenni from CT | November 15, 2010
I bought my chevy impala used 115,000mi. From day one I was glad I had a 30 day warranty on it. The same day we bought it things went wrong. Wipers, blinkers, door locks. Brought it in...Next couple of days; axle, fuel line, parking brake, rear defroster. I brought it back to have it fixed on about 10 times in 30 days. At the end of the 30 days I brought it back. I know when to quit. I was better off with my Ford (found on road dead) even that was more reliable than this car. Don't get me wrong I love chevy, but they screwed up with the impala.
Purchased a new car
Uses car for Commuting
Does not recommend this car
---
Very dependable and comfortable car
by jay bird from BA, ok | September 25, 2010
This has been a great car for us. Our car has 132k miles and still runs like a new car. It gets great gas mileage on the highway. We have only had replace minor mechanical parts as expected. This car will go an easy 200k miles as it is maintained.
Purchased a new car
Uses car for Transporting family
Does recommend this car
---
People Who Viewed this Car Also Viewed
Select up to three models to compare with the 2000 Chevrolet Impala.
2007 Lexus IS 350
Asking Price Range
$9,106–$19,098
Compare
2005 Mitsubishi Lancer
Asking Price Range
$1,558–$8,010
Compare
2012 Ford Taurus
Asking Price Range
$8,754–$20,162
Compare
2003 Ford Focus
Asking Price Range
$1,087–$6,831
Compare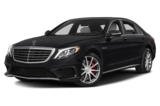 2017 Mercedes-Benz AMG S
Starting MSRP
$144,700–$247,900
Compare
Featured Services for this Chevrolet Impala