Average Ratings
---
39 out of 51 people recommended this car.
---
great car
by moose from kitchener | April 26, 2016
bought it used with fairly low kilometers and have put alot on it since i owned it it drove me back and forth on the hwy every week a thousand kms a week - and for the hwy could use a transmission cooler- not the greatest while stuck in stop and go traffic - and if you dont hammer the gas the car is great and mine is still going great and runs great with no major repairs or money needed as of yet and the motor still sounds and runs so smooth the 3.5 l v6 i have always changed the oil myself and the lifters still dont click at over 300k on it i drive it everywhere has served me well
Purchased a new car
Uses car for Work
Does recommend this car
---
Good car for teen
by Hockeydad5 from Minnesota | January 10, 2016
I have owned a variety of cars from SUV to sports cars over the years and was looking for a solid car with good crash ratings for a couple of teen drivers. Bought an '07 Impala LS with 90k from a dealer. The biggest complaint (like many others I now see) is head gasket failure. Went out at 115K and cost about 1700 bucks to repair. Also noticed lately that the under side of the doors are starting to rust. Has 170K on it now and has survived a few teen scrapes, spin outs and ditch retrievals (MN winters). All in all we are happy with the car but a Camry or Subaru would be a more reliable choice.
Purchased a new car
Uses car for Just getting around
Does not recommend this car
---
great first car
by Chevy born and bread from austintown,OH | June 7, 2014
bought a 2007 Chevy impala ls about a year a go now for $9,000. It had about 105,000 miles on it. I had a little bit of problems with it but it was used so I knew I might need to fix a few things most of the problems were replace some brake pads in the back and add some power sting fluid all together it was $200 to fix it not bad for a 2007 year car. I had my first accident in the car hit a telephone pole in winter car still ran fine just had to replace the passenger car door nothing else. great first car great gas mileage. I am a college student so for hang with my friends it is great. sound system is great, smooth ride, I am 6'2 so this car still has room to spare. back seat is great. i can spread out and take a nap and let my friends drive for a long road trip over all I love this car. Great first time car it saved my life and would not trade it. and now my mom as a Malibu and we still think that the Chevy impala is better
Purchased a new car
Uses car for Having fun
Does recommend this car
---
Great Car
by Just retired from Appleton, WI | May 15, 2014
I'm selling my 2007 LS today with 105,000 miles on it, after a long, happy ride. It has the 3.5L flex fuel engine, the best kept secret in the auto industry. I took delivery of it new as a fleet car, then bought it out when it was time to get the next fleet car (2011). The only money spent on it has been for maintenance, even the bulbs are all original after all this time. The size of this car is great but the fuel mileage is even better. I haven't been below 30mpg on a trip since it had 20K on the clock. On my last major business trip in it I drove from NE Wisconsin to Columbus, OH and back, summer trip, averaged 36.2 mpg, including the local driving in Columbus. This is actual mpg, not the trip computer, which is about 0.5 mpg high. I keep the speed at 72 on the highway. Only complaint I have about this car is the lack of adequate leg room in the back seat when I've had rear passengers (a rare event). Trunk is huge and rear seat folds down to make it a small truck in terms of cargo space. I think most of the negative reviews, including those in Consumers Reports, are based on 3.9L six and the V-8 engines. You just can't beat the 3.5L engine. Also, I never use ethanol in it (or any other engines I own), which costs me more here in Wisconsin, but I think a lot less in the long run.
Purchased a new car
Uses car for Work
Does recommend this car
---
Worst car in over 50 years of car ownership
by Retired car enthusiast from Ontario, Canada | January 12, 2014
2007 Impala LTZ, purchased used in 2009 from a highly reputable dealer. Despite careful maintenance, and careful driving this car required constant repairs. Head gaskets (twice), steering (twice), water pump, tire pressure monitoring, electrical failures, broken door handles, and hints that the transmission was going to fail prematurely. A very unreliable car - a near new fixer-upper! In 2012, at 5 years and 11 months of age and 102,000 Km (63,400 miles) this car had a major engine failure. Repairs were too expensive to be cost-effective. Despite the exterior and interior condition of the car being near perfect because of careful ownership, the car was towed to the wreckers. On the plus side, gas mileage was excellent, the leather seats were roomy and supportive and the air-conditioning was very good. Heating, not so good. Also, poor in snow even with high quality winter tires. Stereo was cheap and nasty, matching the cheap looking interior finish. Poor visibility and huge blind spots - rear view mirrors way to small for safe driving on multiple-lane roads. My second terrible car from GM, both built in Oshawa, ON. My GM products made in U.S.A. have been better. I drove GM for over 30 years on the strength of an excellent 1977 and a-half Buick LeSabre Sport Coupe, the best car I have ever owned. But goodbye forever GM, you have worn out my loyalty. (My 2009 Ford Taurus SEL so far seems solid, well-built, comfortable and reliable. It may displace the '77 LeSabre - as the best car I have ever owned).
Purchased a new car
Uses car for Just getting around
Does not recommend this car
---
Reliable Chevy Impala
by Big Driver from Kansas | October 5, 2013
I bought a Chevy Impala again because I'm 6'8'' and wanted a car with great MPG and space. Chevy Impala fits the bill. I owned one before and after an accident I just didn't find other cars that felt the same. The driving is responsive, the steering is tight, and with good tires the ride is smooth.
Purchased a new car
Uses car for Commuting
Does recommend this car
---
Overpriced and bad quality
by SS Owner from schaumburg, il | September 5, 2013
Have a 2007 SS with 55,000 miles on it. The stereo is great, the seats are comfortable, and it will roast the tires off! However, the gas mileage is awful, I have had to replace many faulty parts since ownership. The quality of this car is pure junk. The ride is bad as well. When you hit a bump the whole car literally slides a bit left and right. Also, get ready to go through oil like crazy
Purchased a new car
Uses car for Commuting
Does not recommend this car
---
Ample people mover But!!!
by Tram from Buffalo n.y. | August 27, 2013
Purchased 3 years ago 8900K,now 55000K,on 3rd set rear tires due to faulty suspension(law suit pending)steering shaft replaced,front rotors 18K,smog pump froze,engine air check valve replaced,front hub now howling,uses 1 qt of oil every 3kmiles,no heat when stopped for signal,but no problem balmy here in Buffalo during the winter,archaic transmission,fairly comfortable ride,handles OK except in winter due to faulty rear suspension,back end wants to pass the front end at every rut or patch of snow,again,no problem,only have winter conditions from nov. thru march here in Buffalo,over all a wreck waiting to happen,u have been warned!!!
Purchased a new car
Uses car for Work
Does not recommend this car
---
Not bad for a first car
by First Time Buyer from Minneapolis, MN | January 31, 2013
For being a first time car buyer, I definitely think I made a great choice. The handling is great for a car that is this large. Its comfortable beyond what I expected and the super that the SS holds is phenomenal for a car that is perfect for a family of 4.
Purchased a new car
Uses car for Commuting
Does recommend this car
---
Unbelievable Milage and performance
by MLP from Northeast, PA | October 24, 2012
I was pleasantly surprised at the fuel efficiency in my llex fuel 2007 Impala, 26+ MPG in the city and 29 + MPG highway Plus it performed very well in the winter on snowy icy roads. It now has about 94,000 miles on it and still gets great mileage. Tire wear and brakes held up nicely. Only maintenance was to replace the struts at 90,000 miles. The impalla is a great ride and has more than enough power to get up to highway speeds quickly and smoothly. The ride is excellent.
Purchased a new car
Uses car for Work
Does recommend this car
---
People Who Viewed this Car Also Viewed
Select up to three models to compare with the 2007 Chevrolet Impala.
2016 Volkswagen CC
Starting MSRP
$31,570–$44,355
Compare
2016 Chevrolet Sonic
Starting MSRP
$14,345–$21,495
Compare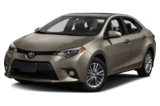 2014 Toyota Corolla
Asking Price Range
$11,170–$18,266
Compare
2016 Chevrolet Cruze
Starting MSRP
$16,620–$23,120
Compare
2016 Chevrolet Malibu
Starting MSRP
$21,625–$30,920
Compare
2017 Volkswagen Jetta
Starting MSRP
$17,895–$27,895
Compare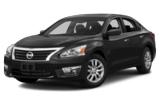 2014 Nissan Altima
Asking Price Range
$10,414–$19,434
Compare
2016 Ford Fiesta
Starting MSRP
$14,580–$21,460
Compare
2017 Chrysler 300
Starting MSRP
$32,340–$38,175
Compare
Featured Services for this Chevrolet Impala