Average Ratings
---
47 out of 57 people recommended this car.
---
Enjoying my new up to date style Impala
by DC commuter from Washington DC | September 7, 2015
This car is very enjoyable to drive. Drove a very small Japanese 4 cylinder car and the difference is amazing. Bought the LTZ with the 6 cylinder which is ok for this large sedan with all the new tech and moon roof for a good price. Will not drive a small 4 cylinder car again. No problems yet. Car has 27000 miles.
Purchased a new car
Uses car for Commuting
Does recommend this car
---
Disappointed
by Ruger from Southern wiscy | July 27, 2015
Have had Impalas for many years and was very satisfied until this one. We are on our third fuel pump is a pig in the snow. GM service manager said cold most likely caused pump failure guess GM did not know that they would be sold in Wisconsin. Do not buy!
Purchased a new car
Uses car for N/A
Does not recommend this car
---
Satisfied
by DBL/Ohio from Cleveland, Ohio | July 22, 2015
Absolutely LOVE this car! The only reason I rated it a 4 on exterior styling is because I didn't have the money for the LTZ. The LTZ has a little more chrome (up front & on the side) plus the exhaust comes out thru the back bumper. But the 2LT is really sharp as well. The 305 hp engine gives you all the acceleration you need and the creature comforts inside are very nice. I'm an old man but Iike my music loud. This system is lacking a little bit there but when you listen to the digital stations(or a CD) the clarity of the speakers more than make up for it, you hear every little instrument which my systems of the past didn't pick up. The ride is extremely smooth, i've caught doing 85 merging onto highways without even feeling it. Cruises very nice at times i will have the cruise set at 75 and feel like i'm crawling. I've only had the car for 3 months but wanted one for over a year, finally pulled the trigger and not disappointed one bit. I don't see many new Impala's on the road and I think it's because people don't realize how nice the re-design is. No I don't work for Chevy I am just really happy with this car. I have'nt driven it in the snow yet but i'm hoping since it is front wheel drive it will perfor well. If you're looking for a car this size do yourself a favor and test drive the new Impala.
Purchased a new car
Uses car for Just getting around
Does recommend this car
---
It's a Looker, But I Don't Like the Road Noise
by 3rd Impala Guy from Baton Rouge, LA | June 19, 2015
This my 3rd Impala. I had a brand new 2008 which I loved. Then I bought another car and wanted to go back to the Impala - so I bought a 2012. I traded that for my 2014 Impala. I have the 2LT model with glossy black exterior and black interior with leather and suede. I have 30,200 on my 2014 Impala. Overall, I really like this car. This car has the poise and stance of any luxury car. The commanding appearance will move traffic out of your way going down the interstate. I receive many, many compliments on this car. I have the V6 option and the safety package with blind spot, backup camera and collision alert. I also have heated seats. I have had no problems with the car except that the key fob is really sensitive and the trunk pops open when its in my pocket and I bend over. I have been told several times, "hey buddy, your trunk is open." I didn't even know when it has popped open, which is scary because I keep work stuff in my trunk. My biggest issue with this car - and the reason I am seriously contemplating trading - is due to the road noise. There is way too much road noise for a car of this size, price and position within the Chevrolet lineup. The road noise on the Interstate has always been an issue. I thought that the tires were the problem because it comes standard with performance tires. I just spent well over $1,000 on comfort tires. It made a little difference, but there is a fundamental lack of sound deadening in this car. Trust me, if a quiet interior is important to you, this may not be the car. I have always loved my Impala's, but the I thinking about switching to a car that is known for quiet interiors.
Purchased a new car
Uses car for Commuting
Does not recommend this car
---
Worth A Look
by Car Nut from Lavallette New Jersey | April 13, 2015
I have had the Impala LTZ2 for 16 months now and love it. I have owned new Cadies, Jaguars, Buicks and others. Well over a dozen new cars in the past. This Impala stacks up favorably with them all. It is quiet Peppy, Comfortable and economical. I agree with the automotive press when they say it compares favorably with much more expensive imports
Purchased a new car
Uses car for Just getting around
Does recommend this car
---
Rented an Impala
by Dallas from Erie PA | February 4, 2015
I just spent 3 days with an Impala, at first sight I Thought it was very nice. after driving it a short time, I started to really get aggravated with the controls, everything is an Icon very difficult to try to figure out. the cruise control was simply a guessing game. the only thing that had any text was the radio. everything is very small with poor tactile feel. I accidently put the rear window down without knowing I did it, I almost had a heart attack The Buffeting in this car Is 10x worse than anything I have ever experienced in other vehicle. I actually thought the rear tire had Blown out!! it was that bad!! I thought the dash was very difficult to read. I will stay with analog gauges thank you. I would not buy one of these cars.
Purchased a new car
Uses car for Work
Does not recommend this car
---
Mid America Auto sales
by C.D.Blanton from cincinnati , oh | January 14, 2015
Bought a new 2014 Chevrolet Impala LT at mid America auto sales , was the best car buying experiance I have ever had, Thank you Jeremy Sparks.
Purchased a new car
Uses car for Commuting
Does recommend this car
---
HORRIBLE SOUND SYSTEM
by Mr. Q from S/E Florida | December 30, 2014
To date, my only disappointment with my 2LT Impala is the sound (radio/CD) system. I'll be blunt – IT SUCKS! Have no idea why Chevrolet chose to place the rear speakers inside the rear doors – and not where they should have been place – the rear deck.
Purchased a new car
Uses car for Just getting around
Does recommend this car
---
2014 impala ls 2.5
by Brizzy from waynesburg,ohio | September 25, 2014
very satisfied with the car got it for my wife to drive, the 2.5 moves this large car vey well , even passing on flat roads it have enough to get the job done safely. we are so impressed how quiet this car is, very comfortable to ride in, and we are get 28.3 in a mix of driving .now when changing lane notice a pretty good bling spots so look good, wish we would have gotten the blind spot montering system. but over all great car.
Purchased a new car
Uses car for Just getting around
Does recommend this car
---
2014 IMPALA
by PROUD IMPALA OWNER from Milwaukee, WI | August 13, 2014
Today marks one year to the day that I bought a 2014 Impala. A year ago I was driving the '08 version. Night and day difference. Recently I had a very kind someone scratch my car and didn't even leave a name! I got a '14 Equinox for about a week to drive around in. A week later upon getting my car back I realized I took for granted the amazing composure, comfort, style, etc. I had missed with this car even in a week! I'm not saying this as a Chevy fan (before buying I test-drove the Accord, Camry, Legacy, and Fusion) but nothing drove, felt, looked, or was styled anything close to the Impala! There are only a couple of knocks that I have on the car but that is based on the way the market is trending. Upon my test drive I couldn't help but notice the huge difference in rear visibility from the '08 to the '14 (rear camera helps a little). As for winter driving (WI) it's not the greatest, but I also don't drive crazy nor plan to go offroading any time soon. Performance I only docked due to having a 4-cylinder as I don't expect to beat anyone of the line anytime soon, but then again I don't need to either! I just love pulling up to those same lights and having people driving the competition's cars stare! Great car! A must have!
Purchased a new car
Uses car for Commuting
Does recommend this car
---
People Who Viewed this Car Also Viewed
Select up to three models to compare with the 2014 Chevrolet Impala.
2014 Ford Fusion
Starting MSRP
$21,970–$32,600
Compare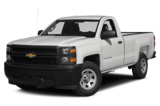 2014 Chevrolet Silverado 1500
Starting MSRP
$25,575–$49,180
Compare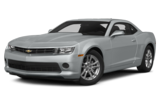 2014 Chevrolet Camaro
Starting MSRP
$23,555–$72,305
Compare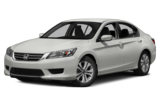 2014 Honda Accord
Starting MSRP
$21,955–$33,480
Compare
2015 Chevrolet Equinox
Starting MSRP
$22,120–$33,670
Compare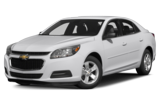 2014 Chevrolet Malibu
Starting MSRP
$22,340–$29,950
Compare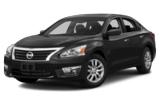 2015 Nissan Altima
Starting MSRP
$22,300–$32,350
Compare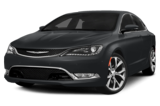 2015 Chrysler 200
Starting MSRP
$21,995–$30,825
Compare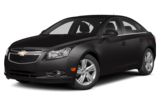 2014 Chevrolet Cruze
Starting MSRP
$17,520–$24,985
Compare
Featured Services for this Chevrolet Impala