Average Ratings
---
26 out of 30 people recommended this car.
---
Very Reliable Ride
by Paul 46 from Caldwell, Idaho | May 3, 2015
We bough a 2005 MAXX and really like the solid feel, acceleration, and room for 5 adults. Also the MAXX is a great car for its capability for carrying a very large load inside when the rear seats are folded down. I don't know why GM only produced this car for three years. I would like to buy something similar when we decide to get another car. We have put 85k miles on this car with no issues other than the recalls sent out by GM to have fixed. Last note is the power of the V-6 is very nice to have vs. the I-4 in the plain vanilla Malibu.
Purchased a new car
Uses car for Just getting around
Does recommend this car
---
Very reliable Chevy
by PH805 Malibu Owner from Port Hueneme, Ca | November 15, 2013
I've been an owner of this car for about 4 years now. Recieved it at 55,000 miles. My commute is roughly 50 miles a day. This car has been amazing to me so far (knocking on wood) it has about 140,000 miles now and it's still running pretty good. I use synthetic oil on her and good gas. She's spoiled for being an old car but she hasn't let me down. Not the modern technology kind of car but I can Appricate simple and user friendly. The only down fall I've had is sometimes she won't turn over. I've had the throttle clean up a few times and it seems to do the job. No major leaks,went through one battery, 2 light bulbs. I recommend this car to anyone who appreciates a simple low maintenance car.
Purchased a new car
Uses car for Commuting
Does recommend this car
---
super
by rusty nutz from ohio | October 27, 2012
i sreached for over a year to purchase a good used car for daily driving.and have found it in the maxx. my last used car had over 300000 miles on it and the wife wanted me to get something a bit newer. i still wanted good fuel mileage so the looking began. the maxx seemed to come up several times while looking. it has all the room i need outside apperance is fine all the bells and whisles on the inside and still get great gas mileage on my half city and half highway drives to work. averaging 25.8 miles on a 30 mile daily trip. the one i bought has 91000 on it and runs great as well as rides great. this is a car i'd recommend to anyone. very pleased with my purchase.
Purchased a new car
Uses car for Commuting
Does recommend this car
---
Love this car!
by Superwoman7319 from Atlanta, Ga | July 6, 2012
First comment : steering problems are being fixed by manufacturer if your car is under 10 years or 150,000 miles. I only had the problem when I accelerated quickly onto the highway. We call our car Zippy because it's fast and responsive. I haven't had any problems with it and hope I can find another one with low mile. I've put 110,000 miles on mine in 5 years and it still looks and acts like it did the day I got it.
Purchased a new car
Uses car for Commuting
Does recommend this car
---
Hit the Mark
by Oddball Car Lover from Cleveland, Ohio | November 23, 2011
Bought the car clean with 18k miles 2 yrs old. Trading it in now with 64k miles, 6.5 yrs old. I like comfortable cars with distinctive touchs and this one has plenty - The Good ones: Great power, dual sunroofs, extended wheelbase providing excellent rear leg room, 30+ mpg for a V6 and a relatively flawless engine in my experience. The Downsides: Electric Power steering which is problematic in multiple ways, mediocre interior style and finish for a 'top-of-the-line' LT version, light bulbs and even sockets burn out inexplicably, Rear Window wiper blade difficult/expensive to replace. I upgraded the brakes and tires to higher-end and was very pleased with the results. Handling performance is "American Mushy" but, this is what I expected. Very convenient interior layout with the hatchback. Electronics center is ok, but kind of primitive. Kids and Wife wont allow me to get another one of these cuz they thought it was borrrrrrrrring. But, I thought quite a bit about it. Fortunately Chevy made up my mind for me by stopping production.
Purchased a new car
Uses car for Commuting
Does recommend this car
---
'05 maxx - 6years later no regrets
by StPaulGuy from MN | September 9, 2011
I have owned this car for 6 years now, have no regrets. Bought used with low mile in '05. It had some steering issues early on but GM took care of them. Otherwise it's been just regular maintenace. It's still a solid ride at 128K. Bought a new car now, but keeping this one around as my workhorse. It's my truck, wagon, sedan. Hold your speed to the legal limits MPG is right there. If you have a heavy foot you'll pay for it in MPG. It has the power to blow past anyone, but it will drink gas fast that way. Just have to get past it's "unusal looks", it's a solid ride. I have hauled alot of big items in this car.
Purchased a new car
Uses car for Transporting family
Does recommend this car
---
Malibu Maximus
by RMB from Ogden, Ut | May 15, 2011
Super rad vehicle! Uber amounts of room for both the front and back seats and loads of cargo space. The back seats fold down providing awesome possibilities for car camping. Plus, not only is there a sun roof but two moon roofs in the back. EPIC! Gear, dogs, groceries, MPG, style, comfort, and a some juice in the throttle, the MAXX has got it all.
Purchased a new car
Uses car for Commuting
Does recommend this car
---
convenience w hatchback
by feduccia from austin,tx | April 6, 2011
81,000 miles now and works like new the radio and speakers from the manufacturer are great people say the exterior design resembles a BMW hatchback runs great
Purchased a new car
Uses car for Work
Does recommend this car
---
Not just another hatchback
by Driving Enthusiast from grand rapids, MI | December 29, 2010
I love this car. I was first a little consered that it looked like a statiin wagon but the sllek design along with the extremly usful roomieness have made me a proud owner sinve day one. I feel likeI have a small pickup only with a closed in truckbed!
Purchased a new car
Uses car for Commuting
Does recommend this car
---
Great Car, Great Gas Mileage, Very Reliable
by Drumset Hauler from near Memphis, TN | July 4, 2010
Being a guy who never quite let myself give in to the station wagon but needed an economical way to haul my drums, the Malibu Maxx was a great choice. I bought it used, it had been in a rental fleet, and it has almost 110,000 miles on it. With the many trips I make, fuel economy was important to me, and I average about 30 mpg city and between 34 and 36 mpg highway. I have plenty of room in the hatchback to stow stuff, and if I need more space the back seats fold down flat for extra storage. Styling is obviously not the greatest, but it's not so bad really, kind of sporty almost. The interior is definitely not up to par. Style-wise it's great, but quality-wise, not so much. Cheap plastic, radio and a/c knobs falling off. Some hot, sweaty days when I rest my arm on the armrest I pick it up to find some paint peeled off with it. Even so, the seats are definitely comfortable. I've driven long distances without having any problems with comfort. Power is also lacking, accelerator response is sluggish and it takes quite a while before it gets going. But once it gets going, it can really go, and it handles great around corners on the backroads near my house. It's very reliable too, I recently went on a trip logging over 3,000 miles, and its still plugging away good as ever. Overall, I'd say its a great car, a great value, has lots of storage space, and gets great gas mileage. I would definitely recommend it.
Purchased a new car
Uses car for Just getting around
Does recommend this car
---
People Who Viewed this Car Also Viewed
Select up to three models to compare with the 2005 Chevrolet Malibu MAXX.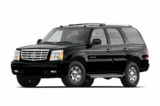 2005 Cadillac Escalade
Asking Price Range
$6,362–$16,846
Compare
2005 Chrysler Town & Country
Asking Price Range
$993–$8,749
Compare
2005 Chevrolet Suburban
Asking Price Range
$3,745–$15,121
Compare
Featured Services for this Chevrolet Malibu MAXX