Average Ratings
---
43 out of 56 people recommended this car.
---
too many repairs.
by Drea from Ypsilanti | September 10, 2014
This car has been very costly to maintain. replaced windshield moter $400.00 Headlight blew out $200.00, cause whatever needs to be fixed the engine and or transmission has to be removed to replace. Transmission rebuilt, luckily under warranty still. Now need new rear oil seal, never saw any oil leaking, doesn't make any sense. Last time I went to dealer in February they told me I need new tie rods. This car is a 2011 it is now only 2014. Never had so many problems with a new car before. Has 73800 miles on it?
Purchased a new car
Uses car for Commuting
Does not recommend this car
---
Very pleased for my first vehicle
by First time car buyer from Virginia beach, va | July 26, 2014
I was very happy with my Chevy Malibu. This was my first time buying a car and the car salesman, and the car made it worth it.
Purchased a new car
Uses car for Just getting around
Does recommend this car
---
Overall Great Car
by MichaelRay from Carmel IN | June 22, 2014
I bought the Malibu LT new 2011. I had not one problem. Very nice drive and smooth. I decided to trade it in with only 29,000 miles on it after three years because I wanted a new car. It still looks like new. I wanted a GPS touch screen attached. When I test drove a different car, it had pretty much everything I had on mine except for the touch screen. They put the pressure on me. The sales guy stated that he really wanted my car! I have never had a problem and love the elect. lumbar support. The only thing I have an issue with is when I change the oil it cost more. It's a special oil called synthetic. They told me I could go 6,000 miles w/o changing it. Well my car has a program that tells you when it's time to change the oil. If you don't change it after 3,000 miles your odometer won't show you any information until you get it changed and reset. So you pay more for oil changes. Besides that, it has been a wonderful car with not one problem. The sales guy wore me down mentally to buy a Ford. I decided that my Malibu was worth keeping. The interior is very nice as is the exterior. Only thing on the outside I don't like is the rear lights. It looks cheap. The 2014 changed that. But I think I'm going to keep my wonderful car and work on paying it off. It seems to be worth keeping.
Purchased a new car
Uses car for Commuting
Does recommend this car
---
Nice car
by Miss indecisive from New Carrollton ,MD | February 27, 2014
THANK YOU CARL MORRIS FROM EASTERN! He is very professional and patient. Won't rush you into making a decision on a car just to get you out his hair. Great customer service..gave me his honest opinion about choosing my car based on what I told him I wanted. He represents the company well. I love my new car.
Purchased a new car
Uses car for Commuting
Does recommend this car
---
I need a new car!
by I need a new car! from Harlingen, TX | January 30, 2014
Do not buy this car!!! I have and to replace the alternator. The car turns on when it wants to. (Yes the car has gas.) I have and so many problems with this car! My advice is run as fast as you can away from this car!!!
Purchased a new car
Uses car for Commuting
Does not recommend this car
---
Great Value!
by dustymatt from Andover, NY | January 17, 2014
This Malibu totally beats its Japanese competitors. I took this car on a 10,000 mile trip from Ny to Ca and back with absolutely no problems. This car has great styling and very reliable! love it. Interior is beautiful and I love the 18 inch wheels. Handles great and very comfortable. I have 75,000 miles on my 2011 Malibu and absolutely zero repairs other than common maintenance. Had a Mazda 3 before and it was a total money pit. Thank you Chevy!
Purchased a new car
Uses car for Just getting around
Does recommend this car
---
Manufacturer Defect
by Angry Marine from Waterford, WI | November 7, 2013
So i will officially never buy another General Motors (GM) vehicle! I have had my Chevy Malibu less than a year and it has been in the shop twice due to manufacturer defect and this time they want me to pay! How is it my problem that GM's manufacturer defect is causing problems with my vehicle, I even called GM and they basically told me to go pound sand! Horrible customer service and they just lost a customer for LIFE!
Purchased a new car
Uses car for Commuting
Does not recommend this car
---
MOST RELIABLE
by LTZ MAN from STL, MO | August 8, 2013
OKAY I bought MY 2011 CHEVY MALIBU LTZ IN 2012 WITH 11 THOUSAND MILES ON IT I WAS 19 IM 20 NOW AN THE CAR HAS 60000 MILES ON IT WITH NOT ONE PROBLEM NOT 1! I HAVE NEVER HAD ANY ISSUE WITH THE CAR WHAT SO EVER IT HAS HAD THE HECK RAN OUT OF IT N IT STILL RUNS LIKE IT DID WHEN I BOUGHT IT. i would recommend this ltz to any1. i drove the lt lt2 what not did not like the design of cloth you must get leather n heated seats with black on black n tinted windows soooo stylish n private..
Purchased a new car
Uses car for Just getting around
Does recommend this car
---
Disappointed Mom
by Disappointed Mom from Middletown, OH | July 11, 2013
I have only had my 2011 Chevy Malibu for a year and a half. All of a sudden it just quit starting. It has been towed now 4 times to the nearest Chevy dealership. Every time it gets to the shop it starts up for them. They have never been able to find a "code" that may be the source of the problem. They just throw parts or "fixes" at it telling me to see if this fixes the problem, and won't even give me a loaner. I have been stranded with my 9 month old son twice now in 90 degree weather. They do not have a solution for me. I bought the Malibu because of its supposed reliability. I just had it towed 10 minutes ago AGAIN after picking it up from the dealership just yesterday! I will never purchase another Malibu again and even a Chevy for that matter.
Purchased a new car
Uses car for Transporting family
Does not recommend this car
---
20,000 review
by Industry expert from Sioux Falls SD | February 28, 2013
I purchased a new 2011 Malibu LT1 2 years ago because I liked the exterior styling and it was a good value. After 2 years of driving the vehicle, there are many small issues to be mindful of. The trunk has good square footage but the opening is very small. It is a struggle to get 2 golf bags in the trunk or a my kids stroller. Once you get it through the small opening it fits fine. The performance is OK but the transmission has issues with shift points. When you slow down to take a corner, then try to accelerate the car take several seconds to respond. It seems as if it's trying to decide what gear you need to be in and it does not know. Maybe this is due to the 6 speed automatic but it is very annoying. Many times I just use the manual shift mode when turning. Back seat if fine but there is not much room if you are putting a child into a car seat. Need to watch their head close or they will get thumped. The sun visors are small and the storage compartment on the dash causes issues with the sun. This compartment has a chrome button and the suns reflection will go right in your eye if it's between 10 am and 4 pm. The door panels are very cheap but almost all GMs are like that anymore. My last annoyance is the interior lighting. At night, there are lights that shine on the center console that cannot be dimmed or shut off. I like the interior to be dark at night so I put take over these lights. There are also lights on the door handles. These lights are on all the time and seem to encourage you to jump out while the vehicle is moving. The designers should have made these lights go off once you start driving and have them turn on while in park. I guess that makes too much sense. I also put black tape over most of the cruise control light on the steering wheel. This was a very bright light that could not be dimmed. All in all, the entire car is OK. It's a cheaper car and you always get what you pay for.
Purchased a new car
Uses car for Just getting around
Does not recommend this car
---
People Who Viewed this Car Also Viewed
Select up to three models to compare with the 2011 Chevrolet Malibu.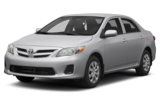 2013 Toyota Corolla
Asking Price Range
$9,816–$16,440
Compare
2010 Honda Accord
Asking Price Range
$7,739–$15,947
Compare
2013 Kia Optima
Asking Price Range
$9,994–$21,694
Compare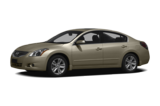 2011 Nissan Altima
Asking Price Range
$6,770–$14,714
Compare
2013 Cadillac CTS
Asking Price Range
$11,989–$40,137
Compare
2011 Honda Civic
Asking Price Range
$6,639–$15,059
Compare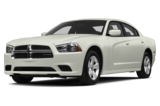 2013 Dodge Charger
Asking Price Range
$10,770–$30,982
Compare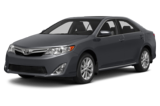 2014 Toyota Camry
Asking Price Range
$12,609–$19,977
Compare
Featured Services for this Chevrolet Malibu