Average Ratings
---
44 out of 54 people recommended this car.
---
Close But No Cigar
by Matt from Pittsburgh, PA | May 6, 2016
I owned this vehicle for a little over 2 years. I bought it when it was 1 year old with 20,000 miles. A lease vehicle. It was immaculate! I had absolutely no issues in the first year of ownership. Just after i was getting towards the end of my 2nd year of ownership, my check-engine light came on. Took it to the dealer: Camshaft Position Sensor replaced under my 5 YR/100,000 MI warranty (awesome!). Then I went around 45000 miles to get new tires put on my vehicle. I was noticing a noise prior to getting the new tires, however after the fact, found out from my mechanic that it was a rear wheel bearing. AT 45,000 miles? 420 dollars later its fixed, but I can hear the other one whirring during acceleration. I put up with this and eventually the check engine light, again came on. Took it to the dealer. A CAMSHAFT SENSOR AGAIN! Fixed under warranty, again. I couldn't believe they didn't do any more research seeing as I didn't drive more than 5000 miles between sensors. NO THANKS! And my wheel bearing was getting louder and louder again. Traded-in for the Camry I should've bought in the first place. Be wary; reviews may say this is reliable as a Honda or Toyota, but it is not. American cars, or at leas Chevrolet, has some work to do. I work too hard to spend 20,000 dollars on something that is falling apart at 40k miles. Bye bye!
Purchased a new car
Uses car for Commuting
Does not recommend this car
---
Great Car
by Chevy guy from New York | November 24, 2015
Bought new Jan 13, 2.5 LTZ, Silver/blk 4 cyl performs very well, excellent braking, very good acceleration, comfortable interior, back seat a bit small. Extra large trunk and with seats folded down no end what you can put into trunk. Interior is extremely well fit and very quiet for a car of this price range. There are no squeaks, rattles, leaks malfunctions at all. Excellent climate control, seat heaters are the best I've had. Fuel milage is the best of all, always about 23 city and a very good 29-32 on the highway. Over 30k miles, only repair was a varible valve timing valve, replaced instantly by the dealer , no problems since. This is an excellent car for the money, it compares only to much more expensive models. Highly recommend this vehcile. This is my third Chevy, hope they continue to make the new ones as well as this one
Purchased a new car
Uses car for Just getting around
Does recommend this car
---
poor
by miki from macon, ga | April 1, 2015
i purchased my car in 2013 of april i havent had anything but problems with this car. First it was my air conditioner blowing out hot heat and then it was the heater that got over heated and turned on by itself. Now my car is running hot and it should not be its only 2 years old. This was the worst thing i ever bought i will not buy another chevy again and that was a number car for me. I owned a chevy tahoe before.
Purchased a new car
Uses car for Work
Does not recommend this car
---
Best Car I've Owned
by 2013 Malibu LTZ from | March 25, 2015
This car is amazing, after making the mistake of buying a LS model, I just corrected my wrong and got the LTZ. Its a phenomenal car...I don't know why its not considered luxury. Very fast too, I get up to 60 in about 5.1 seconds and I do NOT own the Turbo engine model which has an additional 67 horsepower.
Purchased a new car
Uses car for N/A
Does recommend this car
---
Chevy got it right
by AJJ from Phenix City, Alabama | September 17, 2014
I have never written a car review before, but I will make an exception for this car. Our previous car was a Pontiac G8 GT, so going down to a 4 cylinder is a pretty big leap from a V8. The first model we test drove was the 2.5L 4 cyl. it had pretty good pick up, and we really liked the design and the interior, but we were not sold on it. We stumbled upon the 2.0L 4 cyl turbo charged LTZ model. This model has it all. Beautiful 19in wheels, a sunroof, the rearview camera we really wanted and a whole lot of pick up for a 4 cyl. If acceleration is a good priority, then there is only one way to go, and that is with the turbo charged model. It rides incredibly smooth, Cadillac smooth. The cabin is very quiet, and the Pioneer sound system sounds great. We are big fans of the hidden cubby holes. The one behind the Nav screen, the one under the cup holders, the 2 front door storages, how they extend well beyond what you see. It is so convenient to have the smart keys. Now, my wife can unlock the car, get in the car, start it, drive it, shut it off, get out, lock it and walk away without ever taking the keys out of her purse. A convenient feature if you are holding lets say an infant. The seats are very comfortable, although the back seats are a little lacking when it comes to leg room. The detail in the car is fenomenal. The little blue accents look so cool at night. Comfort gets 4 stars due to the lack of leg room in the back, and performance gets 4 stars because I can't help but to compare it to the G8 GT. It is a little unfair of a comparison, but compared to other 4 cyl vehicles, and even some 6 cyl vehicles, it is an easy 5 star rating. The exterior lines are clean, sleek, and mean. The gas mileage is right around the 21/30 rating. Much better than the V8 I used to drive. You cannot get a better loaded, or performing vehicle for this price. I don't care what anyone says about the competitors. GM, specifically Chevrolet got it right with this car.
Purchased a new car
Uses car for Just getting around
Does recommend this car
---
Painful
by Amanda from Banning, CA | June 23, 2014
I was so excited to purchase my new Malibu. The style is sleek, elegant, and sporty all in one. The MPG is right around 27 for me personally. My biggest problem is the comfort. I didn't notice it until two days later when my back was in so much pain. The head rest forces your head forward and they are not completely removable. Even if they were should an accident occur that would result in serious neck trauma and possibly result in a fatality. The lumbar section of the seat is not positioned correctly and is rather stiff. I have tried different pillows, reclining the seat completely back and sitting up free style (which is super uncomfortable). I've spoken with 2 customer services reps from GM who passed it back and forth only to pass it on to the dealership which in return said there was nothing they could do. My back is in full blown pain. I drove my second car for a few days and not one problem. Switched back to the Malibu today and so irritated with the pain that I am writing this review to help others make a more wise decision than I did, and will be calling a chiropractor first thing in the morning. Also one other flaw is the massive blind spots. Using your side mirrors is a must.
Purchased a new car
Uses car for Commuting
Does not recommend this car
---
Best car ever for the money!
by Retired but still kicking from Louisville, CO | March 20, 2014
I consolidated down to one vehicle upon my retirement, and chose a new 2013 Malibu LS at Century Chevrolet. We are so happy with our choice! It is a sleek and elegant car, inside and out, and has plenty of power. The fuel efficiency is fantastic for such a car as this, and there is plenty of room inside for passengers or cargo. The OnStar, XM radio, and MyLink technology features take us up to the modern age. No problems at all, and it is easy to operate. We hopefully look forward to many years and miles with this nice car ahead.
Purchased a new car
Uses car for Transporting family
Does recommend this car
---
Best car 8 be ever owned
by mali from Lasalle, il | February 24, 2014
My new Malibu is amazing. I love it. I got it for a great price. I had a blast while I waited. The guys at Millennium Auto Sales on Milwaukee AVE are great. We had a blast with all of them. I will definitely go back there in the future. John, Mario, and Primo are awesome guys. Very friendly and helpful. Thanks guys for my 2013 MAlibu. I love it. It runs amazing.
Purchased a new car
Uses car for Just getting around
Does recommend this car
---
Great car at a great price
by Gm certified buyer from Rockford, Mi | February 20, 2014
I've had this car for a month and couldn't be happier with it. Great performance and great gas mileage. I couldn't ask for more!
Purchased a new car
Uses car for Commuting
Does recommend this car
---
Great so far
by tlimbert65 from Northwest Iowa | February 18, 2014
I've long been a mid-sized sedan guy, and have had a variety of makes and models. It's been a long time since Chevrolet made something that appealed to me. This time around, after comparing the 2013 Malibu to the Camry, Accord, Altima, Fusion, and Mazda 6, I felt like the Chevy came close enough that I could feel comfortable buying American again. I've got 16,000 miles on the Malibu now, and it's been pretty much perfect. Gas mileage took a noticeable hit when (extremely) cold weather set in this winter, but by the end of the summer, I was averaging almost 32 mpg. Engine power is good, electronic features work well, interior is comfy if not terribly roomy. Ride is very smooth and quiet, transmission is seamless. No squeaks or rattles. I'm 6'2" and about 240 pounds, and I find the driver's seat comfortable (even on trips of several hours), and don't have trouble getting in and out. The only things I don't like about the car are the poor rear visibility (huge blind spots, difficult to back out of an angle space or change lanes), and the very lackluster standard sound system. Unless the thing suddenly falls apart at some point, it will prove to be the best car I've owned.
Purchased a new car
Uses car for Commuting
Does recommend this car
---
People Who Viewed this Car Also Viewed
Select up to three models to compare with the 2013 Chevrolet Malibu.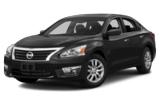 2014 Nissan Altima
Asking Price Range
$10,403–$19,427
Compare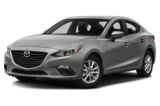 2014 Mazda Mazda3
Asking Price Range
$11,111–$21,895
Compare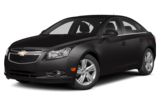 2014 Chevrolet Cruze
Asking Price Range
$10,277–$17,197
Compare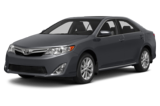 2014 Toyota Camry
Asking Price Range
$12,609–$19,977
Compare
2014 Hyundai Elantra
Asking Price Range
$9,743–$16,851
Compare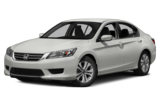 2015 Honda Accord
Starting MSRP
$22,105–$33,630
Compare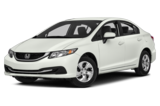 2014 Honda Civic
Asking Price Range
$11,301–$20,069
Compare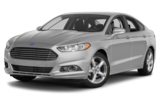 2014 Ford Fusion
Asking Price Range
$11,460–$21,540
Compare
2015 Chevrolet Impala
Starting MSRP
$27,060–$40,660
Compare
Featured Services for this Chevrolet Malibu