Mustang Mach I and Silverado SS. Similar vehicles in that both put high-performance fun ahead of high-mileage function for those unwilling to accept bland. Yet different in that one is a car, the other a pickup. Those who paused at the Ford exhibit at the Chicago Auto Show realized the impact Mustang still has on young and old, a noteworthy feat for a vehicle approaching its 39th birthday April 16. The larger and redesigned '05 Mustang built off the same platform as Thunderbird continuously attracted a ring of admirers at the auto show, many of whom could be heard engaging companions with "I remember when . . . " stories. Though a new Mustang is coming, Ford opted to bring out a limited edition of the current model for '03, the Mach I. Actually, it's a new Mach I designed to call attention to the Mach I that bowed in 1969. The original featured a fastback body style, front air dam, rear spoiler, leather-trimmed "comfort weave" seats and a "shaker hood scoop" mounted onto the carburetor through an opening in the hood. And shake it did. The '03 pays tribute to the original with air dam, spoiler, comfort-weave seats, plus aluminum shift-lever ball and polished aluminum brake/clutch pedals. Oh, and yes, a shaker hood scoop, though now a fuel-injected V-8 rests underneath. But that scoop still shakes. Had to ask Paul Russell, Mustang brand manager, why Ford chose to bring out a Mach I with a Cobra SVT in the lineup and the new Mustang only months away. "When you have the heritage we do with the Mustang, it's great to be able to leverage it," Russell replied. "Mach I will serve as a bridge between the current and new '05 Mustang by continuing to build excitement for the new one." Equally important, he admitted, Ford decided it would be better to sell a limited-edition Mach I as the current Mustang reaches the end of its lifecycle, than have to offer $1,500 incentives on leftover Mustangs to make room for the '05. We tested the Mach I, which with its 4.6-liter, 305-horsepower, 32-valve V-8, also serves as a bridge between the GT with its 4.6-liter, 260-h.p. V-8 and the Cobra SVT with its 4.6-liter, 390-h.p., supercharged V-8. "With the Mach I we wanted to put more brute force into GT without supercharging it, but at the same time utilizing a shaker hood scoop," Russell said. Brute force for sure. Quick flight off the line. Not as quick as a supercharged Cobra, and not as stick-to-the-pavement handling as a Cobra with its independent rear suspension versus the Mach I's solid rear axle. But fun nonetheless: quarter-mile, drag-strip or simply dash-from-one-light-to-the-next type of charm. The chassis has been lowered about an inch to give it decent, though not Cobra-like, road manners. A luxury sedan this is not, and enthusiasts applaud that. Traction control and four-wheel anti-lock brakes are standard. A roomier cabin would be appreciated, which the larger '05 promises to deliver. Perhaps bringing out a Mach I was designed to rub General Motors' nose in the fact that the Chevrolet Camaro and Pontiac Firebird are no longer around to battle Mustang. Russell insists the demise of its rivals didn't influence another Mustang rendition. "We may have won this war [against Camaro and Firebird], but they'll be back and it'll be a great time with a new rivalry," he said. Russell said Ford will sell 6,500 '03 Mach I's and plans to produce "a couple thousand, maybe a few more for '04." Base price: $28,370 fully equipped. Just add $625 for freight. Silverado SS Used to be that performance meant how many bales of hay or sheets of sod a pickup could carry. Of course, that was when trucks were designed for work and not, like today, for play. Trucks are no longer just tools and now performance means horsepower and torque ratings and the ability to travel from zero to 60 m.p.h. in a short amount of time. Rather than hold hay or sod in the bed, pickups now boast extended cabs to get two or three more people in the cabin. The Silverado SS that's new for '03 is first up in a promised line of SS, or Super Sport, editions to bring back the performance heritage at Chevy. The full-size Silverado SS will compete with the high-performance Ford F-150 SVT Lightning and Dodge SRT-10 full-size pickups. The SS will be the only all-wheel-drive member of that trio and the only one, according to Chevy, to boast a "throaty NASCAR-inspired exhaust roar." Chevy expects to sell 15,000-20,000 units. In the car line, the Impala SS will be back in the 2004 model year, and the Chevelle SS awaits its production verdict. But first up is an SS truck. Chevy feels pickups have earned the right to carry the SS badge. "As buyers have migrated to full-size pickup trucks, their need for refined performance has gone with them," said Silverado marketing director Rick Scheidt. The SS is a short bed, four-door (two rear access doors), extended-cab powered by a 6-liter, 345-h.p. V-8 that delivers 380 foot-pounds of torque to enable it to scoot from the line like those small sport coupes. Lightning and SRT-10 are considerably more potent, each boasting 500 h.p. But, Chevy counters that only the SS offers full-time all-wheel-drive for optimum handling on wet or dry roads. The SS also comes with wide, low-profile, 20-inch radial tires that, along with the suspension, have been tuned for high-performance handling while delivering a rather smooth ride for a truck. To complement the package, the SS chassis has been lowered by 2 inches and its track widened for added stability. No wobble, no lean and no feeling of being top heavy even with those monster tires. ABS is standard. The SS comes only in a monochromatic black, blue or red color-scheme that includes grille, front and rear fascias, lower ground effects and specially styled five-spoke aluminum wheels. But how about an even shorter bed and using the space saved to expand rear-seat leg-room? Also, that's not a console between driver and front seat passenger, it's a cabinet that, if slimmed down, would provide more hip room for occupants, some of whom, perhaps, may be Packer fans in need of the space. Base price: $39,205. Basically add $95 for off-road skid plates, though if you take the SS over really rough, body-gouging terrain you should be flogged; $15 for a spare tire lock and $790 for freight. TEST DRIVE 2003 Ford Mustang Mach I Wheelbase: 101.3 inches Length: 183.2 inches Engine: 4.6-liter, 305-h.p., 32-valve V-8 Transmission: 5-speed manual Fuel econom y: 18 m.p.g. city/26 m.p.g. highway Base price: $28,370 Price as tested: $28,665. Includes $295 for interior decor package. Add $625 for freight. (4-speed automatic is an $815 option.) Pluses: A Mustang with more muscle than the GT. A Mustang that pays tribute to the original '69 Mach I, especially its shaker hood scoop. ABS and traction control standard. Minuses: Next generation is larger and should solve problem of cramped cabin.
---
People Who Viewed this Car Also Viewed
Select up to three models to compare with the 2003 Chevrolet Silverado 2500HD.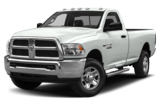 2016 RAM 2500
Starting MSRP
$31,780–$57,285
Compare
2004 GMC Sierra 2500
Asking Price Range
$6,072–$24,160
Compare
Featured Services for this Chevrolet Silverado 2500HD