The high-volume Silverado full-size pickup truck is one of Chevrolet's most important models, and it received a complete redesign for 2007. The update brings more refinement to both light-duty and heavy-duty models, which is especially good news for buyers who need the capability offered by a heavy-duty truck but will also use it as a daily driver.

I tested a heavy-duty Silverado 2500HD.
Brawny Size and Looks
The first thing that strikes you about the Silverado 2500HD is its size: It's just plain huge. Even the exhaust pipe on our diesel-engine test truck was huge — it looks like Chevy stole it from a high-school brass band.

In crew-cab form with a standard-length box, the 2500HD measures 20 feet long, more than 6.5 feet wide and slightly less than 6.5 feet tall. The 2500HD is distinguished from light-duty models by its larger grille and more pronounced hood bulges. There's also more chrome on the bumper. Taken as a whole, the changes definitely up the truck's toughness factor a few notches.
Ride & Handling
It wasn't fun negotiating the 2500HD through the parking garage next to Cars.com's downtown Chicago offices, but the fact that I was able to get it through those tight confines without swiping any walls or cars speaks to the truck's maneuvering capabilities. It doesn't take long to get accustomed to the truck's size, and the overall driving experience is rather civilized. The truck feels stable when driving on the highway, too.

The 2500HD is still a heavy-duty model designed for serious work, though, and that's clearly evident from the super-firm suspension that limits body roll when cornering but results in a jarring ride on rough roads when the truck is unladen — even small bumps have a tendency to send massive vibrations through the frame and body that are severe enough to make the seat belt's shoulder strap lock in place. The high tire-pressure settings Chevrolet recommends for the 2500HD — 60 psi for the front tires and 72 psi for the rear ones — likely contribute to the stiff ride.

Visibility from the driver's seat is especially important when piloting a truck of this size, and the 2500HD provides good forward views for you — at the expense of lower-riding cars following you. Over-the-shoulder visibility is decent, and the optional rear parking sensors, which are bundled with adjustable pedals in the Safety package, are incredibly valuable when backing the truck into a loading bay or a parking space.
Going & Stopping
Buyers have a choice between two V-8 engines: one gas and one diesel. Both engines drive different six-speed automatic transmissions that feature a tow/haul mode and allow the driver to select gears by using a button on the column shifter. Rear- and four-wheel-drive models are offered, the latter featuring an electronic transfer case controlled by a dashboard knob on all models but the Work Truck, which has a manual transfer case and a floor-mounted lever.
Chevrolet Silverado 2500HD Drivetrains
6.0-liter V-8
6.6-liter turbo-diesel V-8
Horsepower (@ rpm)
353 @ 5,400
365 @ 3,200
Torque (lbs.-ft. @ rpm)
373 @ 4,400
660 @ 1,600
Required fuel
Regular gas
Ultra-low-sulfur diesel
Transmission
Hydra-Matic six-speed automatic
Allison 1000 six-speed automatic
Source: Manufacturer
GM's Duramax turbo-diesel engine provides impressive acceleration considering the 2500HD's 6,718-pound curb weight. Equally impressive, though, is how quiet the engine is, whether you're sitting in the driver's seat or standing next to the truck. There's some traditional diesel clatter, but it's muted at idle. The engine is also quiet at highway speeds, where it's only turning 1,700 rpm or so.

Chevrolet isn't required to provide fuel economy estimates for the 2500HD, but over the course of 180 miles of driving on highway and city roads the diesel truck averaged a respectable 18 mpg. The Allison 1000 automatic transmission's shifts are firm, but they're not the least bit harsh. This engine and transmission combination is an expensive option, though; it added $8,395 to the price of this truck.

Strict diesel emissions regulations necessitate that the Duramax engine be fitted with additional technology, like a self-cleaning particulate filter that Chevrolet says lowers soot and particulate output. I didn't notice any smoke or characteristic diesel-exhaust smell when standing near the exhaust pipe with the engine running.

Antilock brakes are standard, and the all-disc setup stops the big truck with authority and features a responsive brake pedal.
Cargo & Towing
Payload and trailer-towing capabilities can vary widely depending on which configuration of the 2500HD you're looking at, but our four-wheel-drive, crew-cab standard-box tester with the Duramax diesel V-8 had a payload rating of 2,482 pounds and a maximum trailer rating of 13,000 pounds with a regular ball hitch. A trailer-brake controller for use with trailers that have electrically controlled brakes is optional.

It's important to be able to secure any load in the cargo box when driving, and the 2500HD can be outfitted with an optional cargo management system that features rails with sliding tie-down points. Each is rated to 500 pounds. GM accessories like an overhead rack or toolbox can also be secured to the rails.
The Inside
Without running boards, it's a big step up into the 2500HD's cab. The front and rear passengers have large handles on the A- and B-pillars to help pull them up, but the driver has to rely on the steering wheel or some other piece of the cabin if they need a little help getting in.

Once situated, the truck's sizable width is immediately evident. The available leather front bucket seats are separated by a large center console with lots of space for storing odds and ends. The seats themselves have good thigh support and soft cushioning. The driving position is reasonably comfortable, but adding a telescoping feature to the tilt steering wheel would better accommodate different-sized drivers.

Buyers can choose between work- and luxury-oriented interior themes. The work-oriented dash uses nice materials and has details like chrome-ringed gauges. However, the small automatic air conditioning and stereo buttons don't seem appropriate for this interior, which will surely be used by work-glove-wearing owners. The oversized door pulls and large column shifter, meanwhile, should be ideal for gloved hands.

The crew cab's backseat offers decent space for adults, and like the front seats the leather bench has soft cushioning. Both the crew- and extended-cab backseats feature an elegantly simple folding mechanism that gives you more space for carrying luggage or other valuable cargo in the safety of the cab.
Silverado 2500HD in the Market
The heavy-duty truck segment is one of the few corners of the market where domestic manufacturers don't face import brands. Though that may change in the future, it doesn't mean the segment is ripe for the taking, as the 2500HD competes against an updated Super Duty lineup from Ford as well as Dodge's heavy-duty Ram. Besides its capabilities — which are easy to appreciate, even for a city slicker like me — the 2500HD's primary strength is its overall refinement, which says a lot about the level of competition in this segment.

---
People Who Viewed this Car Also Viewed
Select up to three models to compare with the 2007 Chevrolet Silverado 2500HD.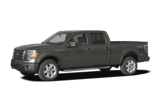 2009 Ford F150
Asking Price Range
$9,847–$26,943
Compare
2015 Chevrolet Colorado
Starting MSRP
$20,120–$34,415
Compare
2015 Toyota Tacoma
Starting MSRP
$20,965–$36,635
Compare
2015 GMC Sierra 2500
Starting MSRP
$33,545–$56,550
Compare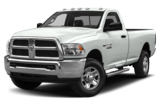 2016 RAM 2500
Starting MSRP
$31,780–$57,285
Compare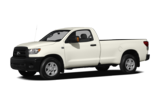 2010 Toyota Tundra
Asking Price Range
$14,179–$32,275
Compare
2007 GMC Sierra 3500
Asking Price Range
$12,693–$37,181
Compare
Featured Services for this Chevrolet Silverado 2500HD