Average Ratings
---
37 out of 41 people recommended this car.
---
Best Car I have owned
by Love my Volt from Pinellas Park, Florida | January 14, 2016
I just switched from a Prius 3 to a Volt. The Volt not only looks better, but drives better. I love how the seats feel and the safety of Onstar. My Prius speaker for making a call never worked properly, but the Volt has a phone built in the car. I plug it in & receive forty-three miles to a charge. My first car was a Cheverolet and my last car is a Chevrolet. Nice car!
Purchased a new car
Uses car for Just getting around
Does recommend this car
---
First month with the volt
by jimboh from Gilbert az | November 2, 2015
Went from a Prius to the volt. The Prius was great but cheap interior, no power, etc My son leased a leaf which he loves and is using time of day plan so his costs are minimal but I needed a car that I could use on trips. I have been intrigued by the volt and finally made the decision 1.Am retired so almost all miles are on electric 2.Am at 185 miles per gallon on first 1000 miles Yahoo 3 Have yet to put gas in the car 4We have been doctoring at the mayo hospital as my wife had a transplant and guess what - they have a blink charger. the distance is 47 miles and I can make it on electric if I am careful, charge than full electric home. 5.Only specific helpful comment I have is that the commercial chargers can be expensive but are a great convenience when you need them. 5.At this point do not have 240volt charger. I realize not too much useful info as yet but am so enthusiastic about this great car.!!!!
Purchased a new car
Uses car for Just getting around
Does recommend this car
---
The Volt IS The Best Car That We'll Ever Owned!
by Phil Stasik from Merritt Island, FL | September 15, 2015
We bought our 2014 Chevy Volt at the end of 2013, and have just turned over 41,000 miles. The only maintenance that has been done is tire rotations, a routine wheel alignment, and a recall of an evaporative canister. The only thing that we have paid for was the alignment. I'm a retired airline pilot, and my wife is a semi-retired teacher. We've owned many different cars over the years, and have rented scores and scores -- all over the world. The Volt is unmistakably the best car that we have ever owned! No one is paying me to say this, by the way. The Volt drives like a BMW, but costs a tiny fraction of the price. You can drive it like an economy car, or push it around (in Sport Mode) and enjoy the silent adrenalin rush of electric car driving. You will never worry about your battery range, because it does not really matter. Our around town battery range has been consistently 49 miles. On the interstate at 70 mph, we get about 38 miles of range. If you're on a long trip, the gas range is an additional 350 miles, for a total of around 400 miles, then you can stop and refill the gas tank or charge the battery. The choice is yours. That's the magic of the Volt! We've driven it on a couple of 1200 mile trips, with three adults, and it served us very well. It's quiet, smooth, comfortable, and economical! The rear bucket seats are very comfortable for local or long range riding. 3/4 of our driving has been purely on electric power. We have PV solar panels, so at least part of those miles have been solar-powered. We have not detected any change to our electric usage since we bought the Volt, by the way. This car is built at GM's Detroit-Hamtramck plant by union car builders. You get all of the pleasure of driving a quality, fun-to-drive, safe, performance automobile, without leaving a cloud of toxic stink in your wake. Even considering the environmental impact of electricity generation, you will not drive cleaner than you will in an electric car! Just test drive one. You'll understand what all the buzz is about!
Purchased a new car
Uses car for Just getting around
Does recommend this car
---
Never go back to a Prius
by Vinny from Southern California | April 1, 2015
I have 2014 Volt with 18 k miles I average 140 MPG and I just had my first service with oil / filter change all paid for by the dealer. I've owned 4 Prius since 2004 and there is no comparison, the Volt out performs, out looks and has over 3 times the electric range than a Plug in Prius. Everyone I know that has a Prius I let them drive it and everyone says the same no comparison. Not a good 4 passenger car two kids are fine but 2 adults in the back seat don't want to go far. I'm not crazy about the Generator noise once it shifts over to gas but you do get use to it. My Electric bill cost about $1.75 per month I usually charge it every night. My average gas usage is 7.5 gallons per month since I purchased it. If you travel per day 35 to 45 miles this car is perfect for you ! Not that it wouldn't be perfect otherwise but that's the sweet spot you may never see a gas station again.
Purchased a new car
Uses car for Work
Does recommend this car
---
Great car, if you know what you are buying
by Mike from SF Bay Area | March 24, 2015
We bought a new 2014 volt May of 2014, here it is March of 2015 and we have 25K on the odometer. This car isnt a car you have to worry about EV range and its not a hybrid in the sense of a prius. The electic motor will always power the wheels and the motor is just your on board power generator. We have gotten over 40 miles on a single charge. A 104 mile round trip commute we average an actual 52 mpg. The car hasnt put a foot wrong yet. we had a flat tire once and a rattle that was quickly fixed by the dealer. It is an electric car, you will hear an electric motor running, it will be different than a conventional car. It is not an issue with the car as much as it is an issue with people learning what to expect. The car is very quiet on the highway and with 280 ft-lb of torque it will not disappoint at the stop lights. just remember it is not a race car nor is it advertised as one. Handles and drives great. The display, and infotainment system are pretty good as well no issues syncing phones to it via bluetooth.
Purchased a new car
Uses car for Commuting
Does recommend this car
---
Second Volt
by Ghostgs from Colorado | March 10, 2015
We were so happy with our 2011 that we decided to replace our second car with a new 2014. Drove home from Minnesota in very cold temperatures and we were very comfortable. The Volt is a terrific highway cruiser and also great around town. We averaged 37 mpg heading uphill, gaining over 4,000 feet in elevation. These cars are amazingly quiet and smooth. We couldn't be happier!
Purchased a new car
Uses car for Just getting around
Does recommend this car
---
High cost of charging and poor battery rage.
by mikemaj from Los Angeles | January 28, 2015
I am really disappointed, my issues is the electricity and bogus claims that's made by salespeople/dealers as how much it actually costs to charge the Volt; 1. If you live in Los Angeles charging the car can be quite costly, pushing you to Tier 3 and skyrocket your electric bill. 2. Battery life is really lame on range. 3. With nowadays gas prices it's not even economical to charge this car. Volt is an okay car to drive, but one should consider all aspects before buying or leasing. Performance for a car is a 2, comfort gets a four needs better seats. Interior/exterior gets a 3. Build quality a 2, and reliability to soon to comment. I would not recommend the Volt
Purchased a new car
Uses car for Commuting
Does not recommend this car
---
High pitched whine when driving - very annoying
by aarentow from Los Angeles, CA | January 17, 2015
I just bought a 2015 Chevy Volt, and within minutes of driving it off the lot I noticed a very high pitched, high frequency, sound (like ringing in your ears) that was coming from the back right of the car. It comes in and out, and isn't loud per se, but it's definitely noticeable and very annoying. This is a KNOWN problem with these cars. Chevy knows about it. The service departments know about it. But currently there is no solution. Buyer beware!
Purchased a new car
Uses car for Just getting around
Does not recommend this car
---
Fun car
by Commuter from Los Angeles | January 4, 2015
I loved my volt more when I got it a year ago. I would still love it as much if it got a longer range especially for LA commutes. The high-pitched wine of the engine when I switch to gas is very annoying. I also have a bad rattling sound which I can't find. I am concerned about the overall quality of the components and am glad I have a lease allowing me to move on to a new car once the lease is up. Overall, the car is fun to drive and a good opportunity to experience an electric car. I don't think I will ever go back to gas.
Purchased a new car
Uses car for Commuting
Does recommend this car
---
So far / So good
by bigfish4545 from Cape Coral, Florida | September 17, 2014
I have owned my 2014 Chevy Volt about two months now. Purchased new from a local Chevy dealer. When I purchased the car, the battery was completely depleted so I drove home on the gas engine. Averaged 38 MPG on this trip. I charged the car overnight and haven't used gas since. I traded in a 2011 Toyota Prius for this Volt and I must say the Volt is superior in every way starting with build quality. Chevy advertises 38 electric miles per charge but I am getting more than 40 miles per charge. I have gotten as high as 44 miles but not common. The car is much more responsive than the Prius, actually I would describe it as quick off the line. Fun to drive and sporty. Very quiet. I would prefer to get higher electric only miles but this car suites me well. I expect to buy gas not more than three times a year. I haven't owned this car for long but so far, I love it.
Purchased a new car
Uses car for Just getting around
Does recommend this car
---
People Who Viewed this Car Also Viewed
Select up to three models to compare with the 2014 Chevrolet Volt.
2016 Chevrolet Malibu Hybrid
Starting MSRP
$27,770–$27,770
Compare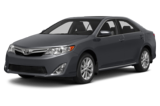 2014 Toyota Camry
Asking Price Range
$12,777–$20,885
Compare
2014 Buick LaCrosse
Asking Price Range
$16,880–$30,560
Compare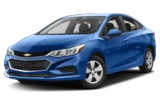 2016 Chevrolet Cruze
Starting MSRP
$16,620–$23,120
Compare
2014 Cadillac ELR
Asking Price Range
$28,947–$46,407
Compare
2014 Ford C-Max Hybrid
Asking Price Range
$12,766–$21,638
Compare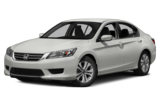 2014 Honda Accord
Asking Price Range
$14,865–$24,585
Compare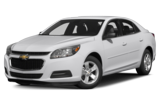 2014 Chevrolet Malibu
Asking Price Range
$12,160–$20,380
Compare
2015 Ford C-Max Energi
Starting MSRP
$31,770–$31,770
Compare
Featured Services for this Chevrolet Volt