Average Ratings
---
10 out of 11 people recommended this car.
---
The Special IS
by Aiel Man from Louisvile, KY | February 19, 2015
First let me say that I bought a 300M Special. Which is a different car than the regular 300M in many ways. A higher output engine, Z-rated high performanse tires, dual exhaust, autostick transmission, and a much better grade of leather then Chrysler usually uses are just some of the differences. When my mechanic was replacing the front end suspension components, he was stunned by the size of the sway bar on this car, saying he'd only ever seen one that big on a Mustang Cobra. And most of the Specials ever built were exported to Europe to kick the snot out of bmw and audi. Only 8,000 a year were vailable in the States. And all of these things show when you own one. Fast, smooth, luxurious, and handles like no other American car from the last decade. At 13 years old it still turns heads in parking lots and garages. I recently averaged 28.1 mpg on a drive from Louisville to St Louis at an average speed of around 78 mph. If you can find one, buy it. You'll never look back.
Purchased a new car
Uses car for Having fun
Does recommend this car
---
Mama made an ECELLENT choice!
by DatGirl from Loyisiana | May 25, 2013
This car was bought brand new off the lot. I advised against the car originally I wanted my mother in a little bigger behicle. She died in 2006 and Im an only child so the car went to me. This car has NEVER been in the shop, great car, sporty I love the look of the car. Chrysler made a fine vehicle when they put these out! Of course this car has been well taken car of too oil changed regular, tires rotated, tune ups and garage kept. I would definately recommend this car!
Purchased a new car
Uses car for Just getting around
Does recommend this car
---
2002 300M nice ride
by Sedan Fan from Toledo, OH | December 7, 2012
2002 Chrysler 300M driven for six years. Minor transmission problem otherwise only brakes & tires replaced. Overall mileage 20.5 mpg up to 28 mpg highway. Comfortable ride, decent handling, many features that worked until traded in. Surprisingly good trade in amount. Still good car at over ten years old and 130,000 miles.
Purchased a new car
Uses car for Just getting around
Does recommend this car
---
Favorite Car... Chrysler 300M
by Top_Redhead from Chattanooga, TN | May 26, 2011
I bought this car with 25K miles on it in 2004. Last year I had 225K miles. Just got the engine rebuilt on it and plan on keeping it for another 200K miles. People, this is a sharp car. It gives me a feeling of being pampered when I ride in it and has been so much fun to drive. You can buy such luxury for the money today.
Purchased a new car
Uses car for Just getting around
Does recommend this car
---
300M Special
by Procharged5.0 from Chicago, IL | February 22, 2011
Unbeatable performance and value in a full sized car. The 300M Special offers BMW-like appearance, handling, acceleration, braking, and accomodations at an affordable pricepoint and with very reasonable maintenance costs (unlike the BMW). Only downside to the 300M Special would be the lowered ride hight (watch out for parking blocks!) and the cost of P245/45/ZR18 replacement tires. Otherwise I highly recommend the car. This is the second one I've owned and I highly recommend it.
Purchased a new car
Uses car for Commuting
Does recommend this car
---
Most comfortable car !!!
by Hunter of Great value. from Las Vegas, NV | March 31, 2009
The most comfortable car ever. The moment I sat in this car I knew it was the one, fits like a glove. Soft for comfort but firm to look at. The luxury features is impressive. Woodgrain interior even on the steering wheel. Spare tire is not a space saver but a regular size. The sunroof gives that convertible feel. This winter with 30 degree frost, brrrr, it was soooo nice to have both front heated seats available. Getting in and out of the car is a chore and with the automatic ajustment, it makes it soooo easy to get in and out. It is always nice to have 4 doors too. The roominess, ride and luxury of this car is like a Cadillac without the high price. Mileage is also great for this luxury car. Also, the sporty look is unbeatable. If you are looking for luxury and dependability, than this is the car.
Purchased a new car
Uses car for Just getting around
Does recommend this car
---
Overall really nice car!
by Barbara from Northern, VA | August 5, 2008
It is a bit noisy for a luxury car. But it is really comfortable and has a great premium sound system! I bought it used and needed to replace the tires right away, and change the transmission fluid. But that's not the car's fault that's the cheap dealership. I love this car!
Purchased a new car
Uses car for N/A
Does recommend this car
---
@))@ CHRYSLER 300M SPECIAL
by WILLYT from Indianapolis, Indiana | October 13, 2006
Very Comfortable ride not like a Voltzwagon, Honda or Toycar. The interior space is large to the sides and back, not uselessly above ones head as as in a Honda. Tell the boys that write the magazines my 300M averages 25 MPG, city and highway. To ride in comfort and style is more than worth the 8 more mpg an import may give. For 3 gallons of gas more per 200 miles, or $9 per week, at $3 per gal a person or family can ride in a roomy car that has the lines of a beautiful woman not a box.
Purchased a new car
Uses car for N/A
Does recommend this car
---
Roomy and Sporty
by Happy from Boston, MA | August 15, 2006
I bought this car new mainly because of the sporty looks, especially the wheels. The sport suspension and tires causes some road noise, but otherwise a very comfortable ride. The stock audio features are excellent; in fact this is the first car that I have never upgraded the stereo.
Purchased a new car
Uses car for N/A
Does recommend this car
---
Not what I expected.
by Anon from Santa Cruz, CA | May 26, 2006
When I got into the 2002 Chrysler 300M, I expected just another V6 luxury sedan. I was impressed with the amount of comfort and convenience features. When I leaned on the gas peddle, it screamed out ahead of the traffic. The glowing gauges at night were very soothing on long night drives. There was a small amount of road noise, but nothing the unexpectedly awesome stereo couldn't drown out. I had never been behind 250 horses before, but I've always been a fan of V8 torque, bashing V6's left and right. However, the V6 in this beast could easily outperform any BMW 3 or 5 series 2.5L straight 6's. The leather was soft and heated quickly in the cold with the standard heated seats. Furthermore, the driver's seat automatically scooted back a few inches to let me out of the car when I removed the key. I found that particularly awesome, even though it scared me the first time around. All in all, I'd drive this over any overpriced European model of similar features and standards any day.
Purchased a new car
Uses car for N/A
Does recommend this car
---
People Who Viewed this Car Also Viewed
Select up to three models to compare with the 2002 Chrysler Prowler.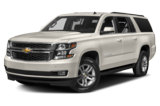 2016 Chevrolet Suburban
Starting MSRP
$49,700–$67,440
Compare
2014 Ford Taurus
Asking Price Range
$10,708–$26,896
Compare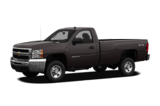 2010 Chevrolet Silverado 2500
Asking Price Range
$10,514–$39,598
Compare
2017 Lexus GS 200t
Starting MSRP
$46,310–$53,980
Compare
Featured Services for this Chrysler Prowler