Dodge Avenger. Even the name suggests something dark and unstoppable; a turbosled that Mighty Morphin Power Rangers would drive to the store for fresh zords and spandex repairs. Avenger's grille is low, slotted and seems to be snuffling for warm and furry things to eat. It's certainly sinister in black. This coupe scrunches down and with its rear spoiler, startled yawns for tailpipes and five-spoke wheels comes a promise of pace, haste and things that go romp in the night. Unfortunately, the car is mostly looks. And in its attempt to re-enter the market for nifty, sporty coupes, Chrysler may have stumbled by equipping Avenger with a combination of engine and transmission that is less than sporting and is generally raucous and ungentlemanly. Worse, we're talking top of the line here. That's the stiffly sprung Avenger ES with a 155-horsepower V-6 and four-speed automatic--the only transmission sold with the ES, in itself an odd, sloppy coupling for a car billed as the mechanical gymnast of the line. Worst, Avenger may have splotched a daring recovery. That's the past two years of happy glories as Chrysler legitimized handsome vulgarity in the Dodge Viper sports car; gave us innovative, cab-forward LH sedans and LHS luxury liners; wowed an industry with the honest pep and headroom of the Neon subcompact, and last month, introduced Cirrus/Stratus twins that combine compact agility with the load factor of a mid-size sedan. All were priced with the competition. Most were equipped beyond it. As a crew, they formed a hugely successful cluster that has led Chrysler and its divisions--Dodge, Plymouth and Eagle--from valleys of the shadows of death and dinosaurs. Such triumphs, by contrast, probably magnify shortcomings of the Dodge Avenger, soon to be cloned as the softer, more luxurious Chrysler Sebring. Base Avengers--priced at $13,341--are propelled by a 2.0-liter in-line four producing 140 horsepower. That's either equal to or generally less than power offered by sport coupes from Ford, Mazda, Nissan, Mitsubishi and Acura. The bad gun of Dodge, however, is not Matt Dillon, but the Avenger ES with the firepower of a 2.5-liter V-6. Yet even its 155 horses are far inferior to premier versions of Probe (215 horsepower), MX-6 (164), Eclipse (210) and Integra (170). * But let's forget figures. The vital element of any personal vehicle is its spirit of involvement, the willing communion a car creates with its driver. In particular, the rapport a sporty car establishes with an enthusiast driver. Rather than communicate, the ES seems to ignore the poor stiff at the wheel, greeting our motoring efforts with noise, truculence and moments of disinformation. The automatic transmission falls three curses short of pure evil. It's efficient enough when at peace during dawdling commutes, or when subjected to mild authority o n relatively open roads. But drop the right foot hard to avoid a standard difficulty, ask for action right now, and there's a screeching seizure with long moments of little happening before only the middling response of 155 horsepower. The engine isn't smooth. It isn't enough to drive a sport coupe weighing several hundred pounds more than others in the class. It isn't quiet or especially responsive. And it certainly isn't the fun usually associated with Probe, Integra and others in this category dedicated to inexpensive, athletic motoring for two adults and small litters of children or puppies. In its defense, a Chrysler spokesman argues that Avenger should be seen as more than a sport coupe, replacing the unlamented Daytona. Because Avenger's back seats are large enough for upright, conscious adults. Also, the car is longer, wider and heavier than, say, Acura's Integra, Chevy's Beretta or Ford's Probe. Therefore Avenger, claim its salespeople, i something of a nomad bopping around the market place, maybe seducing a Honda Accord buyer here, possibly snaring a Mustang owner there. But don't bet your earthquake-insurance check on Avenger denting Camaro or Mustang sales. Our ES test car came with a price of $18,781. A full-house Camaro Z28, with a V-8 Corvette engine and six-speed manual, can be had for only $16,779. * Externally, Avenger is a stunner and borrows the best angles from some very fine motor cars. The front end definitely has all the snarl of a Viper. The boomerang spoiler and wraparound rear lights are from Dodge Stealth, doppelganger of the muscular Mitsubishi 3000GT. Internally, things aren't quite so impressive. The cabin is roomy enough, but nothing appears original. Who reached into whose parts bin? Seems that Avenger's dashboard, instruments, steering wheel and power-window switches are borrowings from the Eagle Talon and Mitsubishi Eclipse. The insides are also stark and unstylish, flat, wan and have all those basic, obvious visual deficiencies that should have been dumped during the recent revitalization of Chrysler and Detroit. Our test ES showed enough battleship gray to deserve USN stencilings on the door panels. Floor mats, upholstery and dashboard. Duller than zinc. With enough acres of gray furry stuff to leave the thought that 7,000 mice probably gave their lives to create such a headliner. Powertrain shortages to one side, the performance of Avenger's systems may be rated as a smidge better than adequate. Steering steers, but doesn't amaze one with its precision. Brakes brake, but don't feel like anchors. Suspension suspends and is taut enough for sporty driving. But a little too choppy for routine moving around ordinary towns. In short, a car that's more average than avenging. 1995 Dodge Avenger ES Base Price: $17,621. The Good: Dramatic looks cued by aspects of several fine cars. Equipped and priced to match competition. The Bad: Performance not up to aggressive looks. Optional engine not up to power of competition. The Ugly: Mouse-fur interior. Cost As tested, $18,781. (Includes two air bags, air conditioning, 16-inch wheels and tires, anti-lock brakes and cruise control as standard equipment. Optional leather seats, power windows and doors, power remote mirrors.) Engine 2.5-liter, 24-valve V-6 developing 155 horsepower. Type Front-engine, front-drive, sport coupe. Performance 0-60 m.p.h., as tested, with automatic, 9.8 seconds. Top speed, estimated, 120 m.p.h. Fuel economy, EPA city and highway average, 20 and 23 m.p.g. Curb Weight 3,084 pounds.
---
People Who Viewed this Car Also Viewed
Select up to three models to compare with the 1995 Dodge Avenger.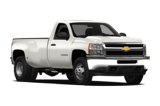 2012 Chevrolet Silverado 3500
Asking Price Range
$19,993–$49,041
Compare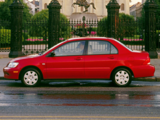 2003 Mitsubishi Lancer
Asking Price Range
$702–$6,206
Compare
2014 Chevrolet Silverado 2500
Asking Price Range
$23,888–$54,184
Compare
Featured Services for this Dodge Avenger