Average Ratings
---
42 out of 50 people recommended this car.
---
Love this car!
by Trey from Kearney, NE | March 3, 2016
I have had this car for almost 3 years without any major problems, it has been an awesome car for driving around in the city. It is super fun to drive aggressively, sometimes it does feel a bit lethargic, but that is to be expected as it only has 101 horsepower stock. My only complaint is some of the build quality is not very good, but these were all cosmetic issues that Fiat replaced free of charge. I have been extremely impressed with their customer satisfaction! It is a great car, and I would highly recommend it.
Purchased a new car
Uses car for Commuting
Does recommend this car
---
got stuck with it
by David82 from tacoma, wa | January 24, 2015
2012 Fiat. its not terrible. my friends make fun of me for it, but i got stuck with it after a break up. its not bad. smooth ride, great to bob and weave outta traffic, sporty, fits in small places. it has 48,000 miles and may have a minor oil leak but thats coming from an oil lube shop (Grease Monkey). windows fog up pretty badly wich is very annoying.
Purchased a new car
Uses car for Commuting
Does recommend this car
---
Most fun car to drive period.
by fiatfan from Butler, Ky | November 28, 2014
I bought a 2012 Pop, put around 13,000 miles on it. Took it in for an oil change, the Fiat dealer made me an offer on a 2013 Sport model that I could not pass up. My sport is the most fun car I've ever owned, you really have to drive one to understand the feeling. Best design and quality for the money, comes with tons of standard features. The manual says to open it up some during break in period, so I found a safe road and took it up to 125 mph. I stayed quiet and solid and still had plenty of pedal left. Driving can be bland or exciting, and the 500 sport is exciting every time I get behind the wheel. I would recommend either the Pop or the Sport model, but get a stick shift and use the "sport" button for more aggressive driving. Also, expect to have people ask you tons of questions about your Fiat should you decide to get one. I enjoy bragging about my sport, so it doesn't bother me at all.
Purchased a new car
Uses car for Just getting around
Does recommend this car
---
Great Car
by lexerlou from Detroit, MI | September 10, 2014
Awesome value and great commuter car! Getting about 38 mpg on the highways and no mechanical problems so far.
Purchased a new car
Uses car for Commuting
Does recommend this car
---
Not Safe vehicles
by Dave from LA | June 11, 2014
I purchased brand new Fiat and my daughter got flat tire, when we called to roadside assistant for fiat tirer to be changed, we found out the car is not equiped with spare tire jack and tools, and the tires are not flat running tires. They towed the car after long time wait to the dealer. The dealer they told me we do not fix flat tires you have to buy a new tire, and i paid for a new tire. Can you imagine if you got flat tire in the middle of high way or in the middle of the road in arizona for hours no city or gas station arround you , what would happened to you?? it is life endangerment
Purchased a new car
Uses car for Just getting around
Does not recommend this car
---
best car ever
by Fiat Sports Car Enthusiast from brooklyn ny | June 6, 2014
Johnny Rodriguez is one of the best sales person I have the pleasure to meet. he was Very patient and very calm. every one at the fiat dealership was awesome but Johnny was the BEST ! I give him a rating of a perfect 10 my experience was pleasant thank you :)
Purchased a new car
Uses car for Having fun
Does recommend this car
---
poor reliability
by caveman11111111 from Texas | January 23, 2014
To get started, i bought this car on june 27th, 2012. It looked good and i thought i had a great car. I bought the pop with the manuel in it. On may 15th 2013 my car developed a electronic problem which told me to turn off the vehicle because of low oil pressure. The car was in the shop about 3 weeks. Seat belt retractor for driver also had to be replaced. I drove the car another 8500 miles and again the same thing happened. The dealer again told me the same thing. But unlike the last time, this time the shop replaced a number items in the engine. Camshaft, cylinder head gasket, intake manifold gasket, variable valve actuator assembly, etc. This was about another 3 weeks. That lasted about 2000 miles and now the same malfunction is happening again. This is the 3rd time and it is sure getting old. I have been told it may be in the shop this time for up to a month. Fiat only will give me a rental for 5 days I would have been better off buying an old used car that i can rebuild.
Purchased a new car
Uses car for Work
Does not recommend this car
---
excellent little car !
by fast fiat from Auburndale, WI | December 16, 2013
Excellent car gas mileage 37 - 42 mpg, great traction control on snow and ice, front seats have plenty of room, back seats are a little small though, stereo system sounds excellent, some wind noise past 65 mph, hands free phone system works good, sirius satellite radio built in, I have the manual transmission which shifts very smoothly, Overall if you want a small affordable car with lots of standard features take a look at the fiat 500.
Purchased a new car
Uses car for Transporting family
Does recommend this car
---
Get the Abarth...
by Matt from Oakland | December 8, 2013
I started with a Fiat 500 Prima Edizione (think Sport) and promptly traded it in for an Abarth once they were available for order. My advice is get the Abarth. It is a completely different machine. The power difference between the two cars is like night and day. I have 26,000 miles on my Abarth, so I think I have a good feel for the car and its reliability, Let's start with the tires. They come with performance tires that lasted about 25,000 miles before needing to be replaced. There are other good options for tires out there, so shop around. The engine and exhaust still sound amazing and perform very well. I have had to use the warranty to make two unexpected repairs. One was replacing a bearing in the steering column as there was a "knock" when I would turn the wheel. The second was a mysterious clutch pedal that would either stick to the floor or catch all over the place. It was very uncomfortable to drive the car like that, so I dropped it off at the dealership and they kept the car until they could find the problem. One week later and I had a new clutch master cylinder. The dealer said it was strange that it was faulty. Everything was fixed for free. The ride in the Abarth is a bit choppy as the suspension is firmed up for handling. I wouldn't hold this against the car as it is pretty typical for sport-tuned vehicles. Inside can be a bit cramped. I am 6'1" tall, and fit - just. I would recommend that if you are over 6' tall, do not buy your car with a sunroof. It lowers the headliner about two inches. I drove this car cross country during the summer of 2013. I left from California headed for Florida and then Massachusetts. I turned around for California one month later. I put almost 12,000 miles on the car that summer and I had no problems. I did meet a lot of people at various gas stations along the way asking about the car. I averaged about 30 mpg, although I must admit, I do drive with a heavy foot. Who wouldn't if you had this car? Just recently, I had my car in the shop for 1 week, and by the time that week was almost over, I was telling everyone how much I missed my car. This car evokes something emotional in me that I doubt not many cars starting at $22,000 would be able to make the same claim. I could not hand over the keys to my rental soon enough.
Purchased a new car
Uses car for Commuting
Does recommend this car
---
Lots of Bang for your Buck!
by HorseOwner2 from Tucson, AZ | November 7, 2013
I bought my Fiat 500 Sport 6 months ago. I bought it with 18,000 miles on it and put on 26,000. I drive highway and city half and half. I have heated seats, Bose,automoatic, and Auto climate control. These things make me not miss my old Cadillac. I am surprised at how much I love driving this car. No problems with power at all for me, I can merge onto a 65 mile an hour freeway with no problem and turn on the Sport button for plenty of zip around town. I average 37 MPG. I feel like this car has the best value for your dollar. I tried a Fiesta, Focus, Veloster, and Accent. Fiesta was most comparable but had weird shifting. The Fiat made me smile the moment I saw it.
Purchased a new car
Uses car for Commuting
Does recommend this car
---
People Who Viewed this Car Also Viewed
Select up to three models to compare with the 2012 FIAT 500.
2009 Buick LaCrosse
Asking Price Range
$5,564–$13,728
Compare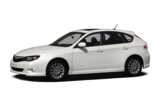 2011 Subaru Impreza
Asking Price Range
$5,542–$27,134
Compare
2015 Nissan Leaf
Starting MSRP
$29,010–$35,120
Compare
2013 Acura ILX Hybrid
Asking Price Range
$12,655–$24,747
Compare
2013 Toyota Venza
Asking Price Range
$14,669–$26,937
Compare
2014 Kia Cadenza
Asking Price Range
$17,211–$26,307
Compare
2014 FIAT 500L
Asking Price Range
$9,242–$17,262
Compare
2011 Kia Optima Hybrid
Asking Price Range
$10,168–$15,828
Compare
2013 Subaru Forester
Asking Price Range
$13,315–$23,739
Compare
Featured Services for this FIAT 500