Average Ratings
---
10 out of 11 people recommended this car.
---
Great Vehicle
by Mike from Waldor, MD | May 25, 2015
I have had a Lincoln Navigator and enjoyed it immensely. The only problem is that it sat most of the time because I have three other vehicles. I was going to buy another Navigator but decided against it because of the air bags. I decided on the Expedition Limited. It was the best decision I could have made. We bought the EL. My wife and I love the vehicle, other than the dash having a lot of plastic and not as nice as the Navigator. The vehicle rides great, handles well, and surprisingly gets better gas mileage than I thought it would.
Purchased a new car
Uses car for Having fun
Does recommend this car
---
Love my Expedition EL
by gorgemom from Washougal,WA | September 23, 2012
Purchasing our Expedition EL was an easy decision. We were replacing our 1998 Expedition that had 240K miles on it. It was time to replace it. I am an antiques dealer and I wanted the EL version so that I could haul more items when I'm out and about. The extra 15" is nice to have versus the standard Expedition length. I like the console area of the car and the controls are all within easy reach. I also like the cup holders in the driver area. Very easy to get to. My biggest complaint is the upholstery quality on the seats. This Expedition was a former rental car, so it didn't come standard with leather seats. It has very basic upholstery fabric and it looks cheap and feels cheap. I've had better upholstery on our economy cars that we've driven through the years. I wish we had looked for one with leather. The seats themselves are quite comfortable though.
Purchased a new car
Uses car for Transporting family
Does recommend this car
---
Ford Expedition El
by Fantastic Ford Expedition from Virginia | February 28, 2012
Sold my Lexus GX470 to get this Ford Expedition El. It has plenty of room plus the 3rd row folds completely flat. It rides so much better than most SUV's due to the independent rear suspension. No more hump in the back that cramps the 3rd row seating, or jiggly ride. This ford is quiet, refined and has plenty of room for my three kids. With the huge gas capacity of 33gallons, fill up's are only once every 2 weeks. If we ever go out of town, I know we will get to our destination and back on ONE tank alone. Love my Ford Expedition EL
Purchased a new car
Uses car for Transporting family
Does recommend this car
---
Great White Whale
by BigTruckLover from Fort Wayne, IN | January 25, 2012
First, let me say that I don't grade on a curve. My stars are my 100% honest opinion. When you are researching a car that you are going to trust with your family or livelihood and you're going to plunk down a pretty big chuck of change, you don't really want someone giving 5 stars across the board just because they love it. Bought our 2011 Expedition EL XLT used (former rental car) with about 28,000 miles. Put about 5,000 on ourselves and all I can way is wow. My white whale fits the bill: it seats 8 real adults and most of their stuff in comfort, doesn't get stuck in the snow or mud, fits in my garage and get 14.7 mpg (winter fuel) in mostly city mixed driving. It does everything my previous mid-sized SUV did, only better. Compared to my previous SUV, which I dearly loved, it seats one more (more comfortably), tows a lot more and essentially gets the same fuel economy with 2 more cylinders. I told my wife that it "drives small" and she didn't understand what I meant until she drove it herself. Don't get me wrong, you won't drive it and confuse it with a Kia Sportage, you are still pushing 3 tons, but it feels light on its feet for such a behemoth. The power is adequate, but you aren't going to challenge that Cayenne S at the stop light, but you can merge onto the freeway with confidence. The seating configuration is perfect for me and I like the way the seats fold, not minivan easy, but a TON better than the GM Suburban triplets. After having the SYNC system in our last Fords/Mercurys there was no way I would have a vehicle without SYNC. My only complaints so far are maybe that the driver's seat is a little pinchy in the love handle area, but only with a heavy winter coat on. The interior could be a little better thought out: the glove box is a little tight and center console is huge but needs some organization to utilize the area. Other than that I can't wait to take it to Florida on vacation. A 20 hour drive should tell more.
Purchased a new car
Uses car for Just getting around
Does recommend this car
---
excellent suv
by jb from pgh pa | December 24, 2011
great ride and handles great also. only con is that like everything today it is over priced. ........ I purchased the EB EL ...... plenty of room
Purchased a new car
Uses car for Just getting around
Does recommend this car
---
Im angry that i left Chevy for this
by 1 Time Ford Guy, Back to Chevy from Michigan | November 9, 2011
I have never had a worse experiance with any other car. I dont mean to be bashful, but i am not pleased with the car. I have gotten poor gas mileage. I have had problems with the rear end and suspension that is directly tied to towing my Boat. The quality of the interior is poor and very plasticy, especially for the money i spent. I have had two wonderful chevy suburbans in the past. I only left chevy due to the price hikes of their new model. It was a bad decision and now i will be trading my truck (Only 50,000 miles)in for a brand new chevy.
Purchased a new car
Uses car for Transporting family
Does not recommend this car
---
Big beast with a sporty overview
by Great family vehicle if you can deal w/ exterior from Minot, ND | August 3, 2011
Loved our exp el. It was sporty with limited trim and took us where we needed to go with 4 kids in car seats. We needed the room and a little car didn't cut it. Can handle any road conditions with ease and lots of clearnace if you need it. Plenty of room to get in and out with captain chairs in the middle row and love the seat configurations for folding. Great cup holders, etc. Tons of headspace and leg room. Headrest DVDs are better for safety for driver's to see but kids can't see as well. Overhead is better that way. Exterior kind of plain and leather of seats no where near as nice as the Navigator L. However, it is reliable and a A+ for features. If only they would make it a bit more stylish inside and out.
Purchased a new car
Uses car for Transporting family
Does recommend this car
---
Really enough comfortable room for 7 Adults
by SuperSUV from Chicago, IL | July 7, 2011
And I mean LARGE adults. The lightest of us weighs 190, and several weigh over 250. Headroom and leg room galore, and still a good deal of room for luggage, shopping bags, or large pets. 2 Collies and a Great Pyrenees. Only thing missing is the Google driver.
Purchased a new car
Uses car for Transporting family
Does recommend this car
---
So good, we are on Expedition Number 3!
by Multiple Expedition Owner from Houston, TX | May 10, 2011
We love our Expedition EL. I don't know that I can cover all the good things about this vehicle, but I will start and just write for a bit. The interior is very useful. We have the 2nd row captains chairs, and these are invaluable for allowing access to the 3rd row seats. I have looked at all the different full-size, three-row SUV's, and Ford executes this as well as anyone. The 3rd row is also the most useful 3rd row I have ever seen in an SUV. Literally, I could ride back there for hours. So many 3rd row seats are penalty seats or only suitable for those under the age of 13. We have had adults ride in the back row of our Expeditions for hours without complaint. And the power-fold feature is a must in a vehicle as long as this one. The driving position is good, and the power driver's seat allows you to fine-tune the vehicle to your liking. It is very nice, and I don't mind driving it for several hours at a time (I have gone a full tank of gas without stopping, around 550 miles, several times). Our 2011 has the SYNC navigation system, and it works very well. I love that it links to most MP3 players, including those not sold by that fruit company! The cell-phone bluetooth connection is good, although it could be improved by linking automatically after the vehicle is driving. It likes to try and link to my wife's phone when the phone is in the house. Then I drive away and have to manually connect my phone. But that is a minor pain. The SYNC voice recognition system works pretty well. Note that this year does not include the MyFordTouch, which tries to integrate the climate control and everything else, so it is a little simpler than some of the other Ford vehicles. The exterior of the vehicle is a classic, timeless style which I really like. Previous Expedition body styles have aged well, and I expect nothing less from this model year. Ours also has the power-deploying running boards, which are a neat trick. I don't know that I need them, but there actually are advantages beyond the "tricked-out" points. The power-deploying running boards are lower than the fixed ones, making vehicle entry and exit a little easier. Plus, when they fold up, you have more ground clearance than the fixed units provide. There are some issues that could be improved. The engine could use some more low-end torque to improve initial acceleration. The brakes are acceptable, but could be a little stronger. The cargo area in the rear allows things to move around a good bit, although careful usage of the cargo divider/shelf unit can help. The new model years no longer offer the overhead DVD player, which is a bit of a bummer. Headrest mounted units are available instead, but we didn't get them due to the price. The air-conditioned front seats are nice, but not super effective. There is not way to control the airflow between the back and the seat bottom. Plus they are noisy. But it sure beats being hot! Note that Ford has improved the ride, handling, steering, acceleration, and braking of the Expedition EL since it debuted in 2007. Improvements are noticeable, so if you drove one in the past, it is worth test-driving a new one. Like I mentioned in the title, my family is on our third Expedition (second EL). We love it, and if it gets totalled tomorrow, I would buy another just like it! (It actually was in a wreck this morning, so that is a possibility!) Plus, we had zero trouble on the first two Expeditions, despite driving 20k+ miles per year. The biggest maintenance expense we have had on any of them has been replacing the tires. We love our Expedition EL. If you need to seat 7 or 8 people, tow a decent sized trailer, and/or carry full sheets of plywood or sheetrock, you owe it to yourself to test drive the Expedition EL.
Purchased a new car
Uses car for Transporting family
Does recommend this car
---
Bigger is better
by Tom Girl MBA from MD | May 2, 2011
I have owned a Tacoma and when trying to flip houses I would drive to get lumber with my Mitsubishi Eclipse instead of the truck. Now I can drive this even in the rain and sheet rock slides right in and stays dry. My dogs who fight have their own seats and there is room in the back for the litter box. The cat has access to the whole car and loves the huge dash! Bad side- filling the tank, no good place to put papers and small items, the radio seek buttons only hit the same few channels even with Sirius, and without a cargo net for the very edge of the back I have had things tumble out as the back opens. There is one more small issue, but I can't remember it. But I love the car and now my mom is going to trade in her Ranger for one as soon as the Ranger hits 100k miles.
Purchased a new car
Uses car for Commuting
Does recommend this car
---
People Who Viewed this Car Also Viewed
Select up to three models to compare with the 2011 Ford Expedition EL.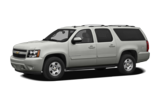 2012 Chevrolet Suburban
Asking Price Range
$19,079–$41,879
Compare
2012 Chevrolet Express 3500
Asking Price Range
$12,183–$24,955
Compare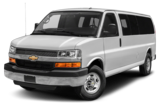 2015 Chevrolet Express 2500
Starting MSRP
$29,555–$43,360
Compare
2014 Chevrolet Tahoe
Asking Price Range
$27,527–$47,663
Compare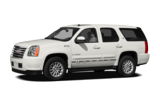 2012 GMC Yukon Hybrid
Asking Price Range
$22,952–$38,632
Compare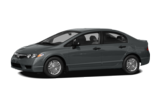 2010 Honda Civic
Asking Price Range
$6,369–$13,273
Compare
2011 Ford Expedition
Asking Price Range
$13,256–$28,300
Compare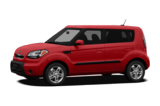 2011 Kia Soul
Asking Price Range
$5,998–$13,242
Compare
Featured Services for this Ford Expedition EL