Average Ratings
---
102 out of 110 people recommended this car.
---
Good Truck Good Value
by Hauling At 9000 ft from Syrcause, Utah | January 24, 2015
I not going to beat my chest over this, with that said I will share my experience with the F150. I purchase my F150 XLT Supercab new and I have had it almost two years; I opted for the 3.5L ecoboost engine with the 11,300 lbs tow package. I was skeptical at first with the engine as I pull a 31ft toy hauler @ 10,000 lbs. However, I am pleased to report the truck pulls the toy hauler very well, so well I can keep up those diesels pickups pulling similar loads. Is what I really like about the towing of this truck is the engine is not screaming when I'm pulling a steep grade, as the engine delivers max torque @ 2500 rpm. I'm not sure how Ford came up the fuel economy figures, but @ 65 mph the truck will average about 19 mpg with no trailer or load. If I run the truck at 55 mph I can achieve 21 mpg. I live in the West and some of the Interstate speed limits are posted at 80 mph, and when I run the truck @ 80 mph fuel economy drops to 16 mpg. In comparison to a V8 of the same power type, the ecoboost does quite well for power and fuel economy.
Purchased a new car
Uses car for Towing
Does recommend this car
---
Ford Raptor
by Doug67 from Fairfax, VA | December 22, 2014
Pretty much the baddest truck on the road. Love the horsepower, interior, look and off road capability. Same time it's like driving a luxury car
Purchased a new car
Uses car for Just getting around
Does recommend this car
---
Best Truck I have ever owned
by Catdaddy from Atlanta GA | December 13, 2014
The 2013 F-150 XLT is a beautiful yet rough and rugged truck. The standard cab has a tremendous amount of leg room and storage behind the seats. However, the extra space results with a bad blind spot when navigating through angled intersections. Over all the truck has been everything I expected out of the legendary F-150 series.
Purchased a new car
Uses car for Work
Does recommend this car
---
A piece of American History
by Marcomontana from Nashua NH | December 9, 2014
Bought a 2013 F150 STX with the 5.0 January of 2013, so this truck is 2 years old as of now. The brakes did shutter after around 28k miles, I changed them and we're good to go... I have no complaints runs great, no issues, sounds great, and looks great! If I had to point out something to look at, would be brakes as this truck has brake dust constantly on the from rims telling me the balance of breaking force is a little high in the front in comparison to the rear.
Purchased a new car
Uses car for Commuting
Does recommend this car
---
Not 100% satisfied
by Rob from Columbus,OH | November 12, 2014
I bought a brand new 2013 F150 STX 4x4 last September. I did get a great deal with the rebates etc. My last truck was a 2001 F150 XL that I had 418,000 miles on it and it was about done. This truck performs great, smooth, but I have a ticking in the engine. Took it in and they couldn't find nothing wrong with it. The paint chips and scratches so easy and the interior is just so cheap. Everything is plastic. My basic 2001 F150 XL interior was made better than this. My gut feeling is this truck will not last me near as long as my old one.
Purchased a new car
Uses car for Commuting
Does recommend this car
---
I will never buy Ford again
by ex-Ford guy from seattle | October 24, 2014
Ford build a bad transmission and stuck me with bill! I'm 53 years old and have owned festiva,escort, 3-f150's mustang, and a sport track, ford has always been good to me until now!!! In last yr I bought 2 toyota's a new and old, love them both. An audi- love it, and a subaru- fantastic car.. Thank you Ford for convincing me that there are a lot of better vehicles out there
Purchased a new car
Uses car for Just getting around
Does not recommend this car
---
What's Not To Like
by Gussie from Sanford, NC | October 3, 2014
Purchased 2013 STX with standard V6 nearly two years ago. Last new vehicle was a 1998 F-150, which had more than 100K on it when I got rid of it. No a single issue - replaced gas cap once. So far, extremely pleased with the new F-105. No issues, fantastic ride with 18-inch wheels and I'm getting more than 20 mph on the highway. Checked it and it was between 22-23 mpg on a trip. Happy owner.
Purchased a new car
Uses car for Just getting around
Does recommend this car
---
FORD F150 Fails Again
by FORD F150 Fails Again from Chicago, IL | August 13, 2014
I purchased a 2013 Ford F150 in July 2013. Paid extra for the ecoboost, thinking I"m going to get 22mpg. That is an outright lie. The truck under the best conditions gets 18 mpg. A Ford mechanic that I know says, yep that's right, that is all it's ever going to get. The ecoboost does provide a little extra power on acceleration. The Paint on my truck is already chipping at 6 months old. When I asked about fixing the problem, they would not cover it under warrantee. Why would the paint chip all along the bottom quarter panels of the truck. The truck has never been on gravel or off road. Just like the new F150 I purchased in 1994, the bumper chipped after a couple of months and they refused to take care of it then. I'm asking myself why I purchased another FORD.
Purchased a new car
Uses car for Commuting
Does not recommend this car
---
2013 f150 xlt ecoboost.
by truck hater from south carolina | July 16, 2014
bought truck in august 2013. after 11000 miles so much vibration in steering wheel when applying brakes thought steering wheel would come out of hands. took back to dealer where purchased. they turned rotors.. seemed ok until another 11000 miles and same problem. I own a 2001 dodge ram 1500 with 190000 miles and only replaced rotors 1 time. dealer where I bought it only wants to sell me a new truck. one dealer refused to work on it. finally found 1 to try and fixed. going to replace rotors. very unhappy with this truck
Purchased a new car
Uses car for Transporting family
Does not recommend this car
---
Our Third F150 in 35 years
by Our third F150 from Phoenix, AZ | July 14, 2014
This is the 3rd Ford F150 we've owned since 1978 and we still love this brand/model. Funny thing is, over the years we've gotten older and less reliable, but the Ford keeps on getting better. In fact, we gave our 1999 model to our son and his wife. Even with over 200k on the engine, it still runs strong. We love that they've added headrests to the third seat - easier on the grandkids heads when Grandma stomps on the brakes - ha ha! The upgraded sound system is wonderful. We have some kind of soundproofing that is so good, you have to keep your eyes wide open for emergency vehicles. With the Sirius radio blasting those 70's classics, it is hard to hear an ambulance approaching. Seating is so comfortable. Everything is perfect. We wouldn't change anything, except maybe the cupholders. With the center console up and a kid in the middle, the extra cup holder that extends from under the seat is essentially worthless. That's the only complaint so far.
Purchased a new car
Uses car for Just getting around
Does recommend this car
---
People Who Viewed this Car Also Viewed
Select up to three models to compare with the 2013 Ford F-150.
2015 Ford Mustang
Starting MSRP
$23,800–$46,170
Compare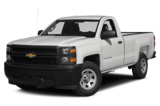 2014 Chevrolet Silverado 1500
Starting MSRP
$25,575–$49,180
Compare
2013 Ford F350
Starting MSRP
$30,770–$49,460
Compare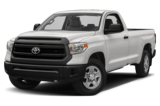 2014 Toyota Tundra
Starting MSRP
$26,200–$47,600
Compare
2014 Chevrolet Silverado 2500
Starting MSRP
$31,310–$48,425
Compare
2013 Ford F450
Starting MSRP
$49,910–$60,795
Compare
2014 Ford F250
Starting MSRP
$30,035–$47,520
Compare
2014 GMC Sierra 1500
Starting MSRP
$26,075–$51,765
Compare
2014 RAM 1500
Starting MSRP
$25,060–$49,880
Compare
Featured Services for this Ford F-150