Average Ratings
---
30 out of 35 people recommended this car.
---
Broke first week--still not fixed
by Man with broke new truck from Patterson, La. | February 10, 2016
BROKE first week had the vehicle. Did not have part in stock. Still without a truck. Had to go back to dealer 2 times already. Hope will get truck back with no problems next time.
Purchased a new car
Uses car for Just getting around
Does not recommend this car
---
Great truck so far.
by gregsfc from Rickman, TN | January 10, 2016
Other than the fact that I couldn't get a fuel-efficient diesel, because no manufacturer will put one in a truck configuration that I want, this truck is just about perfect; especially considering that Ford will let you have their most advanced engine for just a few hundred dollars more; not thousands like with Ram. The 325 horsepower is overkill for me, but going from a diesel car to this truck and having caught the addiction to the low-end torque driving experience, and seeing as how diesels have become too pricey and too limited for my likings, I had to go for the turbo-charged, direct injection F150 with the 2.7 Ecoboost with 375 peak lbs foot of torque @ 3000 RPM and hope for decent fuel economy. Even though I read all the reviews claiming drivers will get only average truck fuel economy with this truck and this power train, with my reg cab, 2wd, short-bed and 3.31 rear axle ratio, I'm averaging 23.6 after 9 fillups, which is of course, far above average in any pickup little lone a full-size pickup. Everything else is pretty great too: the ride couldn't be better, but it will still move you around on the big bumps and that's because it's a truck made for work with rear suspension unsprung, and if you drive a truck that drives like a car in all situations, it's probably going to perform like a car when you need a truck. The drive train is amazingly smooth, and although some have criticized Ford for sticking with a 6 speed auto tranny, I can't see how more gears could do anything for fuel economy or performance or refinement, since it pretty much stays in 5th and 6th gear once under way, and I can keep it well under 2000 RPM while accelerating through the gears from a stop. Driving position is perfect. Little Ecoboost has that torque that I must have that makes it feel refined, but since it is not a DI-turbo-charged diesel and instead, a gas engine, I have to keep my foot off the gas to get good mpg, but unlike the reviews, I can get good mpg in my light-weight, high-geared version of this truck when driving conservatively, and since it's got the must-have torque I demand, and it's competitively priced with other branded trucks and their small V8s, it's really good. I Liked trucks better when they weren't so tall, but at least F150s hoods aren't so high up that it hurts gauging space out in from of me like the GMs and Tundras. And the way the windshield wraps around the sides a little in the newest design, really helps eliminate most of those blind spots from the a-pillar that usually come with newer vehicles. A 4200 lbs full-size truck is a really light truck, and it is very apparent with the handling and steering around town. It drives and handles much smaller than it is, and even though a compact truck would have been enough for what I needed, the F150 value, with the 2.7 Ecoboost, couldn't be beat.
Purchased a new car
Uses car for Commuting
Does recommend this car
---
Best F150 Yet
by Kayakerfl from Pensacola | January 8, 2016
This is my third F150, and I can tell you my 2015 Lariat 4x4 is superfantastic. Great gas mileage, excellent interior, fun, hi-tech, refined. I can mud, wash it off and go to dinner. I'm very proud to be a Ford owner, they never disappoint.
Purchased a new car
Uses car for Commuting
Does recommend this car
---
great buying expierence
by truck lover from Pa | December 29, 2015
I purchased a 2015 f-150 from a local dealer .The ride is very smooth very quiet passenger compartment,Very pleased with features of my touch system and the performance of the vehicle overall was very pleasing
Purchased a new car
Uses car for Transporting family
Does recommend this car
---
Really impressed
by GDJJAJ from North Georgia | December 23, 2015
I purchased a XL 2.7 Ecoboost, extended cab, 4x4 with the sport package. I researched the truck for awhile to find the right configuration. Honestly I find trucks way to expensive for what they are. Although trucks have become a staple of the American family, it is still basic transportation. The spec of this truck is minimal but comes with some really nice features. The couple of options I wanted were bucket seats (very supportive)with console (huge and practical)and the tailgate step (really handy) I avoided the FX4 based on reviews. Sync works excellent with my Ipod and Android. The stereo although basic, sounds amazing with CD or Ipod (AM/FM not so much and no HD tuning) I was concerned about the transition from my Toyota Tacoma for two reasons, Mileage and how the vehicle will age. From a mileage perspective I got 20mpg in the Tacoma I get 19.5 in the Ford (I tend to get on it). As far as how it ages, time will tell. I get into 5-10yo F150s and think what a rattletrap, the build quality and finish seem much improved on the 15, so I am optimistic. I have towed long distance once. It was about 4000lbs and I can say the truck had enough power and the road manners were almost transparent.
Purchased a new car
Uses car for Commuting
Does recommend this car
---
BEST TRUCK
by BESTTRUCKS from PA | December 16, 2015
No explanation needed best truck period. BBBBBBBBBBBBEEEEEEEEEEEESSSSSSSSSSSSTTTTTTTTTTTTTT NO CHEVY OR RAM COMES CLOSE
Purchased a new car
Uses car for Work
Does recommend this car
---
Better than I imagined
by Rumi from Twin Cities | December 10, 2015
I traded in a 2008 v8 5.4 Triton F150 extended cab XL 4x4 for this 2015 Ecoboost truck with the same set up. Despite many reviews to the contrary, my gas mileage is pretty good. I average about 22 on the highway, with overall total of 20. I have seen 26 for extended periods. I have to admit that I am being gentle on the throttle and not going much more than 65 mph ever, but I was curious to see if this truck is as disappointing as has been reported. NO! it is way way better than by 2008. The stop-start function at stop lights is great too. I really think that the poor reviews come from trucks with the shorter final drive differential and way optioned up. This base truck delivers on the mileage. Some of the other features put my wife's cadillac to shame too. The truck has wireless for calls and will even read my texts to me aloud, allowing me to call back the texter with a single button I love that all this comes with real buttons that you can push with gloves on - I hate the touch screen fad. The truck is also silent compared to my old one. I will say that the seats are so of the most comfortable in the business, and I do appreciate that the front middle seat now has a three point belt. My vehicle does have a rearview camera, and this in addition to the mirrors with a blindspot mirror is a huge safety element. One very weird thing: the truck bed has gaping holes at the seam between the sidewall and the bed floor. Apparently this is common in the ford aluminum trucks, but it is very unsettling to see - looks shabby like you'd imagine of a Korean car from the 1980's. It also means that if you have a tonneau, everything in your bed can get dusty on a dirt road. Solution is to get a bedlinen I think. Frankly I think Ford should pay for this, but they feel it's within expectations... Overall great great truck.
Purchased a new car
Uses car for Just getting around
Does recommend this car
---
Ford F150
by Truck Guy from Burlington, WI | December 4, 2015
Bought a new Ford F150 from Miller Motors in Burlington, WI. Great company, great service great people. Ron our sales guy was very helpful. No high pressure. I would highly recommend Ron at Miller Motors for your next vehicle.
Purchased a new car
Uses car for Work
Does recommend this car
---
Economy and performance
by Collage football enthusiast from Alaska | November 27, 2015
Great power for small v six , very stable in winter driveing conditions.plenty of leg room for passengers . Perfect for hauling the things you need for weekend projects.
Purchased a new car
Uses car for Commuting
Does recommend this car
---
Love the Truck so Far
by Carl J from Schenectady NY | November 24, 2015
Bought a F150 V8 as my Isuzu Troopers are coning to the end of their Respective Life Cycles. The F150 is comfortable, powerful and easy to use. After Researching different trucks, I finally went with the F150. 670 Miles later, I am still in Awe of "Big Red". Rear space is cramped but I dont sit back there so I don't care. Thinking about getting some Snow tires for the winter. More to follow I have a 2012 Civic so Gas mileage isnt an issue for me. Im not 280 pounds or 6'2 so I don't have any complaints.
Purchased a new car
Uses car for Just getting around
Does recommend this car
---
People Who Viewed this Car Also Viewed
Select up to three models to compare with the 2015 Ford F-150.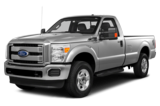 2015 Ford F250
Starting MSRP
$31,810–$49,665
Compare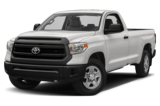 2015 Toyota Tundra
Starting MSRP
$28,510–$47,975
Compare
2015 GMC Sierra 1500
Starting MSRP
$27,020–$53,465
Compare
2015 Chevrolet Silverado 2500
Starting MSRP
$32,980–$55,875
Compare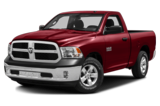 2015 RAM 1500
Starting MSRP
$25,660–$50,990
Compare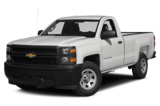 2015 Chevrolet Silverado 1500
Starting MSRP
$26,105–$51,150
Compare
2015 Ford F350
Starting MSRP
$32,705–$51,765
Compare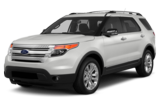 2015 Ford Explorer
Starting MSRP
$30,700–$43,100
Compare
Featured Services for this Ford F-150