Average Ratings
---
19 out of 20 people recommended this car.
---
Love our Flex
by Bobby V from Sparta, Georgia | May 13, 2016
This is the only vehicle that I have ever owned that my wife truly loves. I admire it also but my wife insisted we get another. It is our 3rd Flex since they came onto the market and all I can say is that this is one really fine vehicle that Ford created. Room, handling, road trip, local, hauling. you name it and it can do it. We never had any issues with our other Flexs' so we kept upgrading and now we have a used 2013 SEL fully loaded w/leather, sun roof, and vista roof. Love it! Thank you Ford!
Purchased a new car
Uses car for Just getting around
Does recommend this car
---
Value and quality
by Zegota from Spring Lake, Michigan | July 8, 2015
Car is loaded, however as usual with any item, or automobile that you may have all the extra's it just means more things can and will go wrong. Such as the rear windows and I guess stress breakage, or the rear brakes wearing out before forty thousand miles. Even the costs for repairs seems higher then normal, as the parts if they are available, seems to be also high in costs. The only positive thing I can say about the Ford Flex, is that it does have all the necessary room a growing family would ever need. Including a very comfortable ride, but the mileage is below average and remember parts are costly. Including tires, and tune-ups, but other then that, not for the average or below average income family. For the costs are above average, anyway, up to the family and your choice. Good luck and God Bless.
Purchased a new car
Uses car for Transporting family
Does not recommend this car
---
So Good, there's no Place for Lincoln
by CarNut from Des Moines, IA | August 26, 2014
A few years ago, Ford realized it was building the best trucks in the world, but their automotive product was mostly junk. The Flex is one of the results of moving some truck people to the car side. The familiar drop down angle on the original Super Duty side window is prominent in the new headlight and grill assembly. To me, it's a homage to the truck line. Not a bad image to take away considering the F series is the best selling vehicle in America. The F150 is using this same angle in it's headlights and side windows too. Pulling up next to a F150 gives a sense of size and power since you can find the 3.5 ecoboost in either and this baby is nearly 18' long...another reminder that this was built by truck people. Angles aside, this is a traditional box on box design that takes on a low and sleek look from a distance compared the the Suburbans, Explorers, and GMs two crossover twins with back fat. Inside is where this car really shines. Large seats that support your thighs all the way to the knee joint, room everywhere cubbies everywhere, Heated seats, Cooled seats, 2nd row heated buckets that slide and recline and a third row that is basically for kids or adults on a short distance. By the way for a certain 11 year old girl, this is the preferred seat no matter who else is in the car. Overhead heating and cooling that really works assures comfort all through the cabin. What puts this car over the top as the finest highway cruiser in the country is the refrigerator freezer hidden in middle console in the back seat. A phenomenal Sony 12 speaker stereo that blasts, Large comfortable seats with 12 way power power lumbar, power tilt and telescopic steering wheel a smooth ride, nearly 400 hp, adaptive cruise control, make you want to drive hundreds of miles. The small 18 gallon tank makes you stop more than you want. 23 on the highway and about 18 or 19 in town can be expected with the Ecoboost. The bad reviews have come from the people not understanding the radio and HVAC controls. The professional car reviewers are all wrong about the MyTouch Sync. There is a learning curve, but once you understand it's workings and capabilities, you won't want a car without Sync. A few days reviewing a car isn't enough time to understand how this elaborate system works. If you enjoy technology, you will want MyTouch Sync. Right now, Ford isn't selling tons of Flexes and for me, that's a good thing as I don't see myself coming and going all day. If you want a big comfortable car with utility, you can't do a lot better than Flex.
Purchased a new car
Uses car for Work
Does recommend this car
---
Unique!
by Sunbird from Louisville, KY | July 10, 2014
When Ford came out with this vehicle, we thought it was the ugliest exterior design ever - a big rectangle box or a big toaster as another reviewer called it. However, when we started looking for a new vehicle with as much room as our 2009 Taurus SEL, we could find no other vehicle to look at than the Flex. Mind you, we did not look at any other brand than Ford since we are a Ford family. We looked at the brochures, used ones and new ones before making up our mind that the Flex was the vehicle we wanted. During this time, I noticed that there aren't a lot of these vehicles on the road and there aren't very many available at any one dealership. Not only that, I decided upon a very distinct color which became very difficult to find, the ginger ale (green/hints of gold). We found only one! Fortunately, it happened to be in our area. It also had the black roof and black painted rims. The look is AWESOME! The roominess, ride, drive ability,cargo space, and options just make this car a better choice. Ours was bought "new" with 14,000 miles on it (dealer driver, never titled). It has AWD, heated/cooled front seats, 60/40 second row seats, power third row seats/liftgate, active park assist, appearance pkg., remote start, multi-panel vista roof, tow pkg., and leather trimmed seats with perf. gray inserts. I especially like that it is NOT a minivan since we are older. We will be transporting our grandbabies as they come along, but mostly we will be using the vehicle for pleasure, travel, and errands. My husband loved using the backup camera when unloading and loading our jet ski. Our son and daughter-in-law just bought a Flex SEL, obviously without some of our features, and they love it! So, two families who love the uniqueness of our vehicles, two Flexs, and four extremely happy drivers/owners!
Purchased a new car
Uses car for Just getting around
Does recommend this car
---
love our Flex didn't know they even existed
by 2013 Ford Flex from Edwardsville IL | March 27, 2014
Have only had it a month. Love it. Very comfortable. Love the electronics. But gas mileage is not near what is advertised.
Purchased a new car
Uses car for Transporting family
Does recommend this car
---
Two Months and No Complaints
by Happy Man from Annapolis, MD | March 19, 2014
I bought my new 2013 Flex in February 2014 and so far I'm exceedingly pleased with its performance, the ride and handling. As a senior citizen I especially like how easy it is to enter and exit the vehicle with its lower floor and higher roof. One very thoughtful innovation is the wrapped under outer door skin. No matter how much road dirt attaches to my car, the rocker panels are always clean when you open the doors. No more dirty pant legs! Power from my V-6 eco-boost engine seems phenomenal and it travels very easily at high speeds. I've transported seven passengers on several occasions quite comfortably and without complaints. The perforated leather seats are quite comfortable. The fact that they are also heated and air conditioned is a definite plus. My wife especially likes the big screen that allows you to navigate through all the information somewhat easily (once you study the owner's manual).
Purchased a new car
Uses car for Transporting family
Does recommend this car
---
Great all round vehicle
by Multi car owner from Florida, Maine | February 24, 2014
Our 2009 Flex just crossed the 90000 mile reading. It has gone Maine to Florida 11 times and has been my wife's car for the past 4 years and we both have enjoyed it for its reliability, comfort and handling. We bought it at 26,000 miles and, other than tires, have replaced the battery. Period. The only other issue was the drivers side door handle cover has started to come off, probably a $200 repair. We average 20mpg per tankful and 25-26mpg on trips.I have pulled our 4200 lb boat with no problem. We have had 7 passengers many times with no complaint. After a cleaning, the car still looks like new. Our previous car was a Honda Odyssey. The Flex handles better, quieter, and far more reliable.
Purchased a new car
Uses car for Just getting around
Does recommend this car
---
Awesome Famiy Hauler
by STR8 from Tacoma, WA | January 28, 2014
Wow! This car is awesome! I didn't give it an overall rating of five stars due to the fact that we've only had it for a few weeks now and I'm still getting used to it's unique exterior design. Performance is great with the EcoBoost Twin turbo engine and handling is quite agile and smooth considering it's size. All wheel drive is a plus as well. My wife loves the park assist feature and the Ford MY Touch system is awesome so far. The voice command is flawless if given the proper command. Read the owner's manual on this feature and you'll be able to operate your vehicle without touching anything except the steering wheel and the door pulls to enter or exit the vehicle. This vehicle is very driver/passenger friendly. Easy to enter/exit and load your cargo. Ford got it right! We really love the ambient lighting feature and you can change the color to match your mood with just a few touches on that big screen that can be easily reached. Ford and Sony got together and made the fonts larger than the previous yr/model so if you do need to read the screen while driving you can do so with ease. I do think this vehicle was a bit pricey but with all the end of the year rebates and zero percent financing we felt good with what we paid. You couldn't get a European vehicle with this option package under 60k! The Flex feels solid and the materials used on it's interior gives it a feel of real quality. The seats are very comfortable and the second row passengers have the heated seat option as well along with reclining and legroom adjustments. The fridge/freezer is a true friend and we love the power folding third row seat option. Fuel economy is adequate once break-in period is reached. We just don't worry about fuel consumption just as long as we are not refueling twice a week; we were interested in the space and practicality of this vehicle. Our choices prior to this purchase were the Lexus RX, Cadillac SRX, Cadillac CTS wagon and the Flex. We chose the Flex because it had everything we needed. The CTS wagon was just too car-like in every way but the Flex was both car and utility with the extra space. Yay! So, go for a test drive and think "inside" the box, this time, if nothing else it'll make you say, HMM, interesting!
Purchased a new car
Uses car for Transporting family
Does recommend this car
---
We Love Flexy
by Ol Flexy from Colorado | January 15, 2014
I wanted a mini-van and my wife did not. I also wanted a Japanese brand and was reluctant to look at the American cars. I did look at the Acadia but reviews were not great. After reading up on the Flex and the decent gas mileage and reliability I bought a 2012 SEL. Bought with 18K miles. Driven 10K miles in about 11 months and NO issues, just oil changes. Highest mpg 26 going to Texas 900 miles. Average MPG around town 17.5. Great Power for passing, even with 4 people. Nice to drive long distances - sits you so upright, like a nice dining room chair, yet comfortable - especially if you are older. Great Visability, good turn radius, AWD good in snowy conditions, and plenty of space. Bluetooth works well and syncs easily. I regret no getting leather seats and a fancier color than silver. I am going to try and dip it this summer for a better color. It's not the most fun car to drive, but it really gets the job done all the way around- space, handling, reliability, snow driving, power, and decent mpgs. We dig our flex, the kids love it too.
Purchased a new car
Uses car for Transporting family
Does recommend this car
---
Our 2nd Flex. Very impressed w/ 2013 improvements!
by HawkeyeFan from Moravia, IA | December 1, 2013
My wife was very attached to her 2010 Flex Limited and did not want to part with it. But I wanted to upgrade to an AWD Flex before we faced another Iowa winter. After owning a Flex, another Flex with AWD was an easy decision. We are very impressed with our 2013 Flex Limited. The Ecoboost AWD power train is VERY smooth and responsive. The car handles and drives effortlessly. What a nice step up in refinement and performance from our FWD 2010 with the standard 3.5L V6. We liked that car. We love this one. And, although we do not have the factory towing package, I'm planning to add the factory hitch and tow my boat occasionally next summer with this car. I'm also impressed with the changes Ford made to the Sync voice interface and the Nav display since 2010. The software and touch interfaces on the center stack are much better. The Nav map information and voice instructions are also an improvement. The Sony sound system is excellent. I'm getting accustomed to the dash displays and the steering wheel controls but probably spend too much time toggling between displays while driving. After one month and 1200 miles of driving we are averaging 20.4 mpg overall. We've done as well as 24 mpg in all highway driving. 19-22 mpg on the highway when driving in windy conditions. We always averaged over 20 mpg with our old FWD car no matter what. But 24 was the best we ever did on the highway. Wind does not affect the highway manners of this vehicle. Passing other cars on a 2-lane road happens in a hurry. Xenon headlights provide great road coverage and vision at night but oncoming cars tend to flash their high beams at me even when I'm on low beam. We have the split middle seat with the console but younger families would prefer the bench. We find that the Flex has great utility for all our shopping needs but large, tall objects may not fit into the rear cargo area like on a larger SUV. Overall, I'm happy to own this car and look for reasons to climb behind the wheel. It's supposed to be my wife's car but I've done most of the driving since we got it. I feel like I bought a SHO wagon. Great car, or SUV, or wagon or whatever you want to call it!
Purchased a new car
Uses car for Just getting around
Does recommend this car
---
People Who Viewed this Car Also Viewed
Select up to three models to compare with the 2013 Ford Flex.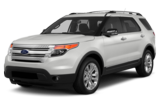 2015 Ford Explorer
Starting MSRP
$30,700–$43,100
Compare
2013 Ford Taurus
Asking Price Range
$9,487–$24,371
Compare
2013 Hyundai Santa Fe
Asking Price Range
$14,148–$25,904
Compare
2013 Toyota Camry
Asking Price Range
$11,868–$19,588
Compare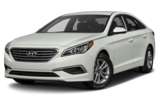 2015 Hyundai Sonata
Starting MSRP
$21,150–$33,525
Compare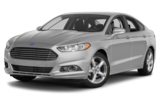 2016 Ford Fusion
Starting MSRP
$22,750–$33,270
Compare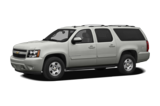 2011 Chevrolet Suburban
Asking Price Range
$15,472–$38,416
Compare
2013 Subaru Forester
Asking Price Range
$13,255–$23,723
Compare
2016 Ford Edge
Starting MSRP
$28,700–$40,900
Compare
Featured Services for this Ford Flex