Editor's note: This review was written in November 2012 about the 2013 Ford Focus ST. Little of substance has changed with this year's model. To see what's new for 2014, click here, or check out a side-by-side comparison of the two model years.
The Ford Focus didn't get much love in our $20,000 Compact Car comparison, where the Focus sedan brought up the rear of a five-car field. The Focus' amazing handling dynamics weren't enough to make us look past its small interior, poky acceleration and confusing controls for simple features. While the small size and confusing features remain, the performance-injected Focus ST hatchback with a 252-horsepower, turbocharged four-cylinder expands on the Focus' best handling attributes. As a testament to its performance intentions, the ST only comes with a six-speed manual transmission.
The 2013 Ford Focus ST is a well-thought-out, refined performance machine that manages to remain civil when needed — and downright fun when wanted.
The ST competes with the Mazdaspeed3 and Volkswagen GTI — plus the Scion FR-S and Subaru BRZ — on the merits of cheap performance. Click here to compare the ST to a regular Focus.
Performance
The non-ST Focus already has amazing handling and is easily one of the most fun to drive compact cars currently available. These traits are exaggerated to their best extent in the ST, which has the tenaciousness of a sports car and the civility of an everyday driver — not an easy task. The ST's great steering feel and turn-in confidence make this Focus hot-hatch a riot to drive. Its roadholding ability puts the aggressive front-seat side bolstering to work as the car tests the limits of how much pressure internal organs can take when pushed up against a seat in a hairy turn.
Expectedly, the sport suspension's ride is stiffer than that of the base Focus. What surprises is how compliant the car feels over a long haul, without the rock-hard suspension common to many small performance cars. This isn't a new trait for a Ford performance car: The Mustang's various trim levels (GT, Boss 302 and GT500) master a similar balance of performance and everyday drivability.
The EcoBoost turbocharged 2.0-liter four-cylinder's plentiful power is packed into the engine's mid-range. The experience is similar to the GTI's 2.0-liter engine but with a bigger punch, considering the ST's 252 hp and 270 pounds-feet of torque, compared with the GTI's 200 hp and 207 pounds-feet of torque. There's no need to wind out to a bazillion rpm to have fun, as you must in the FR-S and BRZ.
The ST's power is backed by surprisingly good EPA-estimated gas mileage of 23/32 mpg city/highway, 26 mpg combined, besting the GTI (25 mpg), Speed3 (21 mpg) and manual-transmission FR-S and BRZ (25 mpg).
The benefits of a rear-wheel-drive FR-S or BRZ are apparent when you drop the hammer in the front-wheel-drive Focus ST. Drive aggressively, and the ST torque-steers badly enough to tug the wheel out of a light grip. A torque-steer prevention system and electronic differential attempt to combat this characteristic, but the 270 pounds-feet of torque still has plenty of say as to which direction the car goes.
The trick is gradual throttle application and smooth gear changes to quell the wickedness of the car darting across the road. Torque-steer is less prevalent on smooth roads or a racetrack, where the tires don't have as many grooves and bumps to follow.
Interior & Features
The cramped confines we've complained about in the regular Focus are less of an issue in the ST because the cocoon-like cabin feels more appropriate for a performance car. Helping the interior's fit-like-a-glove atmosphere are the ST's optional Recaro seats, which I think are among the best in the business. Many optional performance seats put a death grip on your side yet leave a total void of back support. The ST's seats have back support and side support that make them a winning combination on long drives as well as during aggressive cornering — the model I tested almost went back to Ford with some worn-out seats because I wanted to swap them into my own car.
Other editors weren't as enthused about the seats and wanted more vertical adjustment; editor Mike Hanley preferred the optional Recaros in the 2013 GT500 we recently tested. The ST's seats can come with heated leather upholstery; non-heated, partial-leather ones are also available. Two-tone color is optional. Both are part of expensive option packages, either $4,435 for the heated Recaros or $2,385 for the non-heated ones.
Ford's optional MyFord Touch multimedia system with an 8-inch screen has small virtual buttons and difficult usability. Unfortunately, it's tied to many of the packages, like the heated Recaro seats and an excellent-sounding premium Sony stereo, so you might get it whether you want it or not. Our tester's options raised the car's final price to $28,170 including a $795 destination charge and options including MyFord Touch, navigation and the premium sound system. A base ST starts at $24,495 with destination.
Safety
The hatchback version of the Focus is an Insurance Institute for Highway Safety Top Safety Pick because it earned the institution's best rating, Good, in frontal, side, roof strength and rear tests. Standard safety features include front airbags, seat-mounted side-impact airbags for front occupants, and side curtain airbags for front and rear occupants. See here for a complete list of safety features and here to see how well child-safety seats fit in the ST.
Focus ST in the Market
The ST has a fun factor close to a dedicated sports coupe like the Scion FR-S or Subaru BRZ, but with a much more usable interior and only slightly less performance appeal thanks to front-wheel drive and the inherent characteristics of that layout.
Simply enough, the Focus ST is seriously fun. It handles well, it's quick, it's comfortable and it gets great gas mileage compared with the competition. This hopped-up Focus makes more sense as a performance car than the regular Focus does as an ordinary passenger car.
---
People Who Viewed this Car Also Viewed
Select up to three models to compare with the 2014 Ford Focus ST.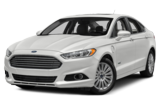 2016 Ford Fusion Energi
Starting MSRP
$33,900–$35,730
Compare
2016 Chevrolet Camaro
Starting MSRP
$25,700–$48,300
Compare
2016 Ford Fusion Hybrid
Starting MSRP
$25,675–$31,430
Compare
2015 Ford Fiesta
Starting MSRP
$14,455–$21,435
Compare
2014 Ford Focus Electric
Asking Price Range
$8,302–$14,670
Compare
2014 Ford Focus
Asking Price Range
$9,215–$16,595
Compare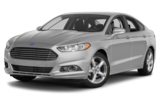 2015 Ford Fusion
Starting MSRP
$22,500–$32,780
Compare
2015 Mazda Mazda6
Starting MSRP
$21,190–$29,895
Compare
Featured Services for this Ford Focus ST