Average Ratings
---
25 out of 28 people recommended this car.
---
Most Reliable Car I've Owned
by Shineman from Central Florida | June 26, 2016
Awesome car period!!! I have been running my ZX4 for almost 6 years now. Purchased used, with 29,000 miles on it. Have 256,000 on it now. Have had to make some repairs, had to replace most front end parts. However based on where I live that is something I completely understand. Other then that, just basic maintenance. I use the car for deliveries daily, and really rack up the mileage. My biggest complaint with the car, is the lower back support, the seats are just not completely comfortable when making long trips.
Purchased a new car
Uses car for Work
Does recommend this car
---
Love this car
by ma-driver123 from Boston, MA | February 15, 2015
I bought this car (2005 ZX3 SES) used with about 90k miles on it two years ago. I've got about 120k on it now and it's been great. I've had the front brakes replaced and new tires put on. Radiator support and rear brakes could use replacing soon, but otherwise car is in great shape. I've been driving it in our historically snowy New England winter this season and it has been amazing. I watch other small FWD cars (and plenty of RWD pickups) getting stuck and spinning out on my hilly, snow-covered street all day and have never had an issue with the Focus. The interior is meh (kind of busted armrest and it's a little noisy at very particular speeds) but I honestly don't mind because it handles well and the overdrive makes it a pleasant car to drive on the highway. It's small enough to easily park pretty much anywhere but large enough on the inside to fit a couple of bicycles in the back too! And it's completely adorable on the outside.
Purchased a new car
Uses car for Commuting
Does recommend this car
---
Best Car I've Owned
by RSD Bluegrass from Northbridge, MA | March 7, 2014
I bought this car during the Ford Friends and Family discount time, got a great price. I have the ZXW SES with the winter package and a 5 speed manual. Currently have over 202,000 miles, still with the original back brakes and battery. I have only replaced the alternator, front brakes, and anti-roll sway bars (did myself for less than $75), plus the usual tires, gas, oil, etc. I live in New England, and I can't believe the battery still starts the car after all these cold mornings. I also have the car equipped with a trailer hitch, and tow a trailer with a small professional sound system. I've done a lot of traveling with this sound system in the back of the car, which is amazing how much cargo can fit back there. Great car for us upright bass players! All in all, this is a great utility car. I do wish it had another gear though, RPM is high on the highway, and could probably get better MPG. The car has very good power on the highway for passing. Interior could be nicer, but that's what you get with economy cars from 2005. Looking forward to getting another new Focus, just wish they would sell a wagon again. I have not had issues with tires, use mostly tiger paws and they last 50,000 miles. Shamefully, I have never touched the coolant, and I only change the oil about every 7-8K miles. I don't think I've ever taken it to the car wash, and there is some rust on the exhaust, but the rest of the paint has held up real well. I am very happy with my Focus!!
Purchased a new car
Uses car for Commuting
Does recommend this car
---
I hate this car
by jen from Evansville IN | December 30, 2013
I've had my 2005 ford focus for about three years. The arm rest broke. The CD holder falls down if there is anything in it. You can't change a headlight without taking half of the car apart. The interior is noisy and rattles most of the time. If there is any small thing that goes wrong with the car they make it to where you have to go to the dealership to get it fixed. Don't get this car unless you want to rely on the dealership for any and all maintenance.
Purchased a new car
Uses car for Commuting
Does not recommend this car
---
great practical car
by BBBassist from Waltham, Ma | September 27, 2013
I've had the car about 3 weeks. It rides better then the Mazda Protege5 I traded in though the Mazda did handle slightle better. I'm used to driving stick so the automatic has taken a bit to get used to, but it does have good pick up, you just have to hit the gas pedal a bit harder. I'm a musician and it's a perfect car for me, plenty of room and decent mileage.
Purchased a new car
Uses car for Just getting around
Does recommend this car
---
Don't do it
by Mickey from Ontario | July 23, 2013
We purchased this very 72000 mile car. Synchros in the standard transmission are gone. Grinds going into first, second and third gear.
Purchased a new car
Uses car for Transporting family
Does not recommend this car
---
Fun to Drive--great value
by Frugal Fred from Virginia | January 28, 2013
Great handling and pep for the price--has also been great in snow. Have owned Volvos & BMW in past. Parts costs much better with Ford. Paint finish and sound deadening are not as good, but price is a good offset. Radio/CD player has peeling paint on control buttons, and CD player does not work--radio functions great. Otherwise, car appears mechanically sound @ approximately 100K miles, and has the engine with a timing chain (no belt to replace)
Purchased a new car
Uses car for Just getting around
Does recommend this car
---
Terrific Car, Great Value
by NH Driver from New Hampshire | March 27, 2012
A real gem. I bought my ST new in March 2005, the first American car I've owned (after having owned VW, Porsche, BMW, Nissan, Audi, Volvo--most bought new). I can truly say that this vehicle has proven to be, by far, the most reliable and best value of the bunch. Fun to drive, great in snow, good gas mileage. My only criticism is the seats--not much lumbar support (I'm tall). Plenty of room, though. Still looks new, inside and out, despite severe New Hampshire winters. Well built. I have a long commute, and my ST has never let me down, even after 100K(+) miles. I've liked it so much that I am looking at getting a 2012 Focus (while holding on to this one).
Purchased a new car
Uses car for Commuting
Does recommend this car
---
best used car bought
by another satisfied customer from Laurence Harbor, NJ | January 23, 2012
I bought my 05 Ford Focus around this time last year and I must say that I am totally happy with my car thus far, from its performance all the way to the price I am paying for it. The people at Auto Solutions are very friendly and professional when it comes to selling their vehicles. They find a way to get you in the car you want for the money you want to spend, they get it done. I highly recommend their business and will continue to support them for many years to come.
Purchased a new car
Uses car for Work
Does recommend this car
---
5 yr Review
by New car shopper from boston | January 31, 2011
We bought our 2005 Focus se NEW in 12/04. Got a GREAT deal. The only problem off the bat was the HVAC system leaking water into the foot well. This was fixed (through outsourcing) @ the local dealer for free. Took 3x. Probably a clogged drain plug. Other than a new set of tires (why do new car tires only last 29k??) new front brakes, a new battery & a new ERG canister (our fault-do NOT overfill your tank!) the car has been stellar. 5spd 4cyc gets 34 mpg hiway if you keep in under 70. I know this from driving from Syracuse to Boston. Around town it will get 24-28mpg. Headroom is excellent, even for back seat. The interior is lacking- a bit too plastic. Sound system? Just upgrade to new speakers. Seats? Ok at best. My wife likes them, but she is large and does not like side bolsters. I like something that holds you in place. But, the seats were fine for 300 mile cruises for both of us. Rear seat? Has a split back, which does not really matter. You MUST flip the read seat bench to fold down either rear seat back, taking away the 3rd psngr. for ski+golf trips. Also, keep in mind only 827lbs for total weight! All in all a great grocery getter, great MPG, and low-low maint costs. Who needs a 7 recall Coralla, anyway?
Purchased a new car
Uses car for Commuting
Does recommend this car
---
People Who Viewed this Car Also Viewed
Select up to three models to compare with the 2005 Ford Focus.
2009 Honda Accord
Asking Price Range
$6,935–$14,663
Compare
2008 Hyundai Azera
Asking Price Range
$4,992–$11,632
Compare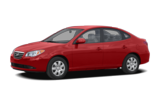 2008 Hyundai Elantra
Asking Price Range
$3,630–$9,510
Compare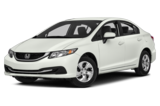 2014 Honda Civic
Asking Price Range
$11,308–$20,080
Compare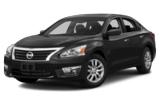 2015 Nissan Altima
Starting MSRP
$22,300–$32,350
Compare
2007 Mercedes-Benz C-Class
Asking Price Range
$5,066–$13,162
Compare
2011 Mercedes-Benz E-Class
Asking Price Range
$14,816–$33,256
Compare
2015 Audi A6
Starting MSRP
$44,800–$58,700
Compare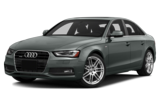 2016 Audi A4
Starting MSRP
$35,900–$37,000
Compare
Featured Services for this Ford Focus