A decade after the original Honda Insight debuted, hybrids are about as mainstream as a Seth Rogen movie. Puttering around town in electric mode, recharging the battery when you hit the brakes — c'mon, the bald guy in legal has a Prius that does all that.

The 41-mpg Ford Fusion Hybrid, however, is a whole other story. In an age when it seems any vehicle — luxury cars, pickups, SUVs, the neighbor kid's Big Wheel — can be equipped with electric motors and high-voltage batteries and be called a hybrid, the Fusion Hybrid is a significant step forward for the technology, particularly for family sedans. It's worth a look, and not just if you're in the market for a hybrid or a Fusion.

The Fusion Hybrid is Ford's second hybrid, and it's based on the redesigned 2010 Fusion (covered separately). Ford also makes a Fusion twin, the Mercury Milan, which is also available in hybrid form and is covered here. Click here to compare the Fusion and Milan with their hybrid counterparts.
The Non-Prius
The Toyota Prius and the redesigned Insight look the part of avant-garde eco-hatches. By and large, the other available hybrids don't wear their green credentials in their design — and if that's how you think it ought to be, the Fusion Hybrid should suit you fine. Aside from new wheels and Ford's road-and-leaf hybrid badges, it looks the part of an uplevel Fusion SE or SEL. Whether you'll like it depends on whether you like the Fusion. I suspect many shoppers will. The new Fusion keeps its predecessor's athletic lines, but adds some much-needed presence: The flanks seem better-rounded, the headlights sharper. It's growing on me.

The wheels, on the other hand, I disliked more every day. The Fusion Hybrid gets standard 17-inch alloys — respectable stock — but their narrow-spoke design resembles plastic wheel covers. Ford says the design is more aerodynamic than other Fusion wheels, but I hope it offers another option next year.
Hybrid Driving, Improved
Being a "full" hybrid — not a "mild" hybrid, like the Chevy Malibu and Saturn Aura hybrids — the Fusion Hybrid can cruise at low speeds in electric-vehicle mode, recharge its battery when braking and turn off the engine at stoplights. Most impressive is how well it does all this. There isn't quite enough oomph to accelerate from a stoplight in EV mode with traffic behind you, but it's very easy to keep up during bumper-to-bumper traffic running only on electricity. Many hybrids don't give you enough electric power to do even that.

Accelerate a bit harder, and the engine springs to life seamlessly, with none of the noisy startups that early Escape Hybrids exhibited. Stab the gas to merge on on-ramps, and the motor and engine combine for ample acceleration — better than the four-cylinder gas-only Fusion that I tested in January. Ford says combined output for the engine and motor is 191 horsepower, versus 175 hp in the regular four-cylinder sedan. (Two V-6s — making 240 hp and 263 hp — are also available for the non-hybrid Fusion.)

The transmission, an electronically variable unit, works like a fast-acting continuously variable automatic transmission. Press the accelerator, and it bumps up engine rpm with little delay; get off the gas, and it plunks down to fuel-sipping revs nearly as quickly — or it shuts off the engine entirely. Ford says it's possible to drive in EV mode to as fast as 47 mph, which is about 20 mph faster than I've ever managed it in a Camry Hybrid or the previous-generation Prius. Coasting on level roads with temperatures in the 60s, the Fusion Hybrid's engine shut off at 40 mph or so more than a few times. The electric motors have enough power to maintain those speeds, too, provided there's a healthy amount of charge in the high-voltage battery. Beware, though, that you'll drain the battery pretty quickly trying to do that. At 35 mph, I was only able to make it seven-tenths of a mile in EV mode, and I had to bleed 10 mph or so to eke out the last few tenths without having the hybrid system awaken the engine.

Probably the drivetrain's chief drawback — and I find this true in most hybrids — manifests itself when you need power quickly while in EV mode. Spy a break in a faster-moving lane while EV-coasting at 35 or 40 mph, and you'll need a moment longer than you would in a gas-only car to execute the merge. It's something like a gas car with a half-second accelerator lag.

Four-wheel-disc antilock brakes are standard, but when you hit the brakes most of your deceleration happens as a byproduct of the high-voltage battery recharging itself — popularly marketed among hybrids as "regenerative braking." Hitting the brake pedal harder will engage the disc brakes themselves. In the long run, this setup will probably save you money on brake maintenance. The pedal doesn't feel quite as linear as the gas-only Fusion's, but as hybrids go it comes feeling pretty natural. Indeed, Ford says it worked to simulate a more natural brake feel for this hybrid.
Precise Handling, Firm Ride
Like its gas-only sibling, the Fusion Hybrid handles nimbly for its family-car roots. Body roll, an ever-present force in the Camry Hybrid, is well-contained here. The steering wheel has liberal amounts of power assist at low speeds, which makes for easy parking-lot maneuvers. It firms up a bit at higher speeds, providing direct — if not quite razor-sharp — turn-in precision. Still, I could have used less assist on the highway; pointed straight ahead at 60 or 70 mph, the wheel feels a bit too skittish.

Ride quality is on the firmer side, possibly enough so to turn away some family-car buyers. The suspension sorts through bumps cleanly, with little in the way of reverberations, but expansion joints and potholes hit hard. I'd prefer softer tuning, particularly in a family sedan. The Camry and Honda Accord both ride softer; Ford's suspension tuning is closer to Nissan Altima and Mazda6 territory.

If ride quality is mixed, noise levels are not. Engine and road noise are very low, and wind noise is impressively masked. Even at 70 mph, the cabin was as hushed as I'd expect in a premium car. On smooth pavement, the Fusion Hybrid is a relaxing machine; just keep your fingers crossed the road stays smooth.
Gauges & Graphics
I'll let the pictures do most of the talking, but it's no stretch to say Ford sets new standards for instrument-panel functionality in this car. The best example: Ford's Vehicle Power Gauge, which is one of more than a dozen configurable indicators. It shows just how much power is available in EV mode, as well as the point — which rises and falls depending on battery charge — when the engine will switch on. Instead of feather-footing around town trying to maximize electric-only acceleration, and incurring the wrath of drivers in your wake, the Fusion Hybrid gives a clear picture of exactly how much you can accelerate without causing the gas engine to engage. It's especially helpful when the car goes into EV mode at 30 to 40 mph: Armed with this information, you can maximize the distance you can travel without using the engine. My only wish is that Ford would move the Vehicle Power Gauge away from the instrument panel and onto the top of the dash, where you could see it more easily.

Many hybrids throw a few extra gauges about the dash to show what's going on, ranging from simple charge/assist gauges in GM's mild hybrids to elaborate gas mileage and power-flow meters in the Camry Hybrid. The Fusion Hybrid's gauges include PC-quality LCD screens on either side of the speedometer, an interface Ford calls SmartGauge with EcoGuide. It can display information in four ascending levels of complexity: Inform, Enlighten, Engage and Empower. The most elaborate one, Empower, depicts everything from battery charge and gas mileage to how much juice your accessories, like A/C and headlights, are using. It also includes the Vehicle Power Gauge, a feature that quickly made me an Empower-mode loyalist.

For the truly carrot-needy, the gauges also include a graphic of Efficiency Leaves, essentially a bare shrub that sprouts more leaves the more efficiently you drive. Hammer the gas too often, and it defoliates. At the conclusion of each trip, you'll get some basic stats on how you did, along with a summary result, in shrub form, of your work. (Efficiency Leaves, I should note, apparently bear a resemblance to contraband. A friend of mine climbed in and promptly asked: "Dude, why is there weed growing on your dashboard?" Rogen would be so proud.)

The optional navigation system includes a common-among-hybrids power-flow screen, which shows which parts of the drivetrain are chipping in, and a mileage-history display that allows you to track mileage in 10-, 20- and 60-minute increments. I've seen these in hybrids before, but they typically span just 15 or 30 minutes. Sixty is better.
Other Technology
New this year is Ford's optional Cross Traffic Alert system; Chrysler offers a similar feature. When you're in reverse, it uses proximity sensors to alert you with a series of beeps if perpendicular traffic approaches — for example, when you're backing out of a parking spot. My test car had it, and though it never failed to alert me during the handful of situations when cross-traffic approached, the number of false alarms — set off by everything from trees to traffic moving parallel but not crosswise — had me tuning it out after a few days. Fortunately, you can deactivate it.

The navigation system comes with Ford's Sirius Travel Link, which requires a monthly subscription after the first six months. The service includes movie times, nearby gas stations with prices updated every few days, sports scores and weather reports. Granted, you can pull up most of that data on a web-enabled phone, but the gas prices are helpful. I checked the feature against a few local stations in a Ford I tested last year, and the prices were pretty accurate.

I'm not as crazy about Ford's Sync system. (Other Cars.com staffers, to be fair, are more sold on it.) It allows you to call out songs and playlists on a USB-connected iPod, but it doesn't always get your requests right, and it won't pick up any songs that don't have proper metadata. If you tire of shouting out orders — it gets old very fast — the system allows you to dial up songs or playlists via physical controls. Another plus: The uplevel Sony stereo, which my test car had, delivers excellent sound quality.
Running the Numbers
Ford says the Fusion Hybrid will get an EPA-estimated 41/36 mpg city/highway. That's a lot better than the Camry Hybrid (33/34) and Malibu Hybrid (26/34); Nissan also sells an Altima Hybrid (35/33), but it's not available nationwide. The Fusion Hybrid costs $1,120 more than the Camry Hybrid, but through Sept. 30, the Fusion Hybrid is eligible for a $1,700 federal tax credit. Credits, remember, are cash-equivalent — not like deductions, which merely lower your taxable income. Ford has passed its hybrid sales quota, so its credits are being phased out. (The Fusion Hybrid originally got a $3,400 credit.) GM, on the other hand, has not yet reached its quota, so for now the Malibu Hybrid's $1,550 tax credit carries no deadline.

Crunch all the numbers, and the Fusion Hybrid looks to be a comparatively solid choice:
Hybrid Costs Compared
Ford Fusion Hybrid
Toyota Camry Hybrid
Chevrolet Malibu Hybrid
EPA mileage (city/hwy., mpg)
41/36
33/34
26/34
Base price
$27,270
$26,150
$25,555
Federal tax credit
$1,700*
$0
$1,550*
Post-credit cost vs. base model
+$6,300
+$6,755
+$2,400
Cost vs. comparable trim**
+$1,970
+$2,220
+$1,500
*Fusion Hybrid: $1,700 through 9/30/09, $850 from 10/1/09 to 3/31/10 and $0 on or after 4/1/10. Malibu Hybrid: $1,550 until GM reaches 60,000 hybrids sold.
**Compares hybrid to four-cylinder, automatic, gas-only version with roughly equivalent features.
Source: EPA and automaker data for 2010 Fusion Hybrid, 2010 Camry Hybrid and 2009 Malibu Hybrid.
Include the tax credit, and the Fusion costs $580 less than the Camry Hybrid. It's $1,565 more than the Malibu Hybrid (factoring in its tax credit), but if you drive 15,000 miles a year on a 55/45 percent city/highway cycle with gas at $3 a gallon, you'll recoup the difference between the Fusion and Malibu hybrids in about four years.

Compare the Fusion Hybrid against a similarly equipped four-cylinder Fusion — most trims get 22/31 mpg city/highway with an automatic — and you're looking at a reasonable 3.2 years to make up the difference in gas savings. If you're considering it versus the most economical Fusion, however, stick with the $19,270 base model. It would take more than a decade to recoup the difference in gas savings.
Features & Safety
Equipped similarly to a Fusion SEL minus the SEL's standard leather seats, the hybrid comes standard with power windows and locks, the LCD gauges, eco-friendly cloth upholstery, dual-zone automatic climate control and power front seats. A moonroof, heated leather seats and a navigation system with a backup camera are optional. Load the Fusion Hybrid up, and the price tops out around $32,000.

In crash tests by the Insurance Institute for Highway Safety, the 2010 Fusion earned the top rating, Good, for front, side and rear impacts. (With a few exceptions, hybrids generally carry the same crash-test ratings of their non-hybrid counterparts.) IIHS has named the Fusion a Top Safety Pick. Standard safety features on all Fusions include six airbags, antilock brakes and an electronic stability system. Click here for a full list.
Fusion Hybrid in the Market
Until high-tech lithium-ion batteries become mainstream — and along with them gas-supported electric vehicles like the Chevy Volt — today's hybrids will continue to represent, at best, incremental improvements in terms of mileage and technology over whatever came out two or three years ago. The fact that Ford has managed to leapfrog the Camry Hybrid with the Fusion Hybrid in making its not-so-incremental step forward is certainly noteworthy. As gas prices peak this summer, the car should have no problem selling. Is it worth checking out? You bet.
---
People Who Viewed this Car Also Viewed
Select up to three models to compare with the 2010 Ford Fusion Hybrid.
2012 Honda Accord
Asking Price Range
$10,080–$18,080
Compare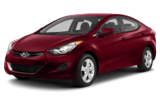 2013 Hyundai Elantra
Asking Price Range
$9,204–$16,196
Compare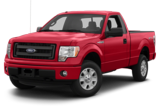 2013 Ford F150
Asking Price Range
$17,905–$42,005
Compare
2011 Ford Focus
Asking Price Range
$5,173–$12,145
Compare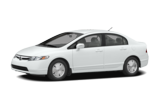 2008 Honda Civic Hybrid
Asking Price Range
$3,861–$10,313
Compare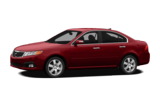 2010 Kia Optima
Asking Price Range
$5,142–$11,370
Compare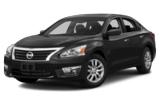 2014 Nissan Altima
Asking Price Range
$10,428–$19,440
Compare
2012 Honda Civic
Asking Price Range
$8,367–$16,827
Compare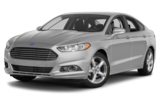 2013 Ford Fusion
Asking Price Range
$10,279–$19,991
Compare
Featured Services for this Ford Fusion Hybrid