Average Ratings
---
27 out of 38 people recommended this car.
---
Stay Away from this car
by poorman from goldsboro, NC | May 23, 2016
100,000 miles transmission had to be replaced, 120,000 Engine had to be replaced, Sunroof leaked and cost $800.00 to repair, Nav and DVD quit at 70,000 miles, Rear air broke at 80,000. $10,000.00 in repairs!! if you buy one of these you better have a deep bank account.
Purchased a new car
Uses car for Work
Does not recommend this car
---
pretty good car
by Dimixx from | January 5, 2016
My family has had our 08 Acadia SLT for 6 years now and we're very satisfied with it as a daily driver. We bought it used in Spring 2009 with very low miles and we're up to 120,000. I've heard and read a lot of bad things about cars from GM and quite frankly, I don't believe most of them. There are flaws that I've noticed but I think GM designed it so well that when an issue occurs, it doesn't render the vehicle completely useless and I feel very safe in this car. My mom is the owner of our Acadia but this week she's off of work so she's letting me drive it to school. On my way to school, the front driver side tire went completely flat while driving on the expressway. To my surprise, it stayed straight as an arrow and handled perfectly normal while I was pulling over onto the shoulder. My parents have owned and driven many cars and the Acadia is one of their favorites and we have the fewest complaints for this car compared to our past vehicles. Just last year the Bose sound system stopped working as a result of a bad amplifier and this is a common problem in these cars. I've also read forums that the sunroof models have poor drainage and can sometimes allow water in places where it shouldn't be. When the radio stopped working, our natural reaction was to check the fuses. There are two fuse boxes in the Acadia, one conveniently under the hood within each reach and the other is located in a very inconvenient spot next to the glove box. Our final complaint is that the traction control on the front wheel drive models (which we have) is very poor. It tends to spin the tires and slip in moderate to heavy rain even with new tires and can be a little tricky to accelerate in moderate to heavy snow. And the tire pressure sensors are out of whack. It'll read the front driver side tire is low when its really the rear passenger side tire. We haven't had to do any major work on it except when the transmission dropped at 110,000 miles and only had to worry about basic maintenance such as tire replacement/rotation, oil and spark plug changes, and cleaning. To this day I think it's still a beautiful car both inside and out. It doesn't feel outdated and it's fun and easy to drive with great visibility all around. The seats are pretty comfortable as well.
Purchased a new car
Uses car for Commuting
Does recommend this car
---
ACADIA VS ENCLAVE
by CALLAWAY1986 from MISSISSPPI | February 15, 2014
OK GANG! THIS IS WHAT I THINK OF ALL YOU GUYS THAT COMPLAIN ABOUT A USED VEHICLE! BUY AN EXTENDED WARRANTY!!!! IF CANT AFFORD FOR SOMTHING TOO GO WRONG BUYA WARRANTY. IF YOU COULD NOT AFFORD THE WARRNTY U CANT COMPLAIN! I DONT CARE HOW MANY PROBLEMS A VEHICLE HAS. WE BOUGHT A ACADIA SLT2 LOADED WITH 89K LOADED, OVER A ENCLAVE BECUASE OUR LIFESTYLE IS MIDDLE AGE MIDDLE INCOME. ENCLAVE GAVE A RICH ELEGANT APPEARENCE THAT APPEARED FOR OLDER GENDER. A $100 DEDUCTABLE SHUTS UP YOU CADDILAC PEOPLE WITH FORD MONEY. YOU PAY TO PLAY. IF SOMTHING GOES WRONG USE THE EXTENDED WARRANTY. ANYTHING MAN MADE WILL HAVE ISSUES. MY WIFE LOVES HER ACADIA N SHE HAS A PEACE OF MIND. SO BUY A PEACE OF MIND WITH THIS VEHICLE. KEEPING IT REAL!!!!! NO FAKE WANNA BEEZ.... GO AUBURN!!!!
Purchased a new car
Uses car for Commuting
Does recommend this car
---
Good Car.
by Buddy from near Houston, Texas | January 16, 2014
Good value for the money. 7 Seats, easy fold down and up rear seats. Captain chairs in back very comfortable, love the power tail gate. Gas mileage could be better.
Purchased a new car
Uses car for Transporting family
Does recommend this car
---
Do Not Purchase a GMC Acadia
by Van from Atlanta, GA | January 14, 2014
I admired & loved this car for a long time before I purchased my 2008 Acadia. I did purchase a used model & have owned it for 3 years. It was a certified used vehicle from GM. The car has everything I wanted in a vehicle. It is very comfortable on trips and a great family vehicle. The major downfall is, there are so many things going wrong with this vehicle I can not count. In the summer the auto door locks do not work. I am not sure if it is the heat but in the winter they work fine. The DVD player works about 30% of the time. The navigation works about 50% of the time. I have had the transmission worked on 4 times. I recently had a major engine repair that GM is aware of but since it is not a safety issue they will not do a recall. Many other small things have gone wrong with this vehicle. A WORD TO THE WISE, STAY AWAY FROM THE GMC ACADIA!
Purchased a new car
Uses car for Transporting family
Does not recommend this car
---
My magic carpet ride
by mom on the run from American Fork, Utah | March 26, 2013
I looked and saved up for my Acadia for over a year. I reviewed and compared it to everything! I love my bucket seats, which are easy for kids to get to the third row with out having to flip the seat forward. so nice! I love the leather and heated seats! It would have been cool if my second sun roof opened as well but my ids still love that they have a moon roof too. I don't love the sunroof covers. i wish they were more solid and not a flimsy fabric. memory seats are great and i love the electronic back hatch. back up assistant is great as well especially with children! Some times my DVD player doesn't read my disc and I have to try several times for it to read it. :/ I LOVE whatever its called that shoots my speed up on the windshield! that is a lifesaver! over all i love my car and would recommend it to any mom!
Purchased a new car
Uses car for Transporting family
Does recommend this car
---
SUV v Acadia
by Cars from New Jersey | December 26, 2011
I have had SUV's for years and made the switch to the cross-over. The Acadia has an appealing exterior with an even more impressive interior. We got the SLT-2 AWD with Titanium leather. This vehicle has more than enough room inside and is just a joy to drive. The tow rating is sturdy enough to handle all of my trailering needs. It is truly a luxurious vehicle, the engineers though of almost everything for driver and passenger comfort.
Purchased a new car
Uses car for Transporting family
Does recommend this car
---
Loving it!
by Blessed and highly favored from | December 22, 2011
Enjoying my car, even the kids like it. The car is good on gas mileage. loving the remote start, heated seats, captain's seats and driver's information center.
Purchased a new car
Uses car for Just getting around
Does recommend this car
---
Not bad but not great
by RichH from | October 17, 2011
We bought our 2008 SLT used with 41,000 miles about 2 month ago. It looked great and it handled pretty well on the road. The performance is good too. I am impressed by the handling and how easy it is to park for such a big car. It has just about everything you would want on it electronically and otherwise except for Navigation which we can buy later if we want to. It's comfortable with lots of room in the back and with a 5'11" kid we need the back seat room. My big gripe is that after 1 week we had to take it into the dealership to have a new water pump put on it. Who replaces a water pump after only 41,000 miles? The starter is a bit quirky so we are wondering if it will go out next. I am glad I bought an extended warranty for this car. The gas mileage is poor compared to what I expected. I wasn't expecting it get great mileage but EPA rates it 24 / 16 and that is acceptable. But we only get about 20 -21 on the highway with a tailwind and my wife who is a slow and careful driver only gets about 15.5 mpg in around where we live. It would be a better value for the money if got at least what the EPA said it would get and not have the uncertainty we have on its reliability. I hesitate to recommend this year mode to a friend right now because of that. I might later but right now I wouldn't say flat no but be aware of the potential faults of this car and be aware if you consider gas mileage a factor.
Purchased a new car
Uses car for Just getting around
Does not recommend this car
---
Too bad ours had so many mechanical problems
by Robbie from Denver | August 26, 2011
We fell lin love with our Acadia when we first bought it. The interior space was amazing. It was easy to drive & to park. Then the nightmare began. Since it was an AWD, when I got a wire in my tire that wouldn't be repaired, we had to buy 4 tires. You can't just change the one that's damaged. Then the power steering pump went out. After that, the steering column had to be replaced. The final straw is when the vehicle stranded us @65 miles from home as it was stuck in 6th gear. We were able to limp it home, but that was it. The transmission had to be replaced. We were wondering what would be next & when it would happen. We traded our Acadia in and bought a Jeep Grand Cherokee. May not have the room that the Acadia had, but it has more features, get up & go & hopefully won't fall apart like the Acadia.
Purchased a new car
Uses car for Just getting around
Does not recommend this car
---
People Who Viewed this Car Also Viewed
Select up to three models to compare with the 2008 GMC Acadia.
2012 Honda Pilot
Asking Price Range
$16,334–$29,462
Compare
2005 Mazda Mazda3
Asking Price Range
$2,789–$8,801
Compare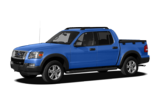 2010 Ford Explorer Sport Trac
Asking Price Range
$11,348–$29,020
Compare
2010 Chrysler Town & Country
Asking Price Range
$6,149–$16,765
Compare
2003 Ford E350 Super Duty
Asking Price Range
$573–$16,193
Compare
2012 Audi A4
Asking Price Range
$12,707–$27,007
Compare
2010 Hyundai Azera
Asking Price Range
$8,189–$14,269
Compare
2011 Honda Civic
Asking Price Range
$6,641–$15,065
Compare
2014 Mazda Mazda6
Asking Price Range
$13,457–$23,373
Compare
Featured Services for this GMC Acadia