Average Ratings
---
32 out of 35 people recommended this car.
---
Systemic AC and Heater Issues
by No Acadia for Me from Louisiana | June 10, 2016
I purchased a 2011 Acadia and was quite pleased with the vehicle at first... then the problems started. My major problems are the AC and the heater door. GMC knows there is a problem with them failing and have yet to address it. Even GMC technicians have said there is a systemic problem with the AC and the heater door. So if you live in an area that always has perfect temperature and no rain then this is the vehicle for you. Nice ride, attractive, horrible reliability, and problems GMC won't address all for a reasonably expensive vehicle. If you don't mind shelling out 2,000.00 to fix a known problem with no guarantee that it will work... have at it. Your money would be better spent on another vehicle.
Purchased a new car
Uses car for Transporting family
Does not recommend this car
---
Good comfortable Crossover
by B1Mario from Denver, CO | October 5, 2014
I had a 2002 Lincoln Navigator that I really enjoyed. It had a lot of room, comfortable, drove great...except for the 12-13 mpg. So I was looking for a replacement that still sat 7 people, had room, 4WD and could get me any family/friends up the CO mountains to ski while saving a little on gas. I quite literally researched and test drove over 9 different SUVs before deciding on the Acadia....So far the Acadia has been great, it is extremely smooth, shifts effortlessly, has a ton of room (more than the Lincoln) and looks great. Plus it does get decent mpg, I average around 19-20 in mixed driving. The only knock I have is I wish it had more power going up the mountains, however, I know this is a new "crossover" issue as the Acadia has more power than Explorer, Pilot, Pathfinder and all the others I test drove. As for reliability, I have no issues, but I know the timing belt, transmission and steering were all recalled and fixed prior to my purchase. Overall - I really am enjoying my Acadia, and would recommend to anyone.
Purchased a new car
Uses car for Outdoor sports (hiking, cycling, etc.)
Does recommend this car
---
Nightmare
by Ben from Montreal, Canada | August 18, 2014
From all the cars i had, this is by far the worst i ever owned. Battery replaced, starter replaced, rack and pinion replaced, power steering replaced, evaporator replaced, rear shock absorber replaced and to top it all, engine replaced (under GMC warranty) Need i say more Wish you the best of luck for all of you owner's of a GMC Acadia
Purchased a new car
Uses car for Transporting family
Does not recommend this car
---
Disapointed
by Mich from Utah | July 30, 2014
I purchased the GMC 2011 2WD Acadia a year old. For paying $30,000 for a US made vehicle I was disappointed. It looks fancy and it has passing power. But it spins it's wheels because it's too much for the vehicle. In three years we had it in the shop several times and never did figure out all the problems. It got a leak in the coolant tube and holding tank, studdering brakes in reverse, and studdering fuel. We took it in and had a flush which helped but then when we got home from that I got the fifth recall in the mail. That was it had enough. We did enjoy the size and the ease when it wasn't struggling. Not fuel efficient. It was ranked #2 behind the Oldsmobile when we decided to purchase it. There are a lot on the road. Good luck.
Purchased a new car
Uses car for Commuting
Does not recommend this car
---
fits the bill
by goforit from Yuma, AZ | February 27, 2014
We recently purchased a GMC Acadia SLT. It has low mileage and is in showroom condition. We found the vehicle in Los Angeles and drove it home to Arizona. We have no regrets about purchasing this vehicle, meeting or exceeding our expectations. It handled well and has plenty of power. Fuel economy was a little low, but then again, we had a 5000 ft mountain range to cross. It is comfortable, stylish and has a solid feel. Lots of gadgets. I will admit you have to find your comfort level with the lumbar support. Backup camera screen is large and works well. Compared to the car we had before-and it was a top-drawer model- there is no comparison. To each his own....
Purchased a new car
Uses car for Transporting family
Does recommend this car
---
Answer to the minivan
by CFA from PA | December 17, 2013
Have three kids so needed the captain chairs. Plenty of room for a big family without having to go the minivan route. Only complaint is that I was hoping for it to be great in the snow and it was just average. Perhaps the salesman got it in my head. Overall great car for the money and I plan to have it for many years.
Purchased a new car
Uses car for Transporting family
Does recommend this car
---
Glorified Minivan
by CP from Hudson WI | August 24, 2013
Refuse to drive a minivan like me but also don't want a full sized SUV? This is the vehicle for you. It rides like a dream,, the engine is very powerful and does very well in in all weather conditions with AWD and is extremely quiet. We drove the Traverse, Acadia and Enclave, all are based on the same chasis/platform. The Traverse had the most pronounced road noise, followed by the Acadia and most quiet was the Enclave. My wife lobbied for the Enclave because of how unbelievably quiet it was and I admit it was awesome but I also still have the "Buicks are for old people complex" and am not quite ready for one at age 32. We have a 2011 SLT with AWD and drove it through a couple hard MN winters and it kicks ars In the snow. If you are considering a full sized SUV and thinking this vehicle is the way to go because it gets better gas mileage, that is not really so. My wife works in downtown and likes driving this much better when she's going into the office vs. our full sized SUV because it's easier to park in the ramp. "Regular" things I used to do myself on our older vehicles like change the head lights or change the air filter, forget about it, they've made this vehicle virtually impossible to maintain on your own without an arsenal of specialty tools. You need to remove the TIRES to get at the headlights. And the air filter, you'll need a 12" long screwdriver to get at the fasteners against the firewall. Those are the 2 things I tried to do by myself so I imagine changing the oil could be like trying to change out lenses on the Hubble Telescope. . I must be wrong, I thought the purpose of Engineering was to simplify and make things more efficient, not more complicated and more costly but that seems to be the way the auto industry is going in the interest of achieving their cosmetic design goals. If/when you buy an Acadia and if you have more than 2 kids, do not compromise on the quad seats, the accessibility to the 3rd row is invaluable. GMC (smartly) took a popular interior layout of a minivan and sculpted an "SUV" around it. If you detest minivans, and want a good crossover, I highly recommend this vehicle. We bought this was 30k miles on it and now have 60k miles with no major issues.
Purchased a new car
Uses car for Commuting
Does recommend this car
---
Plaza Buick GMC Omaha Nebraska review
by Luvi from Arizona | August 11, 2013
Okay deal, but all was not disclosed on e-mails, details were left out such as dent on roof rack and crack on driver side rear view mirror. Small things that make a big difference for a buyer.
Purchased a new car
Uses car for Commuting
Does recommend this car
---
Awesome ride
by Keviel from san antonio, TX | August 9, 2013
This is an excellent SUV, smooth ride, enough room for the family and very comfortable. I recommend using full synthetic oil this has increased my MPG drastically. The only thing I dont like is in that certain part of day when the sun hits the crome finishes on the inside it just hits your eyes and it gets a little annoying. Other than that my family loves it.
Purchased a new car
Uses car for Just getting around
Does recommend this car
---
Super crossover SUV
by Liz from Nc | February 27, 2013
I love the size of this car. Much more fun to drive than a big SUV. Love the backup camera and auto lift gate.
Purchased a new car
Uses car for Just getting around
Does recommend this car
---
People Who Viewed this Car Also Viewed
Select up to three models to compare with the 2011 GMC Acadia.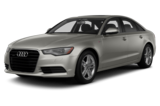 2014 Audi A6
Asking Price Range
$25,962–$43,618
Compare
2007 Hyundai Sonata
Asking Price Range
$3,223–$9,163
Compare
2006 Mazda Mazda5
Asking Price Range
$1,845–$9,897
Compare
2006 Mercedes-Benz C-Class
Asking Price Range
$3,808–$12,632
Compare
2007 Ford E350 Super Duty
Asking Price Range
$5,948–$18,492
Compare
Featured Services for this GMC Acadia