Average Ratings
---
11 out of 13 people recommended this car.
---
Long Term Report at 3 years
by Rich from Norman, OK | June 30, 2013
I continue to get great gas mileage, 33-34 MPG filling up with 91 RON non-ethanol gas. I like the car much better after replacing the Michelin MXV4s with Bridgestone Ecopia EP 422s. WOW. Like a different car concerning noise reduction and ride improvements. 400 mile trips are now comfortable. Recent trip to Dallas with congested traffic the computer registered 39.4 MPG. With the increased ride comfort I rate the HAH as a great computer car. Sustainment costs (bat replacement) not cheap but the car runs like a normal Accord if you choose not to refresh the Bat pack.
Purchased a new car
Uses car for Commuting
Does recommend this car
---
I Just Love Driving This Car
by Tommy T from Fairborn, OH | October 26, 2012
I purchased my 2007 HAH used a few months ago, but it only had 34K miles on it, which is practically new when it comes to a Honda. I traded in my 2011 Elantra which was just too small for me. I love the power of the V6 with the effeciency of a 4 cylinder. I get almost the same mpg's from my HAH that I did from the Elantra, which is between 33 and 35. The difference is that I have more interior space, better quality, much more power (this thing will haul), better long-term resale value, and a much more comfortable ride. This is a great car and I wish Honda would have kept making them after 2007. The V6/Hybrid Sedan is nearly impossible to find.
Purchased a new car
Uses car for Commuting
Does recommend this car
---
Sips Gas Very Fast
by 2005 Hybrid Accord from Charlotte, NC | September 2, 2012
I have a 2005 Model. It has over 200,000 miles on it. At 180,000 it needed a new hybrid battery. It only cost 2800 at the dealer. A lot better than some other competitors that are at 6000 for a new one. Other than normal oil changes, tires, timing belt, shocks and brakes, this car has been virtually problem free. I bought it with 32,000 miles on it. You also will get great gas mileage and V-6 power. This car is a sleeper, I raced a 350Z and beat it. Its off the line power is super fast. Most cars on the road can not keep up with it. As hard as I drive it, it still gets an astonishing 28 mpg overall average. If I take it easy, it will do better at around 30. Don't believe the 34 or 35 mpg on the highway, unless you live in Kansas and drive flat roads. The real world normal driving is probably around 29, taking it easy. Overall this has been a great car. What else can you expect from a Honda. The only thing that is disappointing is that Honda stopped making this car, and there is no other V-6 Hybrid with this kind of mileage and power available on the market anywhere. The other thing too is even Honda's normal V-6 today is only rated at overall 21 mpg. That is terrible and unacceptable. I don't know why Honda does not wake up. They don't have, and are not making a family sedan hybrid. The Civic Hybrid does not count, this car won't get out of it's own way on the road. Right now I am shopping for something different. But have not found anything that can match the power and gas mileage. There seriously is nothing out there that compares.
Purchased a new car
Uses car for Work
Does recommend this car
---
2 year Update "Making the Case for the HAH"
by Rich from Norman, OK | April 4, 2012
I've but 35,000 miles on this car in 2 years. The mileage is a solid 33 to 34 mpg measured by filling up the tank vs the electronic display (off by 6 to 7%). The ride is firm & road noise too high to select the car for long trips over our Oddesey. Noise & ride are acceptable for a 50 mile a day commute. Radio speakers could be better. Exterior styling is timeless. The interior tasteful executed. Car size perfect for a second car. No repairs experienced. The original MSRP was too high if the goal was low transportation costs. But a low mileage HAH bought for $16 - 18K is cost effective with $4 gas. In fact,I can't make the case to trade for a new Prius. Highest recorded gas mileage was 42mpg during a 160 mile drive. Still like the car but not a love affair due to previous mentioned road noise and ride qualities; which in fairness are improved over the 1999-2003 Honda. Accord
Purchased a new car
Uses car for Commuting
Does recommend this car
---
Good intentions, unrefined technology
by Car lover of all shapes and sizes from Crestview,FL | May 6, 2011
Great pep of the v6, but if you want to get under 30 mpg, keep it under 65 and in Eco mode through pedal finesse. It can give you the best of both worlds, just not at the same time which is it's plus and minus. Love our car, but am looking forward to both the low gas mileage and power in newer hybrids. Don't switch out the stereo either, the ANC, (engine noise canceler), doesn't like it. Honda ignores the problem when the part needs ripped out and scrapped. Honda doesn't admit its failure so will not do it for you, but will replace it with a new one for $600. Trust me hearing the engine is 200x better than listening to your speakers grumble your entire ride. Again good idea, unperfected technology. Go with a Ford Fusion hybrid until Honda gets their Accord Hybrid act together unless you don't mind the small ugly civic hybrid.
Purchased a new car
Uses car for Commuting
Does not recommend this car
---
Highway Dream Machine
by Amalfi71 from Salt Lake City, UT | April 30, 2010
What a pleasure to drive out on the open road, the miles just fly by as this Eco-Mussel Car sips the gas. Averaging about 37 MPG on the highway this beast has power to spare. Very comparable to a V8 luxury sedan in size, power and comfort. Even though it only gets about 22-24 MPG in the city that is still way better than anything this size with this much power. My V.W. Jetta only gets 24-26 MPG in the city and it is small and gut-less. The handling could be much sharper at low speeds, the cabin noise is a little much and the auto stop features is really annoying at stop signs. A few minor draw backs considering it stickered around 30K and I got my 2007 for 17,250 with 38k miles.
Purchased a new car
Uses car for Just getting around
Does recommend this car
---
Making The Case for The HAH
by Rich from Norman, Ok | March 27, 2010
The reason the car was not popular was price/fuel economy vs the Prius. With depreciated prices this car is now a value. The HCH has a host of little improvements over the standard Accord without IMA hybrid technology. Its the only 7th gen 06 - 07 model with VCM, electric power steering, and 16 in tires with a v6. It is heavier improving ride and I believe quieter. The exterior styling is more refined with the mirror turn signals and tail light amber turn signals. Its a more substantial car than the Prius. I bought a used 07 NAVI with 2800 miles in 3/10. Mileage has improved to 35.5 mpg on my drive cycle. Great vehicle for a daily 50 mi commute.
Purchased a new car
Uses car for Work
Does recommend this car
---
Love my Hybrid!
by Sports Car Girl from Marysville, WA | January 23, 2010
I bought my car at the end of 2007. It was one of two Accord Hybrids left on the lot. Honda discontinued this model...BIG MISTAKE! I love this car! Besides it's comfort, fresh look, and a good amount of HP in that 3.0L motor, the gas mileage is great! I average 30 mpg through Seattle's stop and go traffic, everyday! My husband and I drove from Seattle to Minot, ND and we averaged 40 mpg on our trip. We were absolutely amazed! This vehicle was under-rated when they were being built and available. I am just glad to have bought one of the last models left and have never regretted that decision to this day. I will never sell or trade in my car unless Honda makes more Accord Hybrids with the same 3.0 V6 motor. Totally blows away the rest of the hybrids out there.
Purchased a new car
Uses car for Commuting
Does recommend this car
---
rmh Accord hybird
by rmh from thousand oaks, CA | July 9, 2009
This car is great. It handles great, it kicks butt at acceleration. And it has room for my kids! The sound system is great for a sedan.
Purchased a new car
Uses car for Commuting
Does recommend this car
---
Rocket with great mileage and comfort
by BeachEsq from EastHampton, NY | November 8, 2008
This car for the money reaches near unbelieveable if that be believeable. It runs away from almost all BMW's and all mercededes save amg's. On the highway the mpg approaches 38-40 depending if you can keep it below 70mph. I choose this hybrid for the confort level over toyota's hybrid and civic hybrid for added size, much better performance and moonroof. None of which can you get on either of the former. The electronic extras for the price are amazing:i.e. drive by wire, 5spd auto, white noise suppression, electronic stablizer tuned to engine vibration and to the tracion control system. Now where are you getting that for 3x's the money? The negatives have aready been mentioned by others-smallish trunk due to electric motor/batteries behnind seat and hence no 'pass thru' which makes for unusuaally uncomfortable rear seat back I feel anyway. I only wish I could ride on 100% electric at low speeds which i thought I could ,but i found no hybrid including prius can you do that.
Purchased a new car
Uses car for Having fun
Does recommend this car
---
People Who Viewed this Car Also Viewed
Select up to three models to compare with the 2007 Honda Accord Hybrid.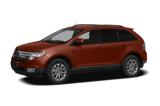 2009 Ford Edge
Asking Price Range
$7,657–$18,549
Compare
2007 Toyota Camry
Asking Price Range
$5,271–$12,095
Compare
2013 Ford Fusion Hybrid
Asking Price Range
$12,610–$22,202
Compare
2017 Ford Fusion Energi
Starting MSRP
$33,120–$41,120
Compare
2007 Hyundai Santa Fe
Asking Price Range
$4,889–$12,693
Compare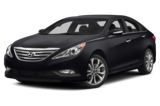 2014 Hyundai Sonata
Asking Price Range
$10,977–$19,809
Compare
2014 Honda Civic Hybrid
Asking Price Range
$12,691–$22,475
Compare
2017 Ford Fusion
Starting MSRP
$22,610–$38,620
Compare
Featured Services for this Honda Accord Hybrid