Average Ratings
---
36 out of 43 people recommended this car.
---
Runs and runs
by Drivesalot from Northeern NJ | July 26, 2015
Having a manual transmission has helped with reliability. Original clutch lasted 181,000 miles. Replaced front brakes twice and rears only once. While not a fast car compared to newer cars, it has been reliable with very low maintenance. It needs a replacement airbag inflater for the second time. Although it's not a Honda manufactured part, this is a big concern for me. Regardless, I know I can rely on this vehicle. I bought it in late 2001 and plan to keep it for several more years. Going in 194,000 miles.
Purchased a new car
Uses car for Work
Does recommend this car
---
Runs Like a champ after 200,000 miles
by Bryan from Plainfield, IL | January 17, 2015
Other than the notorious transmission issues that people report with this car, I love it. We purchased it used in 2005 with 42,000 miles on it. It now has clicked over 201,000 miles just this week. Very minimal problems, just a few suspension things here and there aside from regular maintenance. The transmission does slip and shift rough, but this has made it 30,000+ miles with a bad transmission, and it's reliable enough that I am planning to replace a transmission in a car with this many miles. Yes, I am replacing the transmission. It is a Honda and I trust it to run at least another 50,000 miles. The $1,000 I'll spend doing the transmission is way better than buying something else that won't last nearly as long. And, the repairs don't outweigh the value in the first place. This thing has a trade in value of $2500, even more for a private sale. It's not leaving anytime soon. When the engine goes, I'll replace that too. These things get over 300,000 miles easily, and I have no doubt this one can make it. Whether or not I will drive it that far is a different story, as eventually I would upgrade to something newer just for the newer features and comfort. As far as reliability, I'm not all that worried about it.
Purchased a new car
Uses car for Just getting around
Does recommend this car
---
Life Line
by Car man from CT | September 2, 2014
My son owned a 1999 accord that he purchased with 108K. He put 75k on it over 5 years. He beat the car to death. Never an issue with repairs. If any one could kill the car it would be him. He just sold it. Looking for another one for my daughter. Why mess with a sure thing.
Purchased a new car
Uses car for Just getting around
Does recommend this car
---
Beautiful and reliable car
by Joycie from Carmel. IN | May 19, 2014
My daughter saw this car online, she called and made an appointment to go in and test drive the car. Me and her Dad went with her. When we got to the car lot, I coudnt believe the price or how beautiful this car was. It was fully loaded and road so smoothe. This was one of the best used cars besides our car. We purchased a CTS/Cadillac from Unlimted Motors and it has been a year now and we havent had an ounce of promblems out of this car. The car is drop dead georgous and very elegant. Just what we wanted and the car payments was even much better. I would refer anybody to Unlimited motors for a nice and stylish used car
Purchased a new car
Uses car for Just getting around
Does recommend this car
---
Leaks thru moonroof and trunk.
by original owner from Pennsylvania | March 4, 2014
The interior dimensions are compact.. Seats not suitable for extended drives, uncomfortable. Wind noise thru windows. Leaking moonroof and trunk.
Purchased a new car
Uses car for Just getting around
Does not recommend this car
---
honda accord
by adam from | February 8, 2014
good reliable veh,they go forever,great on gas,they break down less than any other cars.it keep their value
Purchased a new car
Uses car for N/A
Does recommend this car
---
I love Hondas
by Spaceman from Bay Area, CA | October 13, 2013
It's very reliable car, runs forever!!! That's why I bought it. V6 uses little more gas than V4, but the interior is more luxurious. Sits are more comfortable, and it's easier on your back if you have a long commute.
Purchased a new car
Uses car for Commuting
Does recommend this car
---
Honda's achilles heel.. Transmission..Beware
by G from Long Island ny | September 26, 2013
Honda's overall a quality car, but as mentioned by 'Car guy' MO. Honda/Acura Worst transmissions during this cars production period. Thats not from me, thats from a 30 yr. professional builder. At 108k started slipping/jumping & thought a Flush n Filter may fix it ? Only problem is, Filter is a wire screen & cant be changed! All you can do is have fluid drained & replaced. so, after 90k or so, they get all gunked up & fail. He recommends to all Honda owners of that period to CHANGE Tranny fluid every 20k miles! Keep it clean.. If it hasn't been done, Do it NOW! $1700 for complete rebuild... Other parts are expensive in these cars... Their engines last forever, but what good is it if your Trannys shot?
Purchased a new car
Uses car for Commuting
Does recommend this car
---
thrift shopper
by thrifty from Chicago | May 2, 2013
Had excellent performance with my car. It's as good as new Engine is top notch. Drives smooth and quiet. A/C and heater are very fast and effective. Trunk is huge. Handles well in all weather. Easy to park.
Purchased a new car
Uses car for Just getting around
Does recommend this car
---
Hands down my favorite car I've owned
by First Honda from Iowa | January 20, 2013
I started out with a Jeep which was too much of a fuel hog. Got handed down my mom's van which was too big for me to take to college. Bought a gold Honda Accord EX 3-liter V-6 and it's the best combination of all things I need and want. I couldn't believe how quiet it drives and how smooth the ride is. The 300hp V-6 has guts to it that is always ready. I'm also blown away by how reliable it is. The only thing I've done is windshield wipers, oil, and tires. Right now it's at 80,000 miles and I'm expecting many many more years out of it by how well it's been running. The majority of my family drives Lexus (you know, the company who makes Toyotas and so many people say that run longer than Hondas) and all three vehicles have been sent to a shop for various problems. None for the Honda! It's bigger than most sedans, the EX has more features than most sedans, and you can't find handling and comfort the way this car does it. The biggest thing for me: I actually love driving this car. I would never want to trade it in for anything else.
Purchased a new car
Uses car for Commuting
Does recommend this car
---
People Who Viewed this Car Also Viewed
Select up to three models to compare with the 2002 Honda Accord.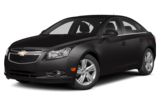 2014 Chevrolet Cruze
Asking Price Range
$10,281–$17,205
Compare
2016 BMW 535
Starting MSRP
$55,850–$58,150
Compare
1995 Toyota Camry
Asking Price Range
$206–$5,122
Compare
Featured Services for this Honda Accord