Average Ratings
---
14 out of 21 people recommended this car.
---
Forget IMA, For CVTs, it is a $4800
by mastee from Atlanta | March 18, 2016
I bought my 07 used with 75k miles, I had owned few in the past with good results sold each one at 180,000 miles. I do all the maintenance myself using OEM parts and take care of my cars. This car has a lot of problems, first the IMA battery went, luckily I was still under warranty and it was replaced at no cost but then the CVT went, and guess what the repair bill is $4800, which I do not intend to fix through them, so yeah no wonder Prius if kicking honda **s
Purchased a new car
Uses car for Commuting
Does not recommend this car
---
Disappointed
by Hybrid hater... from Knoxville, tn | March 22, 2014
I've had my vehicle for 2 years and I've replace all engine mounts. Plus, the IMA batter light came on.... hybrid's are too much maintenance, disappointed in the vehicle I've purchased. Contacted Honda, zero help.
Purchased a new car
Uses car for Commuting
Does not recommend this car
---
Great Looking Car with Decent Performance
by Mike from Annapolis, MD | May 5, 2013
I was instantly drawn to 2006-2011 Civic for its great look, inside and out. The design car out seven years ago and still looks sharper, better than warm-over, more recent Civic. My friend had a 2006 Civic and I loved the way the speedometer and interior looked. So when my 2005 Scion xB was totaled, I decided to give it a shot. I wanted a hybrid for the excellent fuel economy, so I narrowed my search down to between the Civic Hybrid and Toyota Prius. Obviously, the Civic won out. Firstly, what I like most about my Civic is the excellent looking interior, with the futuristic speedometer, AUX port located right where you want it for playing music, and the Navy blue seats and two-tone dashboard. I also like the somewhat dorky looking hubcaps. My average MPGs fall between 35 and 40, depending on how much highway driving I do and if I use the A/C or heater. Highway driving is smooth and predictable. On the negative side, the hybrid powertrain appears unrefined at times. On occasion, the car will tend to jerk forward if i press the gas pedal right after releasing the brake. Although this isn't a huge deal, it can become annoying at times. Also, I can never quite find the sweet spot when adjusting my seat. Finally, oil changes have more than doubled for me since losing my Scion and now cost around $85 on average for the hybrid's synthetic oil. Although this isn't a perfect car, it is still a good car and has not given me any issues thus far. In hindsight, I wish I went for another boxy car because I miss the room my xB gave me. However, it's antiquated 4-speed transmission and obtrusive shape could not help it match the fuel economy of my Civic. Although the Civic doesn't achieve the 50mpg it first claimed, it is still a great car and I am happy with my purchase.
Purchased a new car
Uses car for Commuting
Does recommend this car
---
not again
by kposey from Texas | December 11, 2012
I have had my 07 for 3-1/2 years and can't wait to be able to get another car. I have yet to get the 40 MPH that it is known for. Overall for a compact it is compares to other cars of the same catagory. I purchased this model based on the reviews for its gas mileage since I travel up to 600 per week on my route. Needless to say I am disappointed in the performance of the cars and the reviews I read concerning this model. I will not recommend this car and do not plan on getting another Honda.
Purchased a new car
Uses car for Commuting
Does not recommend this car
---
The best car.
by Ivys Diaz from Coral Gables, Florida | February 18, 2012
I love my 2007 Civic hybrid and I feel safe in it....In my opinion Honda is the BEST brand in the world...<3
Purchased a new car
Uses car for Commuting
Does recommend this car
---
Does not get the 49 City and 51 HWY Mileage
by Chris from California | October 4, 2011
I Just bought an 07 Hybrid for the fuel mileage, I Found after a few tanks I am only getting 30 city and 35 HWY,which is way off the advertised 49 city/51 hwy This is due to My car having Honda's "Software Update" which makes it use the ima battery LESS thus killing the mileage on this car. Look it up, Hundreds of people are upset with Honda because of this change, I was told by Honda I should be very happy with 30 MPG in a 2007 civic hybrid. Do a test drive and calc your mileage before you buy, if you get an average in the low 30's, buy a non hybrid or find one that has NOT had the software update. and don't let them do the update.
Purchased a new car
Uses car for Commuting
Does not recommend this car
---
Exactly as advertised
by Elderly Auto Owner of Many Cars over the Years from Rochester, NY | August 31, 2011
Mileage is a bit below EPA rated in very cold weather, but for warm to hot weather driving (or after thorough warm-up in cold weather) it gets better than 53 mpg on the highway and nearly 46 in the city. Always starts and has had minimal problems. Very comfortable for all passengers.
Purchased a new car
Uses car for Just getting around
Does recommend this car
---
nest time no honda
by jenk from odess tx | May 19, 2011
This car has never even gotten close to the mileage mpg. I got beter gas mileage on my plain 04 civic. The headrest are very uncomfortable.
Purchased a new car
Uses car for Work
Does not recommend this car
---
A great car, but below expectations
by tenabena from Boise, ID | December 8, 2010
I love my 2007 Civic Hybrid, just bought it with 27,000 miles on it. It runs very smoothly and the mileage has been very good, not quite the 49-51 mpg that were advertised, but far better than a gas-only vehicle. Then when the cold weather hit us harder than usual and earlier than usual, my mpg dropped significantly, down to 25ish depending on whether I have to warm the vehicle much before driving. Disappointing, but understandable. Overall, I'm still extremely satisfied with my purchase. No surprise, Honda comes through again.
Purchased a new car
Uses car for Just getting around
Does recommend this car
---
Mileage is a plus, cool design, little maintenance
by First-time Hybrid Owner from Colorado Springs, CO | July 15, 2010
My Honda Civic Hybrid is the new 2006+ design; styling is what drew me to this particular hybrid. Upon reviewing the first year of the updated version on the road, I found that the Civic Hybrid was the second-best-for-mileage hybrid currently available...and that is pretty good! You can easily average tank of gas at 500 miles or more; however, you need to understand that the car will react to how you drive it to obtain high mileage. Don't gun it...don't speed. It's only a 4-cyl engine, but at the same time, driving at 75mph on the highway is a breeze and you don't feel any work coming from the vehicle. The CVT transmission is smooth. One thing, though: if you are at a stop light and the Idle AutoStop feature has been activated, every now and then when you let up on the brake pedal so the ICE can kick in again, sometimes you may feel a small lurch...not of movement, but just a physical feeling that the gas engine took a breath again. I'm amazed that in over 3.5 years of ownership, I've only ever had do deal with oil changes, which last for longer spans between changes compared to what other vehicles may suggest. The car fits 5 adults quite comfortably; I've done many a trip with a full car. Trunk space is quite adequate (2 large suitcases & 2 small suitcases easy), but don't look for a pass-thru: the back seat does not fold down due to the location of the vehicle's self-charging/regenerating battery pack. On a hot day, you may feel the A/C working slower, conversely feeling that the car is slower -- it's only from using extra battery power to start moving from a stop while helping to power other components. That said, interior and exterior styling is contemporary, modern and look high-tech. Plastics do not look cheap; everything is solidly built in. The Civic Hybrid appears classy, competing with the looks of many other luxury cars on the road today. I purchased the model that included the built-in navigation unit, which has saved me money & maintenance on hand-held units and also saved me from many unknown locations I've found myself in. The 2009 model year offered additional options such as leather seats (heated front) and bluetooth connectivity. Overall, I have been very happy with the Honda Civic Hybrid. If you research & understand it well, then the car will sell itself to you.
Purchased a new car
Uses car for Commuting
Does recommend this car
---
People Who Viewed this Car Also Viewed
Select up to three models to compare with the 2007 Honda Civic Hybrid.
2008 Honda Civic
Asking Price Range
$4,658–$12,334
Compare
2010 Nissan Rogue
Asking Price Range
$6,939–$14,655
Compare
2004 Audi A4
Asking Price Range
$2,418–$10,074
Compare
2008 Mazda Mazda6
Asking Price Range
$3,200–$9,732
Compare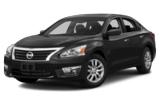 2013 Nissan Altima
Asking Price Range
$9,867–$19,139
Compare
2009 Subaru Forester
Asking Price Range
$6,247–$15,887
Compare
2009 Hyundai Tucson
Asking Price Range
$5,516–$13,276
Compare
2010 Ford F150
Asking Price Range
$11,049–$31,053
Compare
2008 Ford E350 Super Duty
Asking Price Range
$6,117–$20,213
Compare
Featured Services for this Honda Civic Hybrid